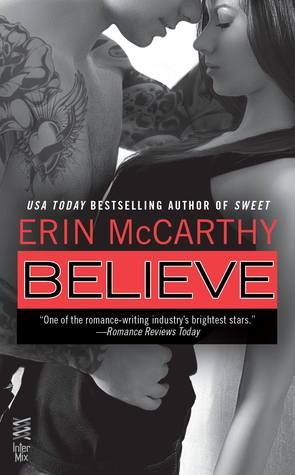 Believe
by
Erin McCarthy
Also by this author:
Sweet
,
True
Series:
True Believers #3
Also in this series:
Sweet
,
True
Published by
InterMix
on January 21, 2014
Pages:
232
Goodreads
Buy the Book
Robin used to be a party girl… until she got black out drunk and woke up in bed with her best friend's boyfriend. Now she's faced with being THAT girl, and couldn't be more disgusted with herself. She can't even tell her friends the reason for her sudden sobriety and she avoids everyone until she meets Phoenix—quiet, tattooed, and different in every way that's good and oh, so bad…

Phoenix is two days out of jail when he meets Robin at his cousin's house, and he knows that he has no business talking to her, but he's drawn to her quiet demeanor, sweet smile, and artistic talent. She doesn't care that he's done time, or that he only has five bucks to his name, and she supports his goal to be a tattoo artist.

But Phoenix knows Robin has a secret, and that it's a naïve dream to believe that his record won't catch up with them at some point. Though neither is prepared for the explosive result when the past collides with the present…

Kassiah: I love the books in the True Believers Series. Erin McCarthy captures the highs and lows of her characters with a realness that isn't often experienced. Though the situation that happens to Robin, the MC of Believe, is one that probably many girls have experienced (she gets drunk at a party and hooks up with a guy she shouldn't–in this case, her BFF's boyfriend), this is my least favorite of the series.
It all seemed normal. What you do in college, right? You party. You make superficial friends. You drink. Do stupid things that you laugh about the next day and take pictures that will prevent you from ever being a senator.

It wasn't anything I felt bad about. I mean, sure, I could have done without some of those hangovers, and I did end up dodging a few guys who wanted to date after I spent a drunken night telling them that were awesome, but nothing to make me feel ashamed.

Until I hooked up with one of my best friend's boyfriend when she was out of town.
This act brings Robin to a place she's never been before: on the outside. She's overwhelmed by guilt and the need to not only atone but to never allow herself to be in such a situation again. She avoids her friends, she avoids going out and drinking, and she becomes a shell of the former bubbly party girl she once was.
Then she meets Riley's and Tyler's cousin, Phoenix. Phoenix has been recently released from a brief stint in jail and doesn't think anyone will give him a chance. He's and artist, tactile and smart, and he doesn't give a shit what people think.
His body was lean and wiry, yet muscular. He looked like he worked out constantly but had been born with raging high metabolism, so he would never be bulky. Every muscle was obvious, the V of his hips so defined it made my mouth thick with saliva in a totally inappropriate way for the situation.
It's not long before the two of them become friends, despite the fact that they wouldn't really run in the same circles before Robin's self-imposed exile.
If I had any sense at all, I would get the hell out of there and never come back. But a cactus isn't going to tell a rainstorm to go fuck itself. I had never had anyone offer me this sort of innocent friendship. I wanted it like the greedy motherfucker that I was.
Their friendship quickly morphs into something more and they soon realize that all they really have to cling to is each other.
What I knew was that he made me feel like I could look people inn the eye again. He made me feel like I wasn't going to break into a thousand pieces at any given moment. He made my hands stop shaking and helped my breathing slow down. He made me feel like a crumbling wall that has suddenly gotten new mortar between each brick and feels stable again. And if could make me feel that way, maybe I could make myself feel that way, too.
They realize they're too dependent on each other, and when Robin seems to be put in danger after a figure from Phoenix's past emerges, it's too much.
I'm like that bird, you know…I can hold up the sky for you, Robin.
I really liked a lot of things about this book. I liked how real the characters were, and even though I didn't love Phoenix's anger issues (and believe me, he has them), I thought it was true to character for him to act that way. Readers of the rest of the series will love seeing their favorite couples happy and still in love. Jess and Riley were especially sweet. There were also a few things that were wrapped up from the previous books, and I was really glad for that. On the flip side, I felt like Nathan was a total douche and didn't expect him to act that way, at all.
Of course, there was hotness.
There was something about that sound she made, that little moan that was a whole octave higher than her natural voice, that drove me crazy. She was so damn sexy.

"Yeah, babe." But she didn't really need my encouragement. She was already there, yanking hard as she shuddered through her pleasure.

Leaning back on my heels, I wiped my mouth and stared up at her. "I want you to remember that forever," I told her. "Because I will."
But, like I said, this was my least favorite of the series. Phoenix and Robin's relationship was too fast. Their connection was too instant, and I wonder what would have happened if there would have been other options for either of them.
I also felt like the whole situation with Davis was just a plot device to inject some drama. I didn't think Phoenix handled things with his mom realistically. Actually, scratch that. I understood Phoenix's deal with him mom, but I didn't think she was realistic. It was just too over the top and then…voila! Problem solved.
Though this was my least favorite of the series, Believe had true characters, and I'm looking forward to reading Kylie's story in Shatter, which is coming up next (in September).
Report Card
Cover
Characters
Plot
Writing
Steam
Overall:
3
Related Posts