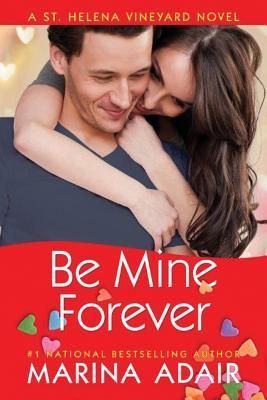 Be Mine Forever
by
Marina Adair
Also by this author:
Last Kiss of Summer
Series:
St. Helena Vineyard #4
Published by
Montlake Romance
on January 21, 2014
Genres:
Contemporary Romance
Pages:
296
Goodreads
Buy the Book
For Trey DeLuca, the idea of settling down was entirely unsettling. As VP of sales for his family's wine company, he's never in any one city—or with any one woman—for long, which is how he likes it. But when family obligations keep him temporarily grounded in his hometown, he finds the perfect distraction. She's sweet, gorgeous, and sexy as hell…only her life screams commitment.

Between raising her son and struggling to keep her dance school afloat, Sara Reed has her hands full. Dance students she needs—a steamy tangled sheets cha-cha with a self-admitted commitment-phobe? Not going to happen. But sparks fly as the town prepares for a big Valentine's Day gala, and Trey strikes a deal with Sara…he'll "manny-up" and watch her son in exchange for ballroom lessons.

With love quickstepping ever closer, Sara needs to teach this playboy some new steps or risk losing him—and her heart—forever.

Kassiah: I was pleasantly surprised by how much I enjoyed this story and loved these characters. I haven't read the other books in the St. Helena Vineyard series, but I definitely plan to read them all now.
While at a business meeting in France, Trey DeLuca gets bad news that leads him to believe his grandmother is critically ill, so he books it back home as fast as he can.
He'd spent the past eighteen hours on an airplane, praying he'd make it in time to tell his grandmother he loved her, and berating himself for being a selfish prick for staying as far away as possible from his family. He wasn't even sure what time zone he was in anymore. "You said it was a matter of life or death. Christ, Nonna."

"Watch your language," she chided. "And this is life or death. The Winter Garden Gala is less than a month away."

Trey exhaled a weary breath. "I walked out of a meeting with our biggest French buyer, when straight for the airport, flew here, then to the hotel where I borrowed Marc's minivan." He threw up his arms. "A minivan for God's sake, so I could come straight here. In the same suit I've been wearing since yesterday. All so that we could talk about the Gala?"
Turns out his Nonna beckoned him back home so he could attend the social event of the year with her. Trey is visibly upset but thankful that his beloved grandmother is okay. He also doesn't consider it a total waste of time when he meets her dance instructor, Sara.
Sara's a single mom just dipping her toes into the dating pool following her husband's death fighting for the country overseas. She hasn't been with anyone since then, but can't help but think about it when Trey sets his sights on her.
Getting lost with a sexy man who made her laugh sounded exciting and terrifying all at the same time. Exciting because it would be another small step toward moving on with her life, and terrifying because for the first time since Garrett's death, the thought of moving on without him didn't rouse the hollow ache that always sat right above her breastbone.

"What if I told you that I have ninety minutes before I have to be found?" she said.

He grinned and it was so ridiculously sexy that a jolt of heat went right through her, causing her entire body to tremble. Had she not been so nervous about what that smile meant, or wondering just how lost in him she was willing to get, she may have found the courage to smile back.

"Sweetheart, I can do a lot with ninety minutes."
Trey has no plans to stay in town, and considering her fledgling business and wanting security for her five year old, Sara isn't planning to leave. Even so, they can't deny their instant chemistry.
It had never been like this. Ever. Even with Garrett it had been a steady build. But with Trey, she felt like she was one wink away from going up in flames.
After setting some ground rules, they decide to be together while Trey's in town . In an odd twist of events, Trey ends up helping out with Sara's son, Cooper, and it surprises him when he realizes he's enjoying the male bonding and making a positive impact on this kid. Of course, neither Trey nor Sara fathom that they'll find what they've each been missing, will fall in love and want to change everything everything they thought they wanted in the process.
"I've never been enchanted before, but you, Sara Reed, everything about you has me mesmerized.
There are so many things that I loved about Be Mine Forever, I can't even tell you all the things. Cooper was a realistic and adorable kid and the way his relationship with Trey wasn't contrived in any way. I loved Sara and the fact that she stood up for herself, and loved Trey as well as his family. Because of all of the interactions Trey has with his siblings' significant others, I imagine readers of the other books in this series will really love this one. Like most family members do, they give him a lot of grief but also some pretty awesome advice.
"You're willing to walk away from a woman who likes you enough to put up with your shit, a kid who thinks you're some kind of hero, because you're scared that you might lose them? Well, easy solution. Man. The. Fuck. Up. And give them a reason to pick you."
My only complaint was that I wanted more, and I can't wait to read everything else from Adair.
Report Card
Cover
Characters
Plot
Writing
Steam
Overall:
4.5
Related Posts