We love Codi Gary, so we were pretty excited to be invited to participate in the tour for Bad for Me. We've got a great excerpt to share with you, along with our thoughts on the book and a fun giveaway. First, here's the 411 on Bad for Me by Codi Gary:
***About the Book***
Bad for Me
by
Codi Gary
Also by this author:
Good Girls Don't Date Rock Stars
,
The Trouble with Sexy
,
I Need a Hero
,
One Lucky Hero
Series:
Rock Canyon Romance #5
Also in this series:
Good Girls Don't Date Rock Stars
,
The Trouble with Sexy
Published by
Avon Impulse
on April 28, 2015
Genres:
Contemporary Romance
,
Love After Loss
,
Small Town Romance
Character(s):
Military Guys
Pages:
400
Goodreads
Buy the Book
Codi Gary returns with another fabulous Rock Canyon romance: when veteran marine Everett Silverton meets the town's smooth-voiced DJ Callie Jacobsen, sparks fly—but is passion enough to give these wounded souls another chance at love?

Callie Jacobsen isn't about to open her heart to just anyone. Not so very long ago, trusting someone changed her life forever—and not in a fun way. Now she's better off focusing on her career, her friends, and her dog. So when former Marine Everett Silverton takes an interest in her, Callie's more than a little wary. No matter how charming he is, men are a bad idea. In fact, she's got the scars to prove it.

But Everett isn't convinced Callie should shut everyone out—especially not him. He may be a hero to the people of Rock Canyon, but he's got his own demons, and he bets they're not that different from Callie's. Still, he knows it's going to take more than chemistry to get her to let her guard down. Everett will do whatever it takes to show her she's safe with him. All she has to do is take a chance, take a step … and take his hand.
***EXCERPT***
"I've almost got it."
"Thank you. This was really nice of you, especially when I haven't given you a reason to be."
Everett looked up at her, wiping the rain off his face so he could meet her gaze. "You seem to assume that just because people are kind to you, they want something. Sometimes people help because it's the right thing to do."
Her gaze shifted away, and he went back to tightening the nuts on the wheel. He'd said his piece, but knew he wasn't going to convince Callie with words that his intentions were honorable.
He had to prove it to her.
Keep Reading the Excerpt for Bad for Me
Keep Reading the Excerpt for Bad for Me
When he finished, he released the jack and gathered up all the tools, sliding them back in the spare tire kit. "I'll put this and the new tire in the back, and you'll be good to go. I'll haul this one off to the dump for you."
She knelt down next to him and took the kit from him, their fingers brushing. Despite the chill of their skin, heat sizzled between them, sending a shot of awareness down his throat. Her blonde curls were wet and falling out of her messy top knot, and drops of rain were clinging to her cheeks. Before he could stop himself, he traced the pad of his thumb across one, catching the cool droplet on his skin. Her amber eyes widened, and he dropped his hand, cursing his impulse.
"Sorry. You had something on your cheek."
Callie cleared her throat and stood up. "It's okay."
He climbed to his feet and couldn't help wondering if she'd felt something too. Was that why she kept pulling away?
But if she didn't want him, why was he pushing?
Because she doesn't treat you like a defective puppy she'd have to fix.
Grabbing her spare tire from the back of his truck, he slid it into the back of her Jeep. She stood back as he closed the door, and he could tell she was nervous—her hands kept twisting.
"Well, you're all set. You should get home and change out of those wet clothes. If you get sick, I'll have to listen to one of those ridiculous weekend deejays, and they play nothing but crap."
Everett started to head back to his truck, but she caught his hand. "Hey."
Just the touch of her hand sent his heart from a trot to a gallop. He loved the way her soft skin wrapped around his.
Facing her, he waited, afraid to move a muscle and scare her off.
But she moved so fast, he wasn't prepared when her lips brushed the scarred side of his face. He stiffened as the warmth seeped through his cheek, his stomach twisting up as a thousand thoughts and insecurities made him wince. Had the roughness repelled her? Why hadn't she picked the untouched side?
"Thank you. For being kind."
Callie dropped his hand and ran to her car, as if afraid he would come after her. As she started it and pulled forward, he was finally able to move again, backing up a ways to watch her disappear down the road.
Everett's hand came up to rest against his cheek, and he realized that he'd lied to Callie when he said he didn't want anything from her.
He wanted everything.
***About Codi Gary***
An obsessive bookworm, Codi Gary likes to write sexy contemporary romances with humor, grand gestures, and blush-worthy moments. When she's not writing, she can be found reading her favorite authors, squealing over her must-watch shows, and playing with her children. She lives in Idaho with her family.
Find Codi Here: Website | Facebook | Twitter | Goodreads
***Our Thoughts***
Kassiah: First, don't look at this cover. Now that I've said that, you probably can't help yourself, but really. I feel like the cover of this book made me not want to read it, and more importantly makes Everett and Callie seem like two people who hook up at a concert. It's sooo not representative of them, where they came from, or how they grow into a couple. This book is awesome, and I'm pretty sure it's my favorite from Codi Gary.
Radio DJ Callie takes calls on her morning show, and the highlight of her day is when Rhett calls in. After a long time (like a year), he asks if they can have more than just a call on the radio every day. She freaks out and later runs into him and sparks fly. She doesn't know the guy she meets is the same guy who has been calling in, but she eventually gives him a chance. Will these two be able to find love when both of them are holding so much back?
Callie has been through a lot in her past, and Codi Gary surprised me with how much history she weaves into this book. I don't even know how Callie was able to function, much less fall for Everett. But fall for the sexy marine she does, even though he's got a past that still haunts him, too, and suffers from PTSD and severe scarring from his tour in Afghanistan. There are so many dimensions to both of their characters. Of course the thing that I loved the most was their relationship. I loved how they were together.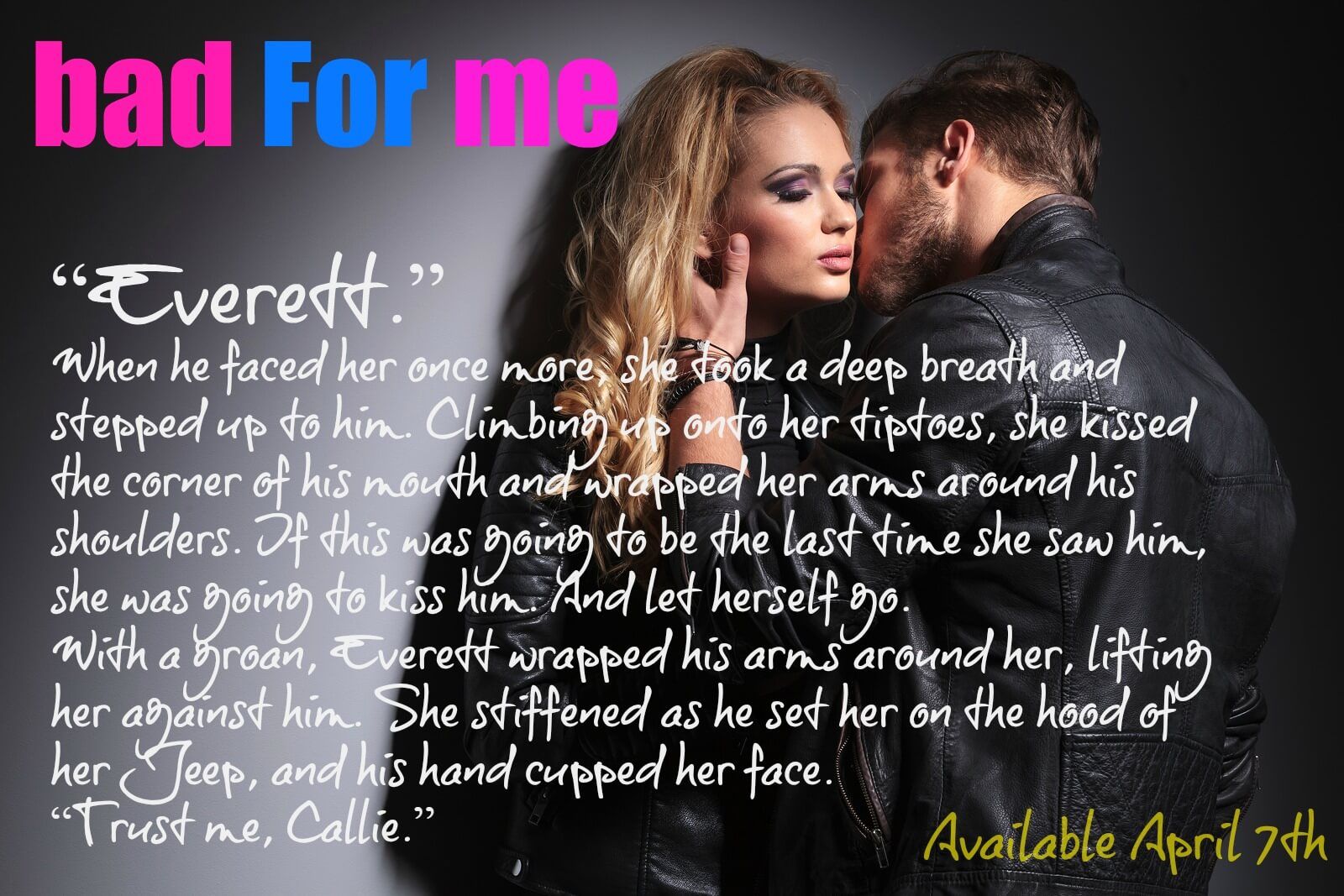 There were a few issues with this book for me, but overall the emotion of the story and the unrelenting love from Everett made me unable to resist it.
Fans of the other books in the Rockstar Canyon Series will be happy with the appearance of favorite couples again, but this can totally be read as a standalone.
A story of finding love after unfathomable losses, Bad for Me by Codi Gary has a couple you'll be rooting for from the moment you start reading.
Report Card
Cover
Characters
Plot
Writing
Steam
Overall:
4
***GIVEAWAY***
Win e-copies of Return of the Bad Girl and Bad Girls Don't Date Marines!
a Rafflecopter giveaway
Good luck and don't forget to check out the other stops on the blog tour for Bad for Me by Codi Gary!
Related Posts