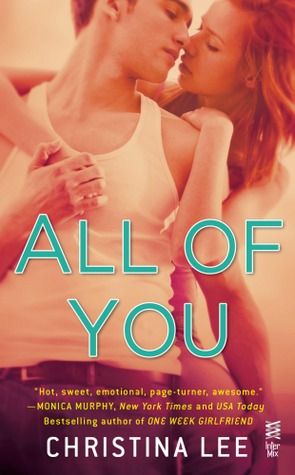 All of You
by
Christina Lee
Also by this author:
There You Stand
,
Two of Hearts
,
The Darkest Flame
,
Three Sacred Words
,
Touch the Sky
,
The Deepest Blue
,
The Hardest Fall
,
Twelve Truths and a Lie
Series:
Between Breaths #1
Also in this series:
There You Stand
Published by
InterMix
on September 17, 2013
Genres:
Contemporary Romance
,
New Adult
Pages:
219
Goodreads
Buy the Book
Avery has just met her hot upstairs neighbor. He's irresistible. Tattooed. And a virgin.

Nursing student Avery Michaels wants nothing to do with dating—she's perfectly happy single. Privy to too many of her mother's bad decisions and even worse taste in boyfriends, all Avery can handle is a string of uncomplicated hookups whenever the mood strikes.

When she meets smoking hot tattoo artist Bennett, she wants him—for just one night. But he won't accept a no-strings-attached arrangement. He lives by a straight-laced code of values based on his own troubled upbringing.

Bennett sees something special in Avery and he wants more from her. Way more. As Avery wrestles with her emotions for Bennett, danger and tragedy force them to open up to each other. And Avery must face the terrifying realization that she wants more from him, too.

So she needs to make a choice—let Bennett go or finally let him in.

Kassiah: I. Loved. This. Book.
Nursing student Avery Michaels is happy with her no-strings-attached lifestyle hooking up with guys whenever it suits her when she runs into a new Hot Boy at a frat party. He brushes off her advances, something that's rarely happened to her.
A couple of days later, she runs into him again outside her apartment building and finds Hot Boy (aka walking dreamboat art student Bennett Reynolds) even more intriguing.
"You're a tattoo artist?" Holy Mother of God, this man just got hotter. I looked at his arms but saw no telltale signs. "I'd think you'd have more tats on you."

My fingers slid over the back of my ear near the tattoo I'd gotten when I'd turned eighteen and finally escaped my mother's house. He'd probably think it was amateurish at best.

"Nah, just a couple of well-placed ones." His cheeks pinched into a grin and he looked down at his feet, almost shy about it. His teeth were perfectly white and straight and mesmerizing. "Sometimes less is more, you know."
The only problem is they both want totally opposite things. Avery refuses to allow herself to be vulnerable and enter into any kind of relationship and Bennett won't settle for less than love. In fact, he never has–Bennett's a virgin.
You know, some guys like to take things a bit slower."

Was this guy for real? Suddenly I felt like a bonafide man-eater. A Slutasaurus rex.

"Huh, guess I didn't take Nate as the relationship type of guy," I said. A deep shade of plum tinged his cheeks. We were speaking in code here, but we both knew the real deal. "And just by association, as Nate's friend, I figured you must be the same way."

"Not true. I'm a commitment kind of guy." His voice was low and smooth, like he was very sure of himself on that one point. "If the right girl comes along."
They dance around each other a bit, trying to deny their chemistry. After a mysterious almost break-in into Avery's apartment, Bennett insists that she sleep over at his place and two start out on a journey of friendship. And crazy sexual tension.
"I can't stop thinking about you." He placed his head in his hands. "You're the sexiest woman I've ever met."
They try to cool things off after reaching an impasse. Meanwhile, both of them are dealing with issues in their families and with their mothers that solidify their reasoning for not wanting to give in to each other. I liked the way that such similar situations with them caused each one of them to head toward opposite ends of the spectrum. Of course, there are ups and downs and there's even a part where Avery thinks Bennett might have given up on her and is moving on.
Would Rebecca try to move in on him? Would he let her today?

"No," he said, meeting my eyes. "Never."

Had I said that out loud?

Or was he just reading my mind?

"I…I…what?"

"I know what you're thinking." He released his grip, and my muscle quivered from the contact.

I still couldn't get any damn words out. "I wasn't…"

"I wouldn't do that, Avery. Even if I'm still ticked and unsure about things. He jammed his hands in his pockets and then clenched his jaw. "Because all day, every day, you're still stuck in my head–in my every damn thought."
Avery's BFF, Ella, finally convinces her to let Bennett in and tell her the real reason she won't allow herself to have a relationship with a man. After Avery's tearful confession, they understand each other so much more and decide to see what happens if they both give in a little.
"I said I was a virgin, Avery. Not a saint."
I want to tell you more and quote all the things but I can't without giving everything away. I found myself swooning and flailing and grinning and just…I just loved it.
There were a couple of things that I didn't love. There were a few moments where Avery's focus shifted from I don't want a relationship so hear me roar! to I'm too fucked up for him to ever really love me. I pretty much hated that. Also, for all the fighting for her Bennett does, he seems to give up on her pretty easily, even if it doesn't last long. I felt like this was just a way to prolong the drama and it wasn't necessary.
In spite of those things, I loved so much more about this story. I actually really liked Avery and her kick-ass attitude. I also really liked Nate and Ella. You already know I flailed and swooned over Bennett (did I mention that he called her precious?), and I loved the way Lee writes. The words at times were visceral and I felt like I was in the moment with them. His hands on her in the tattoo shop–*dies* And I didn't even mention the five words game they play and the note on the flowers he sends *flails forever*.
If you're looking for an amazing New Adult novel with a great twist on an overplayed storyline, a girl you'll root for, and a hot, tatted artist boy that you'll fall in love with, then All of You by Christina Lee is the book for you. I can't wait to read more from this author.
Report Card
Cover
Characters
Plot
Writing
Steam
Overall:
4.5
Related Posts