We love Sports Romances so we were excited to be invited to participate in the tour for All of Me, the first book in the Love Between the Bases Series by Jennifer Bernard. We've got a great excerpt to share with you, along with our thoughts on the book and a giveaway. First, here's the 411 on All of Me by Jennifer Bernard:
***About the Book***
All of Me
by
Jennifer Bernard
Series:
Love Between the Bases #1
Published by
Avon Books
on May 26, 2015
Genres:
Contemporary Romance
,
Enemies to Lovers
,
Opposites Attract
,
Player Falls in Love
Character(s):
Baseball Players
Pages:
371
Goodreads
Buy the Book
Jennifer Bernard, the USA Today bestselling author of the Bachelor Firemen series, scores another homerun with a brand-new series about sexy, single baseball players.

Playing for the Kilby Catfish is hotshot pitcher Caleb Hart's last chance to salvage his career after a major league meltdown. But the day of his opener with the minor league team, Caleb strikes out with the gorgeous woman who is delivering a petition to run the unruly Catfish out of town. Now to stay in the lineup, Caleb will need to score big with the feisty brunette he can't keep out of his thoughts.

After the nasty lies Sadie Merritt's rich ex-boyfriend spread about her all over town, she's lucky to have a job at all. She can't afford to screw it up by falling for the player who is supposed to be helping her change the image of the fun-loving Catfish. But that's easier said than done when Caleb's voice alone is enough to make her pulse race. And when he surprises her with a mind-blowing kiss, she knows there's no turning back.
***EXCERPT***
"You Catfish really are a menace to decent society. Just like the petition says."
"What?"
"That's right." She waved the folder. "They say you're completely out of control."
Keep Reading the Excerpt for All of Me
Keep Reading the Excerpt for All of Me
Caleb had heard the talk about the Catfish too. They liked to party a little too much, and they indulged in the occasional bar-clearing brawl, but then, they were fun-loving young baseball players, so what could you expect? Anyway, it wasn't his problem. He intended to put Kilby in his rearview mirror as soon as possible. "I wouldn't know. Can't say that I care either."
"So the stories are true? Did you guys really fill the community pool with rubber catfish? I heard the senior exercise group had quite a scare and had to call the paramedics."
He snorted.
She shook her head sadly. "Things sure have changed since I came to games as a kid. And to think I thought it was safe here for a nice, civilized girl like me. Next time I'll make sure to bring a bodyguard."
A bodyguard? Now that was taking it a little too … He caught the gleam of mischief she hid under the sweep of her eyelashes. Damn. He'd been right before. She was teasing him.
Whether it was the incredible frustration of giving up six homers, on top of the preceding frustration of being sent down, then traded—throw in the never-ending worry about his family—whatever the cause, all his emotions boiled over in that moment. In two quick steps he crowded her against the wall—no contact, just heat and sweat and closeness.
He growled in her ear, his lips almost brushing the delicate skin there. "There's only one way to find out if the stories are true. But you have to want it. Bad. You have to be so hot for it, you come chasing after me and beg for it. Then you have to prove you can handle it. Put that in your petition."
She stared up at him, her pupils dilated so far her eyes looked black, with a rim of glowing amber. The little pulse in her neck beat like a drum.
All of a sudden his cock was so hard his vision blurred. Damn. Where had that come from? She wasn't even his type. In fact, she was on the irritating end of the female spectrum.
He let her go as if she was a grenade about to explode. "Duke's office is down the hall to your right."
Pushing open the clubhouse door, he headed directly for the shower. It was going to have to be a cold one.
***About Jennifer Bernard***
Jennifer Bernard is the USA Today bestselling author of the Bachelor Firemen of San Gabriels series. She is a graduate of Harvard and a former news promo producer. The child of academics, she confounded her family by preferring romance novels to … well, any other books. She left big city life for true love in Alaska, where she now lives with her husband and stepdaughters. She's no stranger to book success, as she also writes erotic novellas under a naughty secret name not to be mentioned at family gatherings.
Find Jennifer Here: Website | Facebook | Twitter | Goodreads
***Our Thoughts***
Kassiah: I love sports romances, so I was all over this one when we were invited to participate in the tour. I'm more of a football and soccer girl, and I haven't read too many baseball-centric stories, but I get it.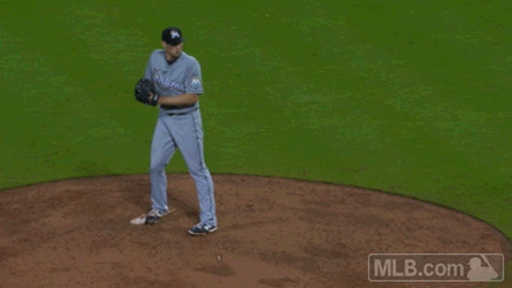 So what's this about? Caleb Hart has got to save his career by reining in his playboy ways. Sadie is a law student, working for the mayor's office in an effort to get Caleb's team out of town. Of course, she can't keep her eyes off his muscles and can't stop thinking about him and he can't resist her sass.
I liked the attraction that Caleb and Sadie had, and you know I like an enemies to more story. But I felt like aside from the initial physical reaction, it was kind of forced. I wanted them to be together because that's what I always want, but I would have understood if they didn't end up together. What I really liked about this story was the setting. It felt authentic to me, and I wouldn't mind visiting and hanging out with the guys. 😉
The pacing of this story was a little slow, but I liked the plot. There were real issues here, and I appreciated it. I could have done with a little less drama, though. The characters had growth, and there were some hot scenes.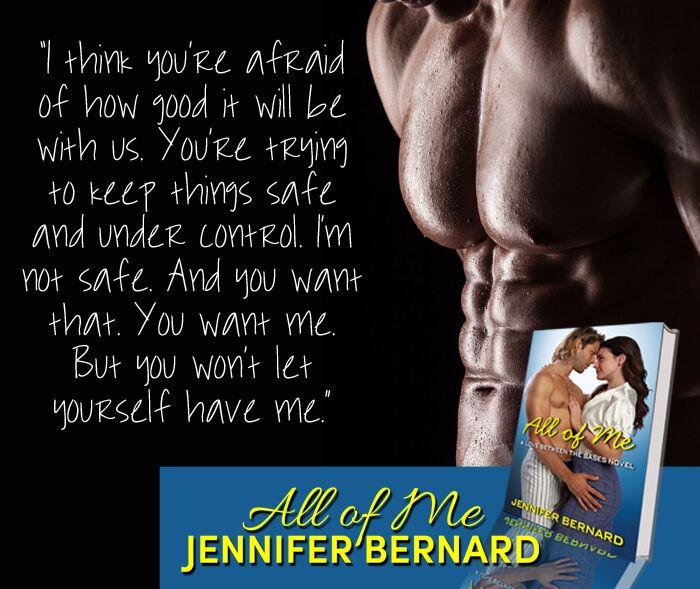 Overall, I'd say All of Me was a fun story with a great setting and guys wearing baseball pants.
Report Card
Cover
Characters
Plot
Writing
Steam
Overall:
3
***GIVEAWAY***
Win A Touch by Alyssa Milano Texas Rangers Women's Addison Slim Fit V-Neck Burnout T-Shirt – Royal Blue!
a Rafflecopter giveaway
Good luck and don't forget to check out the other stops on the blog tour for All of Me by Jennifer Bernard!
Related Posts