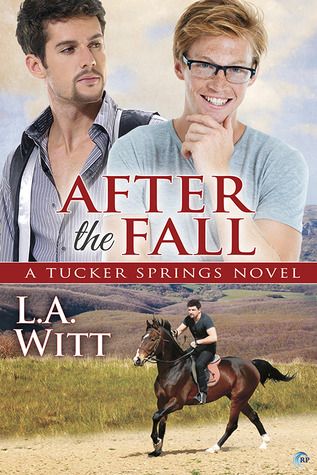 After the Fall
by
LA Witt
Also by this author:
On the Clock
,
Running with Scissors
,
Hiatus
Series:
Tucker Springs #6
Published by
Riptide Publishing
on October 7, 2013
Genres:
M/M Erotica
Pages:
202
Goodreads
Buy the Book
After years of saving every penny, Nathan has finally managed to buy the horse of his dreams. He's looking forward to a summer of exploring the Colorado mountain trails above Tucker Springs with Tsarina. But on their very first ride, a motorcyclist makes a wrong turn, scaring Tsarina into bolting and leaving Nathan with a broken leg, a broken hand, and a ruined summer.

Ryan is a loner and a nomad, content with working odd jobs before moving on to the next town. Feeling guilty for causing the accident that leaves Nathan in two casts, Ryan offers to keep Tsarina exercised until Nathan heals.

Despite their bad start, Nathan and Ryan soon become friends . . . and then much more. But with a couple of nasty breakups in his past, Nathan doesn't want feelings getting involved—especially knowing that Ryan will never settle down. But since when do feelings ever listen to reason?

Les Joseph: After The Fall by L.A. Witt is the sixth book in the Tucker Springs series, but don't let that scare you. I haven't read any of the others and I was able to follow along just fine. Each book is written to be a stand-alone, and although there is a bit of crossover with the other books, it's not enough to detract from each individual story.
In this 6th installment we meet Nathan, a horse lover who has been saving for three years to buy the horse of his dreams. On their very first ride together, Tsarina gets scared by a wayward motorcycle and falls, injuring Nathan in the process. His first meeting with Ryan doesn't go particularly well since he just so happens to be the driver of the motorcycle, but from the moment the two meet, there's an attraction and connection.
With his leg and hand broken, Nathan must find someone to ride his horse while he heals, and that someone turns out to be wayward Ryan, a man who never stays in one place very long.
That might change because of Nathan. The two become close, going from friends to lovers. The road is anything but smooth though; miscommunication, ghosts from both men's past's, and Nathan's injuries all lend themselves to more stops and starts than you can shake a stick at.
Ryan was gone. Of course he was. I'd awkwardly and not very eloquently told him what I should have told him a dozen fucks ago. Before things had had a chance to get this far. I'd finally said it, and now he was gone. I'd thought maybe we could be friends or something, but . . .

"If you don't want to do this, then let's call it off and move on."

This was how it had to be. Sooner or later, Ryan would get restless and leave Tucker Springs, which meant that no matter how this conversation had gone, sooner or later, he'd be gone. Better to let him go now before I became either something he left behind or something he resented for keeping him here.
After The Fall is a sweet story, sprinkled with lots of spice. There were parts that dragged and some of the reactions by both characters left me scratching my head more than a few times. I enjoyed both of the main characters, but I didn't LOVE them. I enjoyed the story, but I didn't LOVE it. The sex was hot but there were plenty of parts in the story that fell flat. Overall it was a decent book and definitely not a waste of my time. I learned a lot about horses, that part of the story was really very well done and kept my interest and it did make me want to read the other books in the Tucker Springs series. I hope you'll check it out.
Report Card
Cover
Characters
Plot
Writing
Steam
Overall:
3.5
Related Posts