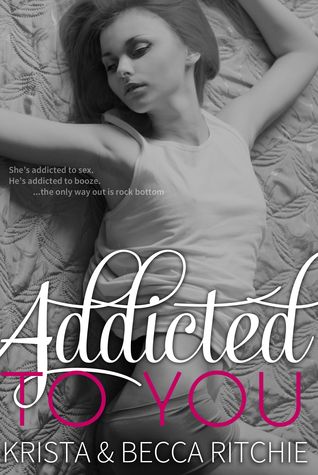 Addicted to You
by
Becca Ritchie
,
Krista Ritchie
Also by this author:
Ricochet
Series:
Addicted #1
Also in this series:
Ricochet
Published by
Self-Published
on June 13, 2013
Genres:
Contemporary Romance
,
New Adult
Pages:
324
Goodreads
Buy the Book
She's addicted to sex. He's addicted to booze…the only way out is rock bottom.

No one would suspect shy Lily Calloway's biggest secret. While everyone is dancing at college bars, Lily stays in the bathroom. To get laid. Her compulsion leads her to one-night stands, steamy hookups and events she shamefully regrets. The only person who knows her secret happens to have one of his own.

Loren Hale's best friend is his bottle of bourbon. Lily comes at a close second. For three years, they've pretended to be in a real relationship, hiding their addictions from their families. They've mastered the art of concealing flasks and random guys that filter in and out of their apartment.

But as they sink beneath the weight of their addictions, they cling harder to their destructive relationship and wonder if a life together, for real, is better than a lie. Strangers and family begin to infiltrate their guarded lives, and with new challenges, they realize they may not just be addicted to alcohol and sex.

Their real vice may be each other.

Kassiah: I'm pretty addicted to New Adult, so I jumped at the chance when author Krista Ritchie contacted me with an offer of an advanced copy of Addicted to You. After finally finishing it, I…hardly know what to say.
The idea for this story is very interesting. Lily Calloway, heir to a billion dollar soda tycoon, is addicted to sex. She lost her virginity at a very young age (I think 14) and since then has has more one-night stands than she can count. She hires prostitutes, watches porn (even in class), and skips family functions to have sex. It's all she can think about.
Loren Hale, her BFF since prep school, is an alcoholic, and the pair come up with a plan that will help cover both of their addictions–they pretend to be together.
…we lied for each other and hid our infidelities, playing the role of doting boyfriend and girlfriend. The deeper we sink, the harder it is to crawl out. I fear the moment where neither of us can breathe again–when someone discovers our secrets. At any moment, everything can crumble beneath us.
Lily makes sure that Loren doesn't get behind the wheel, and Loren helps her cover up with her family and makes sure she doesn't get attacked. Making both of their rich, entitled families happy, their arrangement seems to be working well for them until Loren finally lets it be known that he's always wanted Lily to choose him instead of the many nameless guys who've traipsed through her life and into her bed.
"Have you ever thought about me inside you?"
I think this teaser poster that author Becca Ritchie posted pretty much sums it up: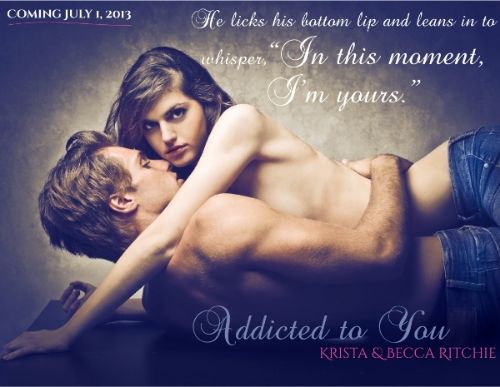 The pair attempt a "real" relationship–one in which Lily is monogamous with Loren and Loren tries to cut back on the drinking. Along the way, they befriend a couple of guys: Connor, who is outright hilarious, and Ryke, who wants to help them overcome their addictions.
This story is a like a see-saw emotionally. Before they're really together, Lily can't stop thinking about Loren, and it's not just because she's addicted to sex.
The way he watches me with rapt attention sets my whole body aflame. I just want him on me. In me. Dear God.
The problem to me comes when they're finally together. Both of them act like their relationship is a chore. Loren complains about having sex so often, which I realize I'm stereotyping here, but I certainly don't think it's a typical reaction for a 21-year-old guy. It's not that he's not ever interested in having sex with her, but most of the time it seems that it's because he has to, either to keep Lily out of trouble, to keep her from cheating on him, or to turn the attention away from him, not because he wants her so much. Lily is no better, and I have at least four comments in my notes about what a selfish bitch she is. I don't see the appeal of her character very much at all.
Admittedly, I don't know much about addiction, especially addiction to sex. And that might be what my issue is here–I just didn't understand it. Lily's addicted to sex, and I don't understand why having Loren at her disposal isn't enough for her. I get why she's unhappy when he refuses her, but I didn't feel like she was satisfied with him, ever, or with anyone really. Maybe that was the point.
There were a few other things that I didn't love. The story seemed to drag out and there were some errors. Like I said, I have an advanced copy, so those might be ironed out in the final copy. I also felt like Loren's portrayal was somewhat comical, the way he hoarded bottles and acted so childish at times. There was a fight at a Halloween party that I thought was completely ridiculous.
With that being said, I liked this story.
What did I like? I loved Loren. Ya'll know how I feel about the doucheward types. He was hot and funny and cocky and pretty swoony at times.
"I'll always be yours. No distance or time apart will change that, Lily."
I also really loved Conner, who starts out being Lily's tutor and becomes a true friend to the couple.
"Estimated grade?"

I sigh. The exam was hard, and I have no idea whether I passed or tanked. "An A," I joke.

…"You'll make an A in econ when I piss glitter, but if you feel confident about it, that's what matters."
While I don't feel like I totally connected with the characters, I find myself thinking about them long after I finished reading. The ending was great, I'm definitely looking forward to reading the next book in the series.
Report Card
Cover
Characters
Plot
Writing
Steam
Overall:
3
Related Posts