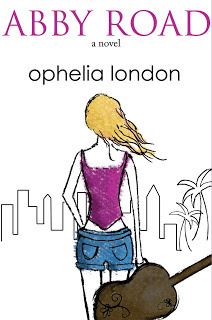 Abby Road
by
Ophelia London
Also by this author:
Playing at Love
,
Speaking of Love
,
Falling for Her Soldier
,
Making Waves
,
Love Bites
,
Kissing Her Crush
Published by
Entangled: Select
on March 26, 2013
Genres:
Contemporary Romance
Pages:
400
Goodreads
Buy the Book
Touted by the tabloids as the biggest rock star of our generation, Abigail Kelly is used to being in the spotlight. But beyond the glam of Hollywood, her world is falling apart. Still reeling from the death of her brother and wilting under the iron fist of Max, her manager, Abby banishes herself to the secluded beaches of Florida for the summer, thinking some anonymity and sunshine are just what she needs. What she finds, instead, is Todd, an ex-marine eager to embrace life after war. Together, Abby and Todd find the balance Abby's life has been missing.

That is, until Max resurfaces, demanding Abby return to Los Angeles to record her band's newest album. As the pressures of public appearances, paparazzi, and late-night recordings start to mount, Abby will have to risk everything or lose the life she always dreamed of.

Ophelia London's Abby Road is a love letter to music—both the kind you cherish and the kind you create—as well as a beautiful love story that proves even when everyone in the world can recognize your face, the only people who matter are those who can see inside your heart.

Kassiah: I read Playing at Love by Ophelia London and really enjoyed it, so when we were invited to take part in the tour for her newest book, I was all ready to jump on. I like the way that London writes, and though this book is 400 pages, it was a quick read.
Abigail Kelly is a rock star who is having trouble dealing with the death of her brother. After having a breakdown in front of the paparazzi, her manager insists that she take a breather–so she heads to her sister's house at the beach for some much needed R&R. There, she meets ex-marine Todd Camford and the two find themselves falling for each other.
For the most part, I liked Abby as a character and though she could have stood up for herself way more than she did, I found myself rooting for her. Todd (which is my husband's name so yay!) was a marine and totally hot:
"Abby. I really like you," he stated, locking eyes with me. "And when I say you, I mean you, not Abigail Kelly the rock star."

"I'm hardly a rock star," I mumbled.

"I like what you're about," he resumed. "I like what you laugh at, what you cry at, what's important to you." My bones were beginning to feel all ribbony at his words. He tilted his head to the side, noticing my new expression. "The way you smile with your whole self. Like right now."

…

"…I have a feeling about this. About you and me."
He's sweet and lays it all out there for her, but I didn't understand his actions sometimes. I loved the way their relationship evolved, but I don't believe that adults don't have sex. LOL Sorry if that's too spoilery, but I know ya'll would want to know that, Steamettes! I also feel like it took them a long time to get where they needed to be, especially since they were so up front with each other about what they wanted.
Fans of the Beatles will love the clever way London weaves lyrics throughout the story. While I appreciated all the musical references, one thing that I didn't connect with was Abby's soul as a singer. She was emotional but maybe I wanted her to feel deeper. The dialogue was thoughtful and realistic, but sometimes the characters lacked authenticity to me. London is a very descriptive writer, and I like her style. I liked this book, but I could have loved it. I just wanted more: more swoon, more romance, more understanding of the characters actions. The end was sweet, and it's a great summer read. I'll definitely be reading more from this author.
Related Posts