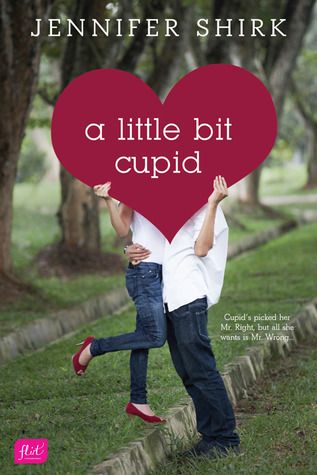 A Little Bit Cupid
by
Jennifer Shirk
Also by this author:
Fiancé by Fate
Published by
Entangled: Flirt
on January 13, 2013
Genres:
Contemporary Romance
Pages:
84
Goodreads
Buy the Book
Finding love should be easy, but wedding photographer Phoebe Ward knows better. When Cupid shows up on a crazy mission to help her —and save the world in the process—Phoebe realizes love might be even more complicated than she thought. Even with Cupid showing her Mr. Right , she can't stop thinking about his best friend, Mr. Wrong.

Cal Crawford has never had time for love, but now he's falling for Phoebe. Which means it's got to be just plain wrong to set her up with his best friend, right? But even though seeing Phoebe with someone else will break his heart, he can't walk away from her.

Phoebe can't afford to choose the wrong guy with the fate of the world at stake. But maybe Cupid has it wrong. Maybe she has to rely just a little bit on Cupid, and a whole lot more on her heart.

Kassiah: This is a quick read with a great idea behind it. Phoebe is photographing her ex-fiance's wedding when she runs into Cupid. He tells her that he wants to help her find her soulmate, and if they aren't successful by midnight on Valentine's Day, love will cease to exist.
"There's a war going on in the heavens between love and hate. Right now, Dad is trying to negotiate a peace treaty. You were chosen because you are a descendant of Thessela."
He gives her a file with details about Adam, the guy that they've determined is her soulmate. She's met him before, and is all for that plan. Until she runs into his roommate, Cal:
"Tell me, do you always stand outside strange condo buildings on early Saturday mornings and talk to yourself?"

She opened her mouth, then closed it again. He had a point. She supposed she did look pretty ridiculous, no thanks to one Cosmo E. Cupid III. "Um, no. I was actually waiting for someone." Sort of.

The man stuck out his lip, pretending to be hurt. "I guess that someone isn't me, huh?"
After getting to know each other a little bit, Cal agrees to help Phoebe get Adam's attention. What follows is Phoebe trying to decide between following what she's told (and saving Love for the entire world) and what she feels.
I liked the idea for the story, and I liked the characters. I get that this is supposed to be a super quick read (it's less than 100 pages), but I felt like it was wrapped up too quickly and the end was pretty unrealistic. I would have liked either a little bit more to the story, or a better explanation for the instalove, in the form of Phoebe being unable to stay away from Cal. I just wanted more, or why bother?
Related Posts