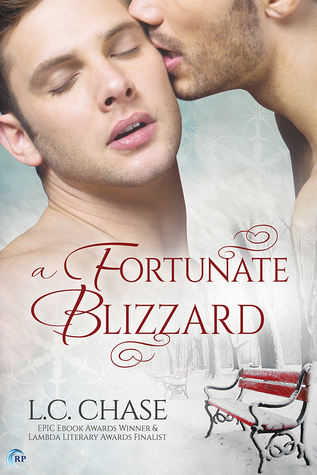 A Fortunate Blizzard
by
LC Chase
Also by this author:
Let It Ride
Published by
Riptide Publishing
on November 2, 2015
Genres:
Christmas
,
Contemporary Romance
,
M/M Romance
Character(s):
Artists/Photographers/Producers/DJs
,
Businessmen/Lawyers/Entrepreneurs
Pages:
175
Goodreads
Buy the Book
There are worse things than being stranded in a blizzard.

Artist Trevor Morrison has always appreciated the little things in life, treating each day as a gift. And with good reason: he's been on the transplant-recipient list for too long now. When he learns just how numbered his days truly are, he resolves not to take them for granted. But he won't be unrealistic, either—which means romantic commitments are off the table.

Marcus Roberts seems to have it all. He's handsome, financially sound, and on the fast track to partnership at a prestigious law firm. In reality, though, his drive for success has meant no time for friends or relationships. Add in the fact that his family discarded him long ago, and he's facing yet another holiday season alone.

When the biggest snowstorm to hit Colorado in decades leaves Marc and Trevor stranded at the same hotel, a chance encounter and a night of passion leads to more than either of them expected. Finding comfort in each other is a welcome surprise, but time is not on their side. Either they find a way to beat the odds, or they lose each other forever.
Erin: A Fortunate Blizzard is my FAVORITE kind of holiday story! Sweet, swoony, romantic, a touch sappy, and all those warm, fuzzy holiday feels, what more could you ask for? Throw in a blizzard, being stranded at the holidays, and some hot lovin' and oh boy are you in for a treat.
Sure there's insta-love, but it's the holidays … a time of magic and hope. Sure there are over used tropes at play, but trust me, you won't care. You'll fall in love with Mark and Trevor as quickly as they fall for one another. There's drama and some angst. Trevor is dying. He's scared and resigned but he meets Marc, and the sparks fly. Hope begins to shine. Marc is a lonely workaholic and spends all his time focused on his career, to the detriment of everything else. These two need each other, desperately, even though the odds are stacked against them.
Their chemistry is sizzling hot, so intense and romantic. Caresses in the dark, kisses that last for endless minutes, sex that transcends the physical.
Marc's lips felt like fire and home and everything he's ever dreamed of, and he gave in … for this moment, he could pretend he was healthy, that there could be more, that his mom would get to wear her mother-of-the-groom high heels after all.
*soooo many swoony sighs*
I love that this story is told in alternating points of view. Hearing from both men just added so much to the story. The pace was perfect, the writing so well done–tight and witty, with so much emotion pouring out through the words. This book is everything that is good about a holiday book. It's about love and family and hope and magic.
Report Card
Cover
Characters
Plot
Writing
Steam
Overall:
4
Related Posts