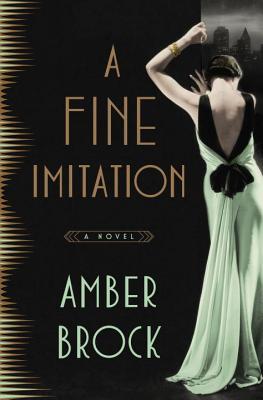 A Fine Imitation
by
Amber Brock
Published by
Crown Publishing Group
on May 3, 2016
Genres:
Historical Romance
Character(s):
Artists/Photographers/Producers/DJs
Pages:
304
Goodreads
Buy the Book
Set in the glamorous 1920s, A Fine Imitation is an intoxicating debut that sweeps readers into a privileged Manhattan socialite's restless life and the affair with a mysterious painter that upends her world, flashing back to her years at Vassar and the friendship that brought her to the brink of ruin.

Vera Bellington has beauty, pedigree, and a penthouse at The Angelus—the most coveted address on Park Avenue. But behind the sparkling social whirl, Vera is living a life of quiet desperation. Her days are an unbroken loop of empty, champagne-soaked socializing, while her nights are silent and cold, spent waiting alone in her cavernous apartment for a husband who seldom comes home.

Then Emil Hallan arrives at The Angelus to paint a mural above its glittering subterranean pool. The handsome French artist moves into the building, shrouds his work in secrecy, and piques Vera's curiosity, especially when the painter keeps dodging questions about his past. Is he the man he claims to be? Even as she finds herself increasingly drawn to Hallan's warmth and passion, Vera can't supress her suspicions. After all, she has plenty of secrets, too—and some of them involve art forgers like her bold, artistically talented former friend, Bea, who years ago, at Vassar, brought Vera to the brink of catastrophe and social exile.

When the dangerous mysteries of Emil's past are revealed, Vera faces an impossible choice—whether to cling to her familiar world of privilege and propriety or to risk her future with the enigmatic man who has taken her heart. A Fine Imitation explores what happens when we realize that the life we've always led is not the life we want to have.
Kaylee: I like reading about this period in time and felt that Brock did a good job of depicting the setting, the costumes, and the ambiance of the early 1920s and the Prohibition-era. While I felt that A Fine Imitation dealt with some serious issues on the surface, it seriously lacked substance. The main character, Vera Bellington, showed absolutely no growth and everything felt surface level to me. When it was all said and done, Brock didn't seem to accomplish the thing she set out to do. Or maybe she did, which makes me like this book even less. Go for something genuine and skip this not-so-fine imitation.
Report Card
Cover
Characters
Plot
Writing
Overall:
2
Related Posts