Today, we're participating in the Book Tour for 15 Minutes by Bethany Lopez. This is the fourth book in the Time for Love Series. You can get the other books in the series (8 Weeks, 21 Days, and 42 Hours) for a limited time for just 99¢! We ♥ Bethany and are excited to tell you about 15 Minutes: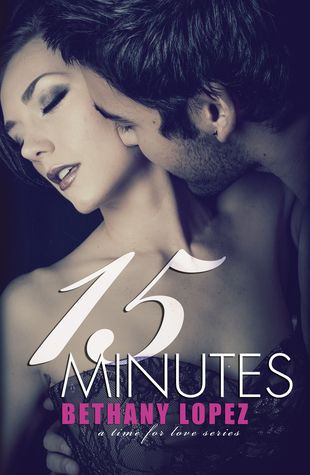 15 Minutes
by
Bethany Lopez
Series:
Time for Love #4
Published by
Self-Published
on November 4, 2014
Genres:
Contemporary Romance
Pages:
147
Goodreads
Buy the Book
Raised to be the "perfect" wife, Victoria has spent her days maintaining her impeccable outward appearance and her nights mingling with the rich and entitled. When her engagement to Scott ended, Victoria thought she'd be rid of him and his circle of friends forever, but a chance encounter with Brock will change not only the way she sees him, but the way she sees herself.

Brock is a man who's happy and content with his life. A surrogate parent to his now-adult brothers, he spends his days running the company he built himself and his nights playing in his brothers' local band. When he runs into Victoria in the bar after a show, sparks unexpectedly fly, and he's interested in seeing where it goes.

But can the man who's happy with his life, convince the woman who always wants more, to give him a shot with only 15 Minutes on the clock?
Kassiah: Brock O'Malley owns his own painting business and plays in a band with his brothers. He runs into Victoria (Tori) at a gig, and sparks fly. They're not strangers, but given her history with his friends, he's surprised by how he reacts to seeing her. He lets her know right away that he wants a shot with her.
"Just give me fifteen minutes, Victoria. Fifteen minutes and I'll convince you to give this a shot."

…

"No strings, no expectations, just pure pleasure."
Victoria has just been surviving since her ex-fiancé broke things off with her. She feels unwanted–until Brock takes notice of her. Only problem is, they're total opposites.
Brock was the kind of many who rode motorcycles and sang in a band. What would he want with an uptight debutante like me?
There's something about Brock, so Victoria decides to go for it.
It seemed like he saw me in a way that no one else ever had. Not my family, not other men…not even myself, and although it may be against my better judgment, I wanted to see what else he had to offer.
I haven't read the previous books in the Time for Love series, but 15 Minutes can be read as totally standalone, so no worries there. There's obviously history with some of the other characters. Victoria was engaged to Scott, and Brock was dating Gaby. Apparently (in 42 Hours by Bethany Lopez), Scott's friends staged an intervention to help him see that Victoria wasn't the girl for him, and he broke things off, turning to his old flame, Gaby. Brock's not heartbroken about it, but we know there's some history there.
I liked the realistic way the other women acted toward Victoria. She was apparently a cold-hearted bitch in the past, and Victoria wants things to work out with Brock.
"I hope that you'll give me a chance now, if not for me, for Brock. You are all important to him, and he is important to me, so I'd like to remedy our past, and get to know you know."
Brock and Tori have their ups and downs as they navigate their relationship and a no-strings fling quickly turns into sleepovers and dinners with each other's families. Things get out of hand one night and then tragedy strikes. Has what they've been building enough to see them through rough times or will their fifteen minutes be up?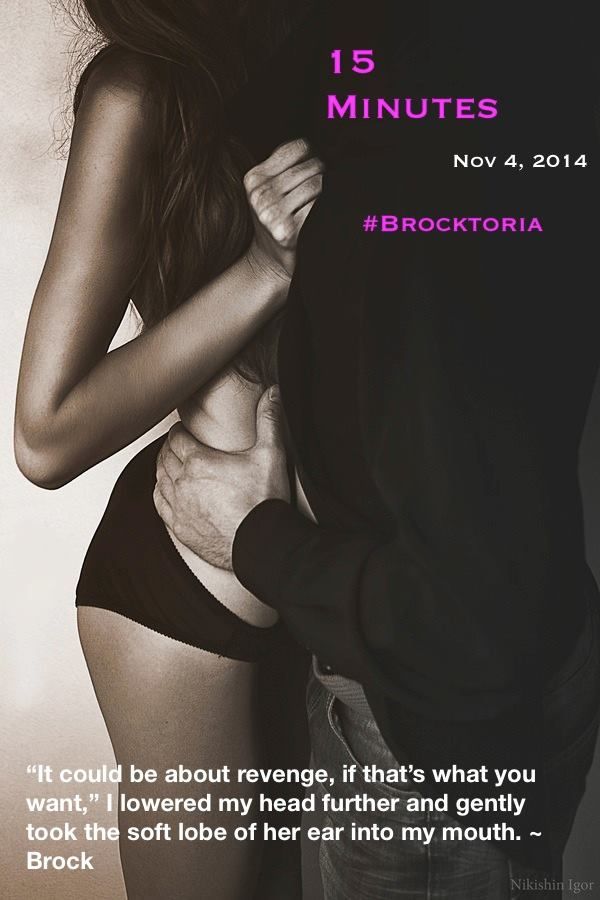 Brock could be charming, and I think the way Victoria handled things was realistic. She had authentic reactions to things going on in other people's lives, and I really appreciated that about her. There were some steamy scenes, which I also liked.
"Fuck me harder, Tori."
There were things that I didn't like, like some grammatical errors and a few things that irked me, mostly revolving around Brock. He calls his ex "sweet girl" in front of Victoria, and he was a total douche to her at times. The ending (for Brock and Tori, at least) was too wrapped-up-in-a-bow for me. I was very surprised that it was resolved so quickly–I wanted Brock to have to work for it a little bit (or a lot). After the way he treated her and talked to her, I honestly would have preferred for her to find someone else. He didn't deserve her.
I also have a weird thing about girls being named "Victoria"–can't help it. But that's my issue that years of reading fic has done to me 🙂
Overall, I enjoyed this story and am definitely interested in reading 10 years, which features baseball player Craig and Gaby's little sister, Gwen, when it releases in February.
Report Card
Cover
Characters
Plot
Writing
Steam
Overall:
3
***About Bethany Lopez***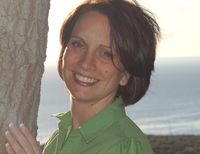 Award-Winning Author Bethany Lopez began self-publishing in June 2011. Since then she has published various YA and NA books. She is a lover of romance, family, and friends, and enjoys incorporating those things in what she writes. When she isn't reading or writing, she loves spending time with her husband and children, traveling whenever possible.
Find Bethany Here: Website | Facebook | Twitter | Goodreads
***GIVEAWAY***
Time for Love Charm Bracelet
a Rafflecopter giveaway
Good luck and don't miss out on the other stops on the 15 Minutes by Bethany Lopez Book Tour.
Related Posts