We love supporting worthy causes and are excited about the Summer Rain anthology, which released on June 7. Not only do we get to read stories from some of our very favorite authors, but one hundred percent of every author's proceeds from this book go to benefit RAINN (Rape, Abuse and Incest National Network).
From the editor, Sarah Franz:
Each year, nearly a quarter of a million sexual assaults are committed in the US, nearly half of them against victims under the age of eighteen. RAINN assists so many of these survivors, not only by operating telephone and online hotlines for victims of sexual abuse, but also by working in partnership with rape crisis centers in the United States of America, providing programs to prevent sexual abuse, and helping to bring abusers to justice.

Giving vibrantly is something that RAINN (www.rainn.org) does every single day.
We hope that every single one of you will purchase this book and support this amazing and very necessary cause.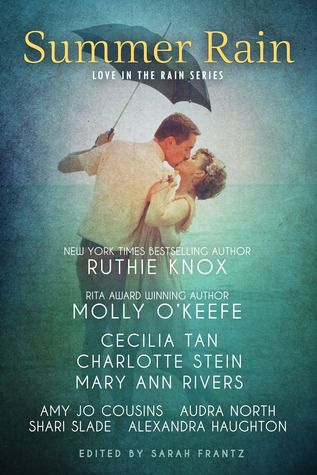 Summer Rain
by
Alexandra Haughton
,
Amy Jo Cousins
,
Audra North
,
Cecilia Tan
,
Charlotte Stein
,
Mary Ann Rivers
,
Molly O'Keefe
,
Ruthie Knox
,
Shari Slade
Also by this author:
One Night in Santiago
,
Healing Her Heart
,
A Lesson in Temptation
,
In the Fast Lane
,
Shifting Gears
,
Live
,
The Story Guy
,
Making It Last
,
Truly
Series:
Love in the Rain #1
on June 7, 2014
Genres:
Contemporary Romance
Pages:
357
Goodreads
Buy the Book
What happens when love gets caught in the rain?

In this romance anthology, RITA-Award winning author Molly O'Keefe shows us the power of a city thunderstorm from the top of a skyscraper, while Amy Jo Cousins soaks us in a rain in Spain. New York Times bestselling author Ruthie Knox's heroine is devastated by a winter storm, while a summer thunderstorm grants Alexandra Haughton's hero and heroine a second chance at love. Rain sparks self-awareness in the robot in Charlotte Stein's story and allows Mary Ann Rivers's heroine to fall in love with her hero and her own art. Rain causes romance between the college students in Audra North's and Shari Slade's stories, while romance causes rain in Cecilia Tan's myth-inspired tale of a sacrifice to a demi-god. Nine romance novelettes, edited by Sarah Frantz.

All proceeds from the volume will be donated to the Rape, Abuse, and Incest National Network (www.rainn.org), the largest anti-sexual violence organization in the United States.
We'll be reviewing it soon, but in the meantime, here are the stories that are included:
Redemption by Ruthie Knox
Jessie Bellin's cheese shop is failing, her house is falling apart, and the mortgage is ninety days overdue. With nothing left to offer, she'll take what she can get from the handyman who wants nothing but her body. But when Mike Kaminsky suddenly asks for more, Jessie has to figure out exactly what she wants—and if it's possible for a woman who's lost everything to learn how to hope again.
The Heart of It by Molly O'Keefe
Gabe seems outwardly successful and content, but inwardly, he struggles to banish the lingering demons of his childhood. Elena is a survivor herself and knows that the smart move is to walk away from Gabe. But his pain and his hope are too compelling to resist.
Are these two wounded people brave enough to find love together?
Sacrifice by Cecilia Tan
When a tenth century trader from the Orient sells his daughter to a Macedonian, he doesn't ask why the man needs a virgin, little knowing she is intended to fulfill an ancient pact with a demigod who can end the crushing drought. But this demigod has sworn off his father's rapacious ways. With the influence of the ancient pantheon waning, only love can heal them all.
Real Feelings by Charlotte Stein
Moira longs for a connection—any kind of connection with anyone—and is beginning to despair she will ever find it. In desperation, she purchases an android, hoping against hope that she can find some solace in a simulation of the real thing. But what she doesn't expect is Michael—a machine that seems to be more than the sum of his parts.
Rainy Season by Mary Ann Rivers
Lisa Shirek is everyone's favorite barista. She does more than get her customers' orders right, she gets her customers. She can see the most painful moments of their lives like stormy weather around their bodies, and she does what she can to soothe that pain with the right smile, the right words, the perfect combination of coffee and foam. Except, then, there's Mark—he's a sunbeam, a mystery made of light. He breaks through the storm around her so she can see herself, for herself.
The Rain in Spain by Amy Jo Cousins
Travel writer Magda and scientist Javi are cranky with the heat—and each other—on the streets of Sevilla. They've been married for a year, after a whirlwind courtship, and Magda is questioning whether or not she made a mistake. She's not sure if her need to explore the world can ever mesh with Javi's more regimented life.
As they stroll the cobblestone streets of one of Spain's most romantic cities, Magda tries to show her husband just what it is she loves so much about her job that keeps her far from home for so long. By the time the sun rises, they'll know if there is a way forward for them together . . . or not.
Fitting In by Audra North
Stas Petrovich is sure that being elected president of his college class will grant him the social acceptance he craves. But when rain ruins his campaign event, he's left in the company of the Weird Girl, the one person guaranteed to jeopardize his chances. But he discovers that Leila dos Santos is fun and genuine and sexy as hell, and he's forced to reconsider what's most important to him.
Private Study by Shari Slade
Tess Bell's sex vlog flashes on another student's tablet screen in the middle of an economics lecture. Worst of all, the guy she's been secretly eyeing all semester sees it, too, and asks her out for coffee at the local diner. Is he like their awful classmate, convinced he's owed something because Tess dares to be curious about sex, or does he really want to know her? Only one thing is certain: nothing is private anymore.
Storm Warning by Alexandra Haughton
When Amy Collier left behind her dreams—and her pride—in L.A., she hoped for a few quiet months to regroup. She never dreamed her hometown's welcoming committee would take the form of Tom Wilson. Well, he could just keep his I-told-you-so grin and his sexy-cowboy charm; she doesn't want any part of it.
Except seeing him again stirs up a storm of emotion, and she must try to reconcile bitter memories of their past with her uncertain future—a future that might be a whole lot brighter with Tom in it.
Related Posts