We're thrilled to be participating in the blog tour for Of Silk and Steam, the thrilling conclusion to Bec McMaster's London Steampunk Series. Before the blog tour began, all of the participating bloggers were given a quiz to see which London Steampunk character we were most like. We got Helena Todd from Heart of Iron, the second book in the series, and we couldn't agree more!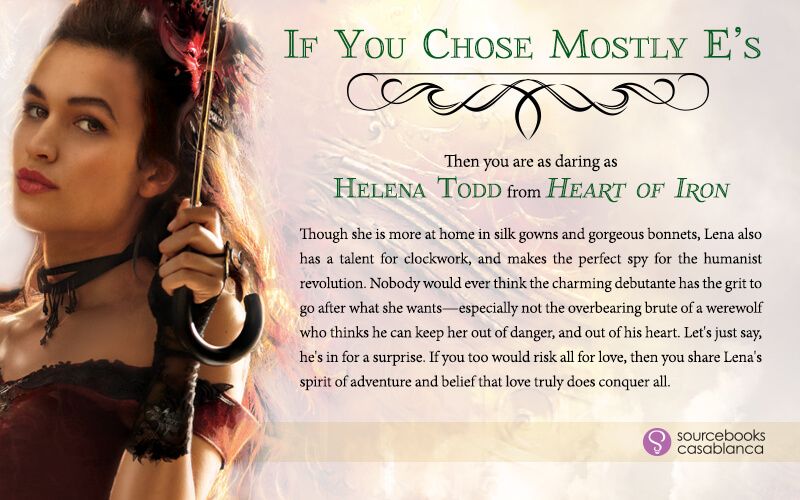 We've got a great excerpt to share with you today as well as a fabulous giveaway. First, let's check out the deets on this amazing book!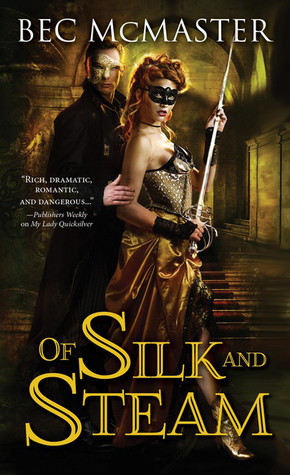 Of Silk and Steam
by
Bec McMaster
Series:
London Steampunk #5
Published by
Sourcebooks Casablanca
on March 3, 2015
Genres:
Fantasy
,
Paranormal Romance
Pages:
416
Goodreads
Buy the Book
Enemies. Allies. Lovers.

When her beloved father was assassinated, Lady Aramina swore revenge. The man responsible is well beyond her grasp, but his dangerously seductive heir, Leo Barrons, is fair game. When Mina obtains evidence proving that Leo is illegitimate, she has the means to destroy both the killer and his son, a man who troubles her heart and tempts her body.

A woman of mystery, Mina's long driven Leo crazy with glimpses of a fiery passion that lurks beneath her icy veneer. He knows she's hiding something, and he's determined to unravel her layer by silken layer. He just doesn't expect the beautiful liar to be the key to overthrowing the corrupt prince consort… or to saving his own carefully walled-off heart.
***EXCERPT***
Barrons looked at her. "Do you trust me?"
"No." His father would have cut her down without thinking, but Barrons was an enigma. If he were a different man, she would have enjoyed his attentions, but a part of her couldn't help wondering if his pursuit of her was just a way to get closer, to slip the knife in when she least expected it…
Could she trust that he meant her no harm?
His hand tightened around hers, dark heat sweeping through his irises. He focused on her so intently that she could almost feel it on her skin. "Then let us call a temporary truce for tonight. I shall help you escape. In return…"
"Yes?"
His voice roughened. "I want a kiss."
A kiss. Tension slid sinuously along her limbs, each muscle clenching. Those motives she could certainly understand. It didn't mean she had to like them.
Wariness spread through her as he lifted his hand and slowly, carefully brushed the back of his fingers against her lips. She didn't flinch. Instead she tipped her chin up and glared him down. "Help me escape and I shall grant you such a liberty." What harm could a single kiss do? "Until then"—she took a step back, her skirts swishing around her ankles—"I'll thank you to keep your hands to yourself."
His hand dropped but the ghostly sensation of that touch lingered, reminding her that it had been a long time since she'd been touched in any way intimately, and never like this. Never…soft. Full of gentleness, as if the very sensation of her skin beneath his was a pleasure in itself, not merely a step to greater satisfaction.
He was far more dangerous than she'd ever suspected, and she'd known, since the first moment she'd met him, that he was dangerous indeed. He was the only man who had ever managed to make her feel something.
***About Bec McMaster***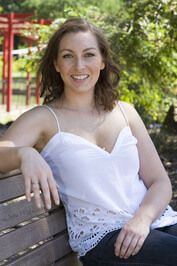 Bec McMaster lives in a small town in Victoria, Australia and grew up with her nose in a book. A member of RWA, RWA (Australia) and RWNZ, she writes sexy, dark paranormals and steampunk romance. When not writing, reading, or poring over travel brochures, she loves spending time with her very own hero or daydreaming about new worlds.
Find Bec Here: Website | Facebook | Twitter | Goodreads
London Steampunk Series by Bec McMaster
***GIVEAWAY***
Enter to win One of Five copies of Kiss of Steel
a Rafflecopter giveaway
Good luck!
Related Posts