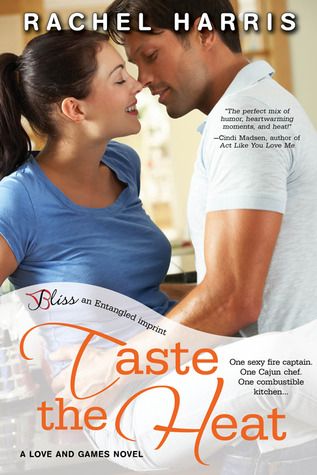 Taste the Heat
by
Rachel Harris
Also by this author:
Seven Day Fiancé
,
Accidentally Married on Purpose
Series:
Love and Games #1
Also in this series:
Seven Day Fiancé
,
Accidentally Married on Purpose
Published by
Entangled: Bliss
on July 8, 2013
Genres:
Contemporary Romance
Pages:
191
Goodreads
Buy the Book
One sexy fire captain. One Cajun chef, One combustible kitchen…

When chef Colby Robicheaux returned home to New Orleans to save her family restaurant, the last person she expected to reconnect with was her brother's best friend and her childhood crush. As tempting as a sugar-coated beignet, Jason is one dish she doesn't want to taste. Colby is counting down the days till she can leave the place where her distrust of love and commitment originated and go back to Vegas.

Fire captain Jason Landry isn't looking for love, either. He knows he should focus on finding the perfect mother for his daughter, but when he first sees Colby, all grown up and gorgeous, he can't help but be drawn to her. And when she suggests a no-strings-attached fling, Jason doesn't want to say no.

As their relationship grows more intense, Colby finds that Jason isn't as easy to leave behind as she thought. Could turning up the heat on something real be worth the possibility of getting burned

Kassiah: I have to admit that I was really excited about this book as soon as I found out about. Set right outside of New Orleans, which is very close to where I live, with a Cajun chef and a hot firefighter dad? Sign me up!
No, really, I whined about it until they made a stop on the tour especially for us.
And I'm so glad they did. OMG ya'll. I really, really loved this book.
Colby Robicheaux, a renowned Cajun chef who's now the head chef at a prestigious restaurant in Las Vegas, is home for the summer to help out with the family restaurant that's in trouble following the death of her father. After being cheated on by her college boyfriend and witnessing infidelities from people she was closest to, she's sworn off love and has a lot of trust issues. She's judging a cooking contest in her small town when she sets eyes on childhood crush Jason Landry.
Jason is Colby's brother's best friend and was the star of her every childhood fantasy. He's now the chief of the Fire department, owns a gym, and is a dad to an adorable 12 year old. He's also a widower. His wife and high-school sweetheart was killed four years and since then, he hasn't even thought of being with anyone else. Now he can't help but miss being with someone. Not to mention he wants a good role model in his daughter, Emma's, life. Colby breezes back into town at just the right moment.
"Wow, an award-winning chef, a fire captain, and now a member of the Magnolia Springs welcome committee? Why, Mister Landry, you've grown up to be quite multi-talented."

He laughed under his breath. "That I am," he confirmed, his eyes lowering to her lips. "And that's only scratching the surface."
Because of their pasts, they know a real relationship is out of the question, but what happens when they realize they both want more? What happens when Jason realizes that he can love again? Will Colby let down her guard and go after the guy she's loved all her life?
For the better part of the last thirty years, she had lusted after the man in front of her. She'd seen him at the breakfast table with adorable bedhead. She'd seen him dressed up and smelling good, heading to a party. Colby had seen Jason at all ages and stages of his life–heck, she even saw him in his hero getup a few days ago. But without question, he had never looked more attractive than he did in that moment.
There's so much that I love about this story. I love the characters, especially Jason. My rob, he's so hot. And even though his analytical way of looking at things when he's thinking about having a marriage of convenience for his daughter's sake is barbaric, his thought process makes sense. And did I mention he's hot?
"Just so we're clear, being on top of me? It would definitely be better than fine."
For the record, I'm claiming this guy now. Also, there's a scene in this book that I actually put this note on: Email Rachel and beg her to send me the next scene. I love Entangled Bliss, but I really, really wish this had been Brazen so we didn't get the fade to black. I want more!!!
Rachel Harris without a doubt brought the magic of New Orleans to this book. The setting of this book was so amazing. The food descriptions, the ambiance of the city, just everything–so good.
I also really loved Colby's siblings. Her brother, Cane, was the perfect souther big brother, and her sister, Sherry, was funny and awesome.
"A chance to have a fling with a hot firefighter–what woman wouldn't want that? It's your duty, on behalf of single women everywhere, to pursue this opportunity."
So what didn't I love? I thought Colby's breakdown was a little overly-dramatic. Also, since Colby's brother has been best friends with Jason since pre-school, I didn't understand how finding out about Emma (and his marriage) was such a shock to Colby. It was explained a little, but really? I feel like Cane would have at least mentioned his godchild at some point over the last twelve years, especially since they're so close. The end was a teeny bit cheesy (grin) and seemed too soon to me, but I'm glad we got it anyway.
I really loved this book. I think you'll love it, too.
**INTERVIEW**
We had Rachel come by and sit down with us over some beignets and café au lait.

Thank you so much for stopping by today, Rachel! We've been fans of yours for quite some time, so just know we're flailing a little right now 🙂
Aw, yay! I'm a big fan of yours 🙂 Thanks so much for having me!
Tell us a little about Taste the Heat. Was it a fun book to write?
Oh yes, this was so much fun! I loved losing myself in New Orleans, sharing the fun nuances that are so unique and made me who I am. Growing up there, I took so much for granted until I moved away—first to New York for a summer, then to North Carolina for a few years, and now to Texas. I loved sharing that. Plus, I like mixing humor with my romance, so I kept myself laughing for pretty much the entire draft.
That's so cool. We love how you made us feel like we're right there in the middle of Cajun country. Well, one of us is right there! It was so authentic. Was writing this book like going "back home" for you?
YES! I go home quite often because most of my family still lives there, but this helped me feel like I was still there. Plus it gave an excellent excuse for a few extra road trips.
Next time you're passing through, you'll have to let us know so we can get together for real! What was your favorite part of Taste the Heat to write?
I think I'd have to say the night they spent in the actual city of New Orleans. I went into this book thinking I also wanted it to be like a love letter to the city I grew up in, the people who raised me, and I think I was able to best show why NOLA is so special in those chapters. At least, I hope so!
That was one of our favorite parts, too. It definitely made us feel like we were right there. We love Colby and Jason so much. How would you introduce them to readers?
Yay! So glad you loved them like I do 🙂 Colby Robicheaux is a witty, independent, conflicted chef returning home after years away. Though she grew up on Cajun cuisine, she owns a famous Italian restaurant in Vegas and definitely returns to help the family restaurant with a few ideas in mind. She also returns emotionally scarred from her past, having given up on love…and that's when she runs into her first love, or rather first crush, her older brother's best friend, Jason Landry.

Jason Landry is a fire captain, gym owner, and widowed father to a preteen girl who doesn't know what a loofah is for. He's tried his best and has done a fine good job raising Emma alone since the death of his wife, but he's realizing she needs a more solid feminine presence in her life. He's given up on love, too, having been there and receiving the battle scars to show for it, but when he spots the chef judging the cooking competition he'd entered, he can't deny an attraction. Too bad it's his best friend's little sister.
How do you build your characters? Do you know every single detail of their lives?
I always find images for them, figure out their main goals and conflicts, along with what sets them apart from the others on the page. I answer a series of questions, which seems to change every new book I write, but yes, I definitely go in knowing a good deal about all of them. That's not to say they don't change a bit during drafting as new sides of their personalities and family stories come into play.
We've got some ideas *grin* Do you have a dream cast?
Yes, I do! Meet Jason:



and Colby:


I have a full cast list at Nereyda's stop on my blog tour.
Holy hotness, Cane Robicheaux! We can't wait for more of him. And …just more. Any more plans for Jason and Colby? (please say yes, please say yes)
I have at least two more books in the series (possibly more) in the works. First up is big brother Cane's book later this fall, followed by baby sister Sherry's book early next year!
Squee! Did you always want to write?
I've always been a storyteller, but I never thought I'd actually pursue writing. It wasn't until after I started homeschooling and rediscovered my love of reading for pleasure that I decided to give it writing my own story a try, and I've been hooked ever since.
We were thrilled to hear you're a fellow homeschooler (Kassiah homeschools her kids, too!). You've jumped genres with Taste the Heat. How did you make the transition from YA to steamy romance?
I love writing Fun and Flirty Escapes. I think a good story is a good story and good characters are good characters, regardless of intended audience, and I was able to bring my love for witty romance easy to the adult genre. I hope to do the same with my new adult coming out next year, too!
We're excited about your New Adult. Do you have any interesting writing quirks or rituals?
I have to have a story soundtrack to listen to when driving to help me think through my plot, and I edit as I go. I've tried the other ways and it just doesn't work for me. I plot ahead of time and I write and mess with each word and chapter until it's where I want it, and then I send to my critique partners who usually have it back by the next day. I input their changes and then move on. When I reach "the end," I'm done.
Where do you write? Home office, coffee shop, kitchen table?
WHEREVER I CAN! LOL. I'm a homeschool mom, so McDonald's playlands rock, as do libraries. When I'm at home, which is most of the time, I go between my kitchen counter, dining room table, and my desk—typically wherever is the most quiet 😉
We hear that. What's the one thing readers would be surprised to learn about you?
I make a mean beignet?? Ha, I don't know, honestly. I've stared at this question for a while now without coming up with a response, and I think that's because I'm pretty open. Readers know that I respond to every tweet, every comment, every Facebook message. I'm very active with my street team, the Flirt Squad, and tend to be an open book. The things I normally say here are that I can play Mary Had a Little Lamb on the telephone, my husband went to elementary school with Ian Somerhalder, and when I was in college, I interned at Entertainment Tonight.
What's your favorite genre to read?
Adult, YA, NA, I love it all, but I definitely tend to prefer Contemporary Romance, though I do love Regency Historicals, too.
Which character makes you swoon the most (yours or someone else's)?
Right now, I have to say big brother Cane Robicheaux from my series because I'm writing his book now, and he's just yummy. I love misunderstood bad boys with a heart of gold.
He's such a contradiction. Brainy bad boy. 🙂 Do you have any current or future projects you can tell us about? Tell us all the things!
Like I said, I'm working on books 2 and 3 in the Love and Games series, featuring Colby's siblings. Next month I also have the companion novel for my YA series, A TALE OF TWO CENTURIES, releasing, as well as a third book in that series later this winter. After those four books come out, I also have a YA Contemporary Romance series and New Adult Romance with Spencer Hill Contemporary beginning summer/fall of 2014. I also hope to continue the Love and Games series with a new batch of characters in Magnolia Springs. LOTS of projects in the works!
So many awesome stories! We can't wait. Just one more question! Is there ever anything you wish people would ask you during these interviews, but they never do?
No…Whether it's because interview questions always rock, or if it's because I go off in tangents and share way more than they intended (ha!), I think I cover most things. Though now that you ask, I'm gonna come up with a bazillion other questions in like a week.
You're always welcome back, girlie! Thanks so much for visiting with us today, Rachel. We can't wait to read more from you!
Thank you SO much for having me!! It was an honor 🙂
FYI: This interview was previously posted on our now-defunct site. We loved it so much, we had to share it again. We appreciate Rachel so much for not only writing amazing hot Cajun boys, but for allowing us to repost this interview. All the ♥♥♥♥♥
**About Rachel Harris**
Rachel Harris grew up in New Orleans, where she watched soap operas with her grandmother and stayed up late sneak reading her mama's favorite romance novels. Now a Cajun cowgirl living in Houston, she still stays up way too late reading her favorite romances, only now, she can do so openly. She firmly believes life's problems can be solved with a hot, powdered-sugar-coated beignet or a thick slice of king cake, and that screaming at strangers for cheap, plastic beads is acceptable behavior in certain situations.
When not typing furiously or flipping pages in an enthralling romance, she homeschools her two beautiful girls and watches reality television with her amazing husband. Taste The Heat is her adult romance debut. She's the author of MY SUPER SWEET SIXTEENTH CENTURY and A TALE OF TWO CENTURIES. She loves hearing from readers!
Find Rachel: Website | Twitter | Facebook | Goodreads
Related Posts