All month long, we're featuring some of our favorite authors, along with a quick Q&A and some of their favorite recipes. We've got daily giveaways with chances to win some amazing (and steamy!) reads plus a month-long Recipes for Romance Grand Prize Giveaway for a box filled with books and more!
Today Sawyer Bennett stopped by with a recipe for Pumpkin Roll!


**Q&A with Sawyer Bennett**
What is your favorite holiday tradition?
Hands down… decorating the Christmas tree. Put on some music, spike a little Nog, warm fire going. Best time ever.
What is your most unusual holiday memory?
I cannot think of one unusual memory that I have, butI do have a favorite memory. Every year growing up, my dad would go crazy decorating the house with lights. He would put these huge speakers on the roof of the house and blare holiday music out in the neighborhood. All my friends would come over at night and we would play in the yard which was lit up by all the lights and listen to the music.
What was your favorite moment under the mistletoe?
The only timeI have been under mistletoe is in my parents' front yard. We have a ton growing up in a tree.
What's your favorite Christmas carol or holiday movie?
It's a Wonderful Life… one of the best movies ever!
What's the sexiest gift you ever got/gave?
Lingerie! And I received it in case you were wondering.

Peppermint Mocha or Pumpkin Spiced Latte?
Pumpkin Spiced Latte
Egg Nog or Apple Cider?
Egg Nog (with Bourbon)
Themed Christmas Tree or HodgePodge?
Hodge Podge
Old School Bulbs or Icicle Lights?
Old School Bulbs
During this Holiday Season, is it better to Give or Receive?
Give! Is that the right answer?
**About Sawyer Bennett**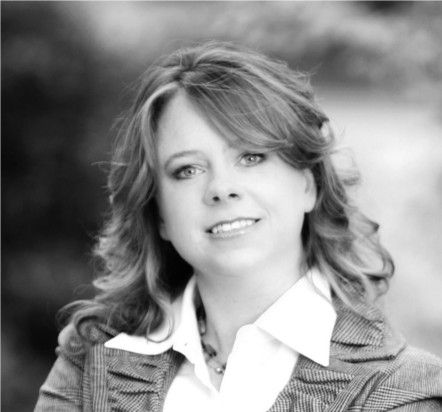 USA Today Best-Selling Author, Sawyer Bennett is a snarky southern woman and reformed trial lawyer who decided to finally start putting on paper all of the stories that were floating in her head. She is married to a mobster (well, a market researcher) and they have three big, furry dogs who hog the bed. Sawyer would like to report she doesn't have many weaknesses but can be bribed with a nominal amount of milk chocolate.
Find Sawyer Here: Website | Facebook | Twitter | Goodreads
We can't wait to try out Sawyer's delicious recipe for:
**Pumpkin Roll**
Message from Sawyer:
We always had this cake at Christmas time.

Ingredients:
3 eggs
1 cup white sugar
2/3 cup canned pumpkin
3/4 cup all purpose flour
1 tsp baking powder
2 tsp cinnamon
1 tsp ginger
1/2 tsp nutmeg
1/2 tsp salt
1 package softened cream cheese
4 Tbs butter
1 cup powdered sugar
1 tsp vanilla extract
Directions:
In large bowl, combine eggs and sugar, beating well. Add pumpkin and blend.
In separate bowl, combine flour, baking powder, spices and salt. Add to egg mixture, mixing well.
Grease 10×15 jelly roll pan; lay wax paper and grease/flour that. Spread batter into pan.
Bake at 375 for 15 minutes.
Cool for 15 minutes then place cake on clean tea towel sprinkled with powdered sugar and cool for 10 more minutes.
Then roll cake up in towel.
Filling: Beat cream cheese, butter, powdered sugar and vanilla extract together.
Unroll cake and place on plastic wrap. Spread filling over cake. Roll up cake and cover with plastic wrap. Place cake seam side down and chill for at least 2 hours.
Want more Desserts? Get recipes for Desserts and lots of other delectable holiday dishes from your favorite authors all month long right here on Steamy Guys After Dark!

**About If I Return**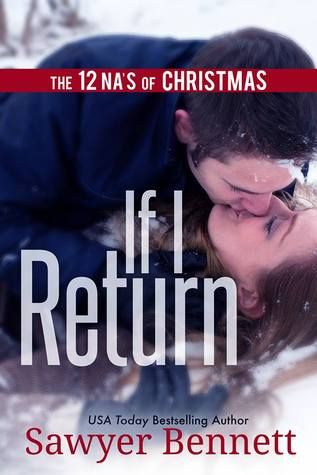 If I Return by Sawyer Bennett
Series: The 12 NA's of Christmas
Published by Big Dog Books on November 28, 2013
Pages: 83
Would you wait?

College student, Hope Camden, is relentlessly serious, awkwardly shy and in complete need of taking a walk on the wilder side. At least, that's what her sister tells her when she drags her off for an impromptu Christmas getaway in the Blue Ridge Mountains.

Hope's plans to keep her nose in a book the entire vacation are thwarted when she meets Jack Freeman, the gorgeous and enigmatic Army helicopter pilot staying at the same resort. What was supposed to be a quiet Christmas holiday turns into a life changing event for Hope and Jack. The only problem? Jack is headed off to war, and there is no guarantee he will come back.
Other Books by Sawyer Bennett:
Don't miss out on our posts featuring the other stories in The 12 NA's of Christmas Series:
Dec 7 — Chelsea M. Cameron, author of Christmas Catch
Dec 10 — Zoe Dawson, author of Brave
Dec 16 — Breena Wilde, author of Frosted Midnight
Dec 28 — Magan Vernon, author of Off the Market
Don't forget to enter our month-long Recipes for Romance Grand Prize Giveaway for a box filled with books and more!
Happy Holidays!
xo-
The Steam Team

Related Posts