All month long, we're featuring some of our favorite authors, along with a quick Q&A and a few fun This or That? questions. We've got a big giveaway with lots of chances to win some amazing (and steamy!) reads and other great prizes!
Today author Robin Bielman stopped by to chat with us about Once Upon a Royal Christmas!
**Q&A with Robin Bielman**
What is your favorite Christmas song?
Santa Baby by Eartha Kitt
What was your favorite moment under the mistletoe?
All my favorite mistletoe moments have been with my hubby.
To warm yourself up after playing in the snow, do you drink hot cocoa, egg nog, or hot apple cider?
Hot cocoa
A Charlie Brown Christmas, Rudolph the Red-Nosed Reindeer, or How the Grinch Stole Christmas?
Rudolph the Red-Nosed Reindeer

Are you a Santa or a Scrooge?
Santa
Colored Lights or White Lights?
White Lights.
Sugar Cookies or Gingerbread Men?
Gingerbread men (and now I'm hungry for one!)
Presents … Christmas Eve or Christmas Day?
We do both!
Christmas Parade or Christmas Party?
Christmas Party

Out of the characters in your book, who is most likely to:
-shake the presents?
Danny from The Best Friend Bargain, Bryce from Blame it On The Kiss, and Zane from Keeping Mr. Right Now. (Sorry! That's more than one, but they're best friends and would totally do this and give each other a hard time.)
-get drunk on Christmas Eve?
Quinn from Yours At Midnight
-eat the cookies left for Santa?
Nick from Falling For Her Bachelor
-kiss Santa Claus?
Honor from Blame it On The Kiss
-steal the sleigh?
Rowan from Once Upon A Royal Christmas
-Make snow angels … naked ;)?
Shane from Her Accidental Boyfriend

**About Robin Bielman**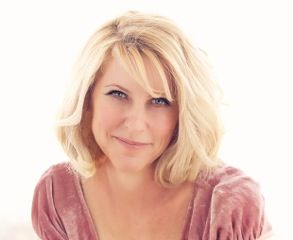 When not attached to her laptop, USA Today Bestselling Author Robin Bielman can almost always be found with her nose in a book. A California girl, the beach is her favorite place for fun and inspiration. Her fondness for swoon-worthy heroes who flirt and stumble upon the girl they can't live without jumpstarts most of her story ideas. She loves to go on adventures, and has skydived, scuba dived, parasailed, gotten lost in the wilderness (and only suffered a gazillion bug bites for it), hiked to waterfalls, and swam with dolphins. In her spare time she also likes to put her treadmill to good use while watching her favorite TV shows, take hikes with her hubby, indulge her sweet tooth, and play sock tug of war with her cute, but sometimes naughty dog, Harry. She loves to connect with readers. Keep in touch via her newsletter and at all her social media spots!
Find Robin Here: Website | Facebook | Twitter | Goodreads

**About Once Upon a Royal Christmas**
Once Upon a Royal Christmas
by
Robin Bielman
Also by this author:
Her Accidental Boyfriend
,
Wild About Her Wingman
,
Keeping Mr. Right Now
,
Yours At Midnight
,
Worth the Risk
,
Risky Surrender
,
His Million Dollar Risk
,
Blame It On the Kiss
,
Falling for Her Bachelor
,
The Best Friend Bargain
Published by
Tule Publishing
on October 20th 2016
Genres:
Christmas
,
Contemporary Romance
,
Fell in Love on Vacation
,
Forbidden Love
Character(s):
Royalty
Pages:
174
Goodreads
Buy the Book
Colliding with a prince while dog walking isn't how Rowan Palotay pictured meeting royalty, but then lately her life hasn't gone according to plan. With one teensy tiny mistake, her job as a news reporter took a turn for the worse and now she's lucky to have a small pet column in the local newspaper. Christmas is supposed to be a time of joy and magic, but she feels like she's forever stuck on the naughty list.

Prince Theodore Chenery is in Marietta shortly after the death of his mother to meet his grandparents for the first time. When an accidental run-in—literally—with Rowan leads to an unexpected friendship, he finds himself enchanted with the outspoken, feisty country girl. She's unlike anyone he's ever met and her special brand of kindness and honesty make it harder and harder to remember his obligations back home.

Rowan can't afford one more mistake, and Theo's future is already mapped out, but when they find it impossible to fight the passion and deep-rooted emotions between them, they discover what matters most. Until their relationship makes worldwide news… and Theo must decide whether to follow his heart, or his royal duty.
***GIVEAWAY***
Enter the rafflecopter below to win some fabulous prizes, including a $25 Amazon Gift Card from Pretty Sassy Cool!:
EVERYONE'S A WINNER! Just sign up here and get 10 Steamy Holiday Stories, including one from author Opal Carew!
Winner's choice of any ebook from Amy Jo Cousins's backlist
an ebook copy of Candy Cane Christmas from author Laura Trentham
A literary infinity scarf and buckle bracelet from author Lori Wilde
A signed paperback (of any book) or a free ebook of Christmas on the Last Frontier from author J.H. Croix
One of (3) $10 Amazon gift cards from author Jennifer Ryan
a $5 Amazon gift card from author Robin Bielman
a copy of Three Christmas Wishes from author Sheila Roberts
a $10 Amazon gift card from author Daire St. Denis
Print copies of One Night Charmer, Tough Luck Hero, and Last Chance by Maisey Yates
a $10 Amazon gift card from author Charlie Cochet
Christmas jewelry from author Jennifer Conner
a Rafflecopter giveaway
Merry Christmas & Happy New Year!

***Don't Miss Our Other Countdown to Christmas Posts:***
Related Posts