We're excited to have romance author Paige Tyler back again here at Pretty Sassy Cool. We've got a fun interview with her plus an excerpt to share from her latest title, SEAL for Her Protection! We'll get right to what Paige had to say when we sat down to chat with her:
***INTERVIEW***
Thanks for stopping by Pretty Sassy Cool today, Paige.
Thanks for having me! It's a pleasure to be here. I love what you've done with the place. Very cool!
haha Thanks! Tell us a little about SEAL for Her Protection. Was it a fun book to write?
SEAL for Her Protection really was fun. I always love the energy that comes when you start a new series and the words literally jump onto the page. And the ending…let me just say that no one will see it coming. I know I sure as heck didn't, and I wrote it!

Here's a little blurb:

When investigative journalist Hayley is kidnapped by terrorists, she's sure they're going to kill her. But in sweeps handsome Navy SEAL Chasen to rescue her. After getting her to safety, he disappears into the night before she can even thank him.

Weeks later, while covering a story on the local navy base, Hayley runs into Chasen again. Even though she didn't see his face that night he rescued her, she can't forget his beautiful blue eyes.

The attraction is immediate and intense…and Hayley finds herself falling into a fiery romance with the hunky hero out of her dreams. Guys like this aren't supposed to really exist, but Chasen does…and dang is he hot.

But ever since she got back home, Hayley has had the feeling someone's been watching her. Is it post-traumatic stress or does she have a reason to be afraid? Good thing she has a Navy SEAL there to watch over her!
What sparked the idea for the book?
I was asked to write in Cat Johnson's Hot SEALs series for Kindle Worlds and completely fell in love with Navy SEALs. I love writing about military (or law enforcement) team dynamics. That's what both my X-OPS (covert operations pairing shifters with military and law enforcement types) and SWAT (sixteen alpha werewolves in a single SWAT unit in Dallas) series are about, so writing about SEALs just came naturally for me. With all the secrecy surrounding what they do, it gives a writer like me lots of leeway when it comes to the kinds of things they can do. There are literally an endless number of stories that can be told about SEALs.
It's true. And we them all. We have to admit a weakness for Navy SEALS (and all soldiers, really). What kind of research did you do to prepare for SEAL for Her Protection?
I spent about a month doing nothing but research for the series, finding out how the SEAL Teams are organized, what kind of training they go through, the weapons they use, a little bit on their missions and tactics. As you can imagine, they are a tough group to get anything out of, so I had to depend a lot on what I could find on the internet. Fortunately, my hubby is retired Army and he spent some time working with Navy service members. While they weren't SEALs, it still gave me a little of the feel for the small team dynamics and what kind of stuff the Teams might be involved in—with a little creative license of course. Having been married to a soldier, and knowing what it's like to worry about him while he's out doing his job, I try to focus on that aspect a bit, specifically the heroine's thoughts and feelings about being with a man who's doing a dangerous job. I think that comes out in my stories.
Sounds positively grueling! *grin* Do you have more plans for the SEALs of Coronado series?
Definitely. I've already sketched out about the first eight books, and more are being added all the time. I plan to have each story stand on its own (especially the romantic aspects of the story), but there were also be a few overarching themes that help tie all the books loosely together, so there's a bigger threat that SEAL Team 5 will have to deal with over time.
Wow! EIGHT and going! So much fun. Tell us about Hayley.
Hayley is a tough, dedicated journalist, but sometimes when she's on a story, her nose tends to lead her into trouble. That's how she ended up in a Boko Haram camp waiting to be killed—or worse. With Chasen, she's a little overwhelmed with how fast the feelings start to develop, but she's not the kind of heroine who will back down from a challenge.
Why will our readers swoon over Chasen? We want to know all the things!
Because Chasen is the perfect alpha male. He's strong, brave, and confident, has a gorgeous face, a smoking hot body, and blue eyes that will melt your panties. Yet at the same time, he's aware of the woman he's with and what she needs out of a relationship. That strong, yet sensitive man, is truly swoon-worthy material. And yeah, he's good in bed too (when he and Hayley bother to make it that far).
*nods* If you could introduce one of your characters to another character from any other book, who would it be and why?
It would be fun to get Hayley (from SEAL for Her Protection) together with Mackenzie Stone (from the first SWAT Book, Hungry Like the Wolf). They're both investigative reporters and both tend to get themselves in trouble a lot. It would likely drive their men crazy trying to keep them safe.
That would be interesting. How would you describe yourself in three words?
High energy pixie!

I'm a bundle of energy when I'm at a conference, and it usually takes a couple hours for me to calm down and speak slowly enough for people to understand what I'm saying. But I'm just a sweet kid at heart who loves to write, talk to fans, and meet people.
Wow, great answer. Do you have any interesting writing quirks or rituals?
I typically do my most creative thinking either while eating Spicy Chicken at PF Chang's with hubby…or while I'm in the shower. So, if I hit a road block, that's where you'll find me—at the nearest PF Chang's overdosing on MSG, or in the shower running the hot water heater empty.
We love PF Chang's, too. Which character makes you swoon the most (yours or someone else's)?
I like alpha males who have a sensitive side—alpha-holes need not apply. I need a hero who can take charge and deal with a tough situation, but still accept that the heroine has something to add to the equation. I don't write damsels, so if the hero can't deal with his woman facing dangers with him, there are going to be a problems.

Oh yeah…a nice six-pack doesn't hurt, either.
#Truth. Do you have any current or future projects you can tell us about?
Well, I'm working furiously on the second book in the SEALs of Coronado series called Strong Silent SEAL. It comes out in June, but is available for pre-order everywhere now.

I'm also working on books for my X-OPS and SWAT series. To Love a Wolf, Book 4 in SWAT (Cooper is finally getting his story!) hits the bookshelves on June 7th, while Her Rogue Alpha, Book 5 in X-OPS (Jason and Layla's story) releases September 6th, and Wolf Unleashed, Book 6 SWAT (Alex's story) releases December 6th. All of them are available for pre-order now. While those books are hitting the streets, I'm already working on the next books in all of those series, as well as some other indie stuff coming out between now and November.

I'm a busy little bunny!
You're not kidding—you're crazy busy! Is there ever anything that you always wish someone would ask you, but they never do?
No one has ever asks me how much a "buttload" is? And that's disappointing, because I know the answer—it's a 126 gallons. It has to do with large barrels for wine or whiskey that hold about a 126 gallons. So if you have a big barrel of wine or whiskey, you have a "buttload." I have no idea why I know this, but I've been trying to share this knowledge with people for a long time, and I can never figure out how to work it into a conversation.
hahahahahaha That is the most interesting answer we've ever gotten to that question. And wow, we never ever would have even thought to look that up! Thanks again for coming by, Paige. You've been lots of fun, and we can't wait to get our ::grabbyhands:: on SEAL for Her Protection!
Thanks for having me! I had a great time!
***About Paige Tyler***
Paige is a New York Times and USA Today bestselling author of sexy romantic suspense and paranormal romance. She graduated from The University of West Florida with a degree in education in 2000, but decided to pursue a full-time career as a writer in 2004. Since then, she's written over fifty books in several genres, including paranormal, contemporary, western, sci-fi and erotica. She loves writing about strong, sexy, alpha males and the feisty, independent women who fall for them. From verbal foreplay to sexual heat, her stories of romance, adventure, suspense, passion and true love will leave you breathlessly panting for more.
She and her very own military hero (also known as her husband) live on the beautiful Florida coast with their adorable fur baby (also known as their dog). Paige graduated with a degree in education, but decided to pursue her
passion and write books about hunky alpha males and the kick-butt heroines who fall in love with them.
When not working on her latest book, Paige enjoys reading, jogging, P90X, Yoga, Pilates, going to the beach, watching NFL football, watching movies and hanging out with her husband (not necessarily in that order!)
Find Paige Here: Website | Facebook | Twitter | Goodreads
***About the Book***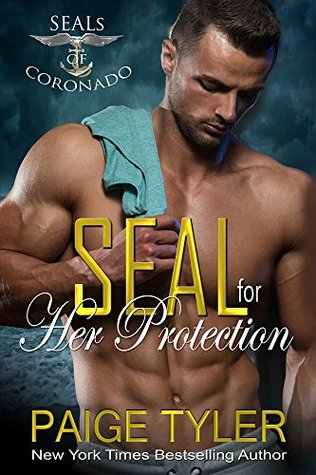 SEAL for Her Protection
by
Paige Tyler
Series:
SEALs of Coronado #1
Published by
Self-Published
on April 12, 2016
Genres:
Contemporary Romance
,
Falling for the Bodyguard
,
Romantic Suspense
Character(s):
Military Guys
Pages:
106
Goodreads
Buy the Book
He saved her from the danger once before. Can he save her again, this time from danger he doesn't even see coming?

When investigative journalist Hayley Garner is kidnapped by terrorists, she's sure they're going to kill her. But in sweeps handsome Navy SEAL Chasen Ward to rescue her. After getting her to safety, he disappears into the night before she can even thank him.

Weeks later, while covering a story on the local navy base, Hayley runs into Chasen again. Even though she didn't see his face that night he rescued her, she can't forget his beautiful blue eyes.

The attraction is immediate and intense, and Hayley finds herself falling into a fiery romance with the hunky hero out of her dreams. Guys like this aren't supposed to really exist, but Chasen does, and damn is he hot.

But ever since she got back home, Hayley has had the feeling someone's been watching her. Is it post-traumatic stress or does she have a reason to be afraid? Good thing she has a Navy SEAL to protect her.
***EXCERPT***
She'd thought he'd be easy to find, but the place was SEAL hunk central, with an awful lot of the fit, attractive guys in attendance. While quite a few of them flashed charming grins in her direction, none of them had those unforgettable blue eyes she'd spent the past four weeks seeing in her dreams.
Her earlier assessment had been right. This was hopeless.
Sighing, Hayley turned to go in search of Brad instead and almost smacked right into the broad, muscular chest of a guy in blue camo. She stared at his uniform up close, absently wondering why the Navy wore blue camouflage. It wasn't like they were ever going to be in a blue jungle. She glanced at the rank on his collar—noting the three chevrons of a petty officer first class—then the nametag sewn on the right hand side of his chest, noting his name—it said WARD—before lifting her head to apologize for practically mowing him down. But when her gaze met his, all she could do was stare. There couldn't be two men on the planet with eyes that blue. She'd found the SEAL who'd saved her life.
"It's you," she breathed.
Keep Reading the Excerpt for SEAL for Her Protection
Keep Reading the Excerpt for SEAL for Her Protection
Okay, that definitely wasn't the most intelligent thing she'd ever said out loud. But the SEAL smiled anyway, flashing the cutest pair of dimples her way. Hayley's breath hitched. She'd tried to picture what he looked like ever since that night, alternating between Chris Hemsworth and Henry Cavill and finally settling on a combination of the two. She hadn't even been close. Petty Officer Ward was even more gorgeous than she imagined. Taller than she was by nearly a foot, he had broad shoulders, dark hair, and a square jaw to go along with those mesmerizing eyes. Now, this was what a superhero should look like.
"It is," he said. "I'm glad to see you're doing well, Ms. Garner."
She'd been so caught up in the memory of the captivating blue of his eyes she'd completely forgotten how sexy his voice was. The deep, rich tones caressed her, making her feel warm all over. Just like they had that night in Africa. Wow, this guy was pure sexy, wrapped in blue camo. She had a crazy urge to ask him to say something else—anything else—so she could hear that voice again.
"Call me Hayley, please," she finally managed.
She offered him her hand, pulse skipping when he took it. Wow, he had really big hands. A little part of her mind whispered something about the significance of that, but she ignored it. Instead, she focused on the overall sense of strength seeming to pour off him in waves. Being this close to him and getting a chance to take in how tall and muscular he was reminded her of the way he'd picked her up and carried her so effortlessly that night—all while using a weapon.
Hayley had never thought of herself as the kind of woman who wanted to be swept off her feet by a guy, but right now she was thinking this man could carry her anywhere he wanted to.
Damn, this guy was seriously messing with her calm, cool journalist exterior.
"Chasen Ward," he said.
Chasen. Unusual, but it fit him. Gorgeous name for a gorgeous guy.
She wondered if the guy realized the kind of effect he likely had on every woman on the planet, especially the one standing right in front of him. Probably not, she guessed. Guys were usually clueless about that kind of stuff.
"How did things go over there?" she asked. "After you got me out, I mean."
She cringed as soon as the words were out. Guess he hadn't messed with her journalist mojo as much as she'd thought. Crap, now he'd think she was looking for a scoop. Nothing turned people off more than a nosy reporter.
But he merely nodded. The shade from the brim on his hat accentuated his chiseled features as he moved, making them seem even more angular.
"They went well," he said. "My Team and I got back a few days ago as a matter of fact."
Her inner Barbara Walters wanted to ask what else they'd done over there, but before she could decide if that was a good idea or not, two other Navy guys in blue camouflage sauntered over. Both petty officers second class, they were tall, well-built, and good looking.
"Hey, I know you," the younger of the two men said with a trace of a Southern accent. Blond with brown eyes, he had that casual Channing Tatum-thing going on. "Though I hope you don't mind me saying, you look a lot better now than you did the last time we saw you." Hayley frowned in confusion at the two men, sure she would have remembered if she'd met them before.
Chasen chuckled. "This is Dalton Jennings and Nash Cantrell. They were with me when we rescued you that night. You'll have to forgive Dalton for being clueless. He's taken several classes on how to be charming, but unfortunately, he keeps failing them."
She laughed and shook hands with both men. Dalton looked so chagrined, she couldn't help but take pity on him. "Don't worry about it, Dalton. I'm well aware of how much of a mess I looked that night. Thanks for being there with Chasen and the rest of your Team."
The SEAL visibly relaxed, giving her another grin. "No problem. Just doing our job, ma'am."
Dalton might have failed out of charm school—according to Chasen at least—but there wasn't a woman alive who wouldn't swoon over that Southern drawl.
"I know it was hard to tell with all the gear we had on," Dalton continued. "But I was the one doing this."
Dark eyes suddenly intense, he struck an action hero pose, arms lifted as if he were holding an imaginary machine gun. On either side of him, Chasen and Nash snorted in unison.
"You mean you were the one nearly running into every wall around you because the batteries in your NVGs were dying." Nash pointed out drily, his dark eyes filled with amusement.
Dalton considered that a moment, then dropped the pose and shrugged. "That might have been me."
Hayley laughed, unable to help herself. They were both funny—and seriously cute—but she had to admit she was glad when they took off a little while later, leaving her alone with Chasen.
"How is your ankle feeling?" he asked as his buddies walked off toward the pavilion.
"Much better, thanks," she said.
He looked down pointedly at her foot where it peeked out from under her long skirt. She'd tried not to make it obvious, but she'd been standing with all her weight on her good foot so she could give the injured one a rest. Chasen lifted a brow as if he saw through the little white lie.
Hayley gave him a sheepish look. "Okay, you caught me. It still hurts a little. But it really is much better. Thanks to you."
"How's that?"
"If you hadn't gotten there in time, a messed-up ankle would have been the least of my worries. I don't know how I can ever repay you for saving my life."
That playful grin returned. "I'm more than ready to call it even if you consider going out to dinner with me."
If Chasen were any other guy, Hayley might consider making him work a little harder for a date. But she'd been more than ready to go out with him since he'd loaded her on that helicopter over in Africa. Heck, there'd been a time or two when she'd woken up from an especially nice dream involving the Navy
SEAL when she was ready to do a lot more than date the guy. Rip off his uniform and roll around on the floor with him being one thing that came to mind.
"Dinner sounds great," she said, quite proud of her ability to maintain her composure.
"Friday night work for you?"
"Perfect."
Hayley entered her number in his phone while he did the same with hers, then she gave him her address.
"I'll see you at 1830 hours," he said, then chuckled. "I mean, six-thirty."
"I can't wait," she said, and meant it.
Touching his fingers to the brim of his hat in a causal salute, Chasen gave her another smile then strode off. Hayley let out a sigh as she watched him go. Damn, he made that blue camouflage uniform look good.
What do you think, Pretties? Are you excited to check out SEAL for Her Protection by Paige Tyler?
Related Posts