This December, Paige Tyler releases the third in her action-packed SWAT series, In the Company of Wolves. To celebrate the release of In the Company of Wolves, Paige Tyler stopped by to tell us about one of her favorite fun-loving heroes in pop culture and to share an excerpt showcasing her own hero's fun-loving side!
***Paige Tyler's Favorite Fun-Loving Hero***
Everyone loves reading about alpha males, right? But of course, you can't have a single dimensional character that's just hardcore alpha all the time. It comes off as flat or just plain irritating. Most of the time you want to let your alpha have a lighter side, just to keep things interesting. One of my favorite fun loving heroes from popular culture is Lieutenant Colonel John Sheppard!
This one will take you back a few years (can I just say I'm still annoyed they took this show off the air?) with Joe Flanigan playing Air Force pilot and all around I-don't-follow-the-rule hero on the Sci Fi television series—and another favorite—Stargate Atlantis. Like a lot of alphas, John has a checkered past and broke some rules doing the right thing, so it got him put on somebody's bad side. Of course, when things go wrong and everyone needs help, John is the guy they turn to. He's quick to risk his life for a friend—or even someone he barely knows—cracking completely inappropriate jokes the whole time and making women everywhere swoon.
***About Paige Tyler***
Paige is a New York Times and USA Today bestselling author of sexy romantic suspense and paranormal romance. She graduated from The University of West Florida with a degree in education in 2000, but decided to pursue a full-time career as a writer in 2004. Since then, she's written over fifty books in several genres, including paranormal, contemporary, western, sci-fi and erotica. She loves writing about strong, sexy, alpha males and the feisty, independent women who fall for them. From verbal foreplay to sexual heat, her stories of romance, adventure, suspense, passion and true love will leave you breathlessly panting for more.
She and her very own military hero (also known as her husband) live on the beautiful Florida coast with their adorable fur baby (also known as their dog). Paige graduated with a degree in education, but decided to pursue her
passion and write books about hunky alpha males and the kick-butt heroines who fall in love with them.
When not working on her latest book, Paige enjoys reading, jogging, P90X, Yoga, Pilates, going to the beach, watching NFL football, watching movies and hanging out with her husband (not necessarily in that order!)
Find Paige Here: Website | Facebook | Twitter | Goodreads
***About the Book***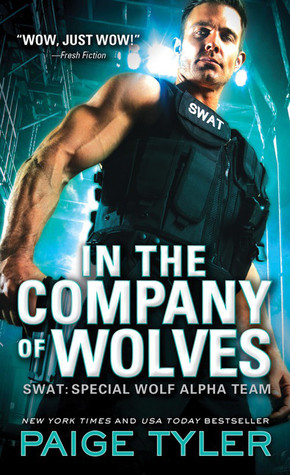 In the Company of Wolves
by
Paige Tyler
Series:
SWAT: Special Wolf Alpha Team #3
Published by
Sourcebooks Casablanca
on December 1, 2015
Genres:
Paranormal Romance
Character(s):
Heroes in Uniform
,
Shapeshifters
Pages:
352
Goodreads
Buy the Book
He opened his mouth to order her to drop the MP5 she had aimed at him, but nothing would come out. It was like she'd robbed him of the ability to speak. Shooting her wasn't an option, though. And the idea of arresting her didn't make him feel any better.

There's a new gang of criminals in town who are organized and ruthless in the extreme. When Eric Becker, along with the rest of the Dallas SWAT team, ends up in the middle of a shootout, he immediately senses werewolves-a lot of them. Turns out, the new bad guys are a pack of wolf shifters.

In a spray of gunfire, Becker comes face-to-face with the most gorgeous woman he's ever seen. Becker does the logical thing. He hides her and leaves the scene with the rest of his team.

Jayna Winston has no idea why that SWAT guy helped her, but she's glad he did. Ever since she and her pack mates got mixed up with those Eastern European mobsters, everything had pretty much fallen apart.

So what's a street-savvy thief like Jayna going to do with a hot alpha-male wolf who's a police officer?
***EXCERPT***
One of the Albanians shouted something from the front of the store in his own language, following it up with an order to the omegas to stop wasting time and get the damn safe open. Becker ground his teeth. He should have simply kidnapped Jayna and her entire pack. Then he could have just walked into the loft and shot every one of these idiots—twice.
"Watch them," he told Jayna, motioning to the security guard and two women. Turning, he left the break room and jogged down the hallway toward the back of the building.
"Get them back on the safe!" the Albanian driver shouted at him from the front room.
Oh yeah, sure. Stop two morons from raping a woman and get them back on task. What the hell was he—a daycare worker for omega werewolves?
Keep Reading the Excerpt for In the Company of Wolves
Keep Reading the Excerpt for In the Company of Wolves
Shit. If this was how criminals behaved, it was no wonder he and his SWAT teammates took so many of them down. They were too stupid to live. Then again, maybe this was how Gage felt some days. The SWAT pack could occasionally be a little stupid too. Becker's current predicament was a shining example of that.
The omega standing guard in the hallway outside the manager's office glared at him. "We got this. Go back and babysit the old folks."
What a complete ass, Becker thought as he walked up and punched the guy in the face. The werewolf flew backward and bounced off the wall, bleeding like crazy from a broken nose as he fell to the floor in a dazed heap. He was still moving around though, reminding Becker that it was as hard to knock out an omega as it was to knock out an alpha. He'd have to remember that.
Becker strode into the office to find the store manager on the floor beside her desk, the other omega—the one who liked to play with his platinum medallion—leaning over her menacingly. He'd torn her blouse and was telling her all the horrible things he planned to do to her if she didn't open the safe. The idiot was so intent on threatening her that he didn't realize Becker was there until he yanked the guy to his feet and spun him around, then smashed the back of his head into the nearest hard object he could find—the safe panel. Becker pounded his head into the safe a few times before letting him fall to the floor. The asshole was definitely out cold.
Becker turned and looked at the shop manager. She cringed away from him, terror in her eyes as she tried to hold the tatters of her blouse together. He really wished he could pull up his ski mask. Seeing him like this definitely wasn't helping.
Do you have an alarm button in this room?" he asked in his softest, least intimidating voice.
The woman stared at him for a moment like he was insane, then motioned under the desk with a shaking hand.
"Would you mind pushing it for me?" he asked.
Now she looked really confused. But she slowly reached under the desk and poked around until a loud alarm started ringing.
"Thanks." Becker bent down to take the platinum medallion out of the omega's vest and slip it into his pocket. "By the way, that diamond merchant you bought from in New York sold you out to a really bad guy. You probably don't want to buy from him anymore." Turning, he jogged out of the room and down the hallway to the front of the store. "Time to leave. Moron hit the alarm."
Jayna was heading his way in a flash, the two Albanians right behind her.
"What about the safe?" the driver asked.
Becker shook his head. "It's a no-go. Our guy smashed the keypad."
The Albanians muttered something in their native language and shook their heads, as if they'd seen this coming. They stepped over the omega who was still rolling around in a daze on the floor in the hallway and raced out the back door. In the distance, sirens echoed in the air. About damn time. Becker motioned Jayna out.
"What about him?" she asked, jerking her head at the werewolf still trying to get to his knees.
Becker nudged the omega with his boot, pushing him back down. The guy looked like he really didn't want to bother getting up this time.
"What about him?" Becker said, holding the door open for her.
***GIVEAWAY***
Win a complete set of Paige Tyler's SWAT series AND a plushie SWAT wolf!
a Rafflecopter giveaway
Good luck, Pretties!
Related Posts