In case you missed our post about the launch of Entangled's brand new Embrace imprint (with awesome giveaway!), we're pretty excited about their latest endeavor dedicated to one of our favorite genres: New Adult! We can't wait to share our reviews for these amazing books, which will be coming soon. We're getting to get to know a few of the authors behind the books with fun interviews. Today, we're sitting down with one of our favorite authors: Ophelia London:


***INTERVIEW***
Thank you so much for stopping by Steamy Guys After Dark today, Ophelia!
My pleasure. I'm thrilled to be here…lovely place!
Aw, thanks! We're so excited that you're one of the premiere Entangled: Embrace authors. We can't wait for our readers to check out Definitely, Maybe in Love. What sparked the idea for this story?
I love a juicy "opposites attract" storyline. I always tell people that I write characters who hate each other so much that eventually they have to kiss! I've been a huge Pride & Prejudice fan, so I thought it would be fun to retell that, while revving up the division and chemistry between the two main characters. I also think that college is a really interesting time of life, so the new adult genre was a perfect fit.
We love retellings. And we love this story! Why will our readers swoon over Henry?
Because he's hot! Heehee. Seriously though… Let me tell you why I swoon over Henry. I set out to make Spring—the heroine—a character who would have to do a lot of changing. And I wanted to give her a love interest who would be with her while she went through that, someone to cheer her on, piss her off, teach her to love, and sometimes stand back and let her go it alone. I swoon over Henry because Spring does…she can't help it. I created the one and only person who could make her toes curl.
How would you introduce Spring to our readers?
Spring is hardworking, driven and independent. But she has a secret, super-squishy soft side, so don't let her scare you away.
Do you have any interesting writing quirks or rituals?
Not really. I do like to feel organized when I sit down to write—less distractions. So I make sure the dishes are done and my inbox is nice and tidy. This doesn't always happen…sometimes the muses are smiling and everything else in my life goes to hell. Those are the best moments. 🙂
How would you describe yourself in three words?
Cautious. Optimistic. Happy.
What's the best piece of advice you ever received from another author?
I've received a lot of great advice over the last few years. Mostly, my writer friends and I are there to support each other, to lend an ear when we're feeling frustrated or blocked. I've had to reach out to writer friends a lot lately, and I'm always happy to be on the other end to listen to frustrations. We always get over whatever hurdle is bothering us, but it's nice to have others around who know exactly what I'm going through.
Great advice! Which character makes you swoon the most (yours or someone else's)?
This might seem cheesy, but seriously, when I read P&P for the first time, I was so swoony over Mr. Darcy. I fell in love with him right along with Elizabeth—maybe a little sooner than she did, because I just knew he had a heart of gold in there somewhere. I still swoon over him today, especially when I watch the beautifully-brooding Colin Firth!
Us too! Do you have any current or future projects you can tell us about?
I do. In January, book #3 of my Perfect Kisses series (through Entangled Bliss) will be coming out. It's about a sexy soldier and a sassy ballerina. It reminds a lot of people of "You've Got Mail," which of course I love! I'm also working on another Jane Austen modern retell. This time it's Persuasion, and let me tell you, the hero is so dreamy!
We love the Perfect Kisses series and can't wait to see what you do with the Persuasion retelling! Is there ever anything that you always wish someone would ask you, but they never do?
No one ever asks me why I look so much like Jennifer Aniston. What's up with that? 😉
haha so fun! Thanks again for coming by, Ophelia. We can't wait for our readers to get to know your characters!
Thank you so much. I had a blast!
***About Ophelia London***
Ophelia London is the author of ABBY ROAD, the Perfect Kisses series including: PLAYING AT LOVE, SPEAKING OF LOVE, the upcoming "still working on the title" (Nov `13), and the new adult DEFINITELY, MAYBE IN LOVE (Oct 28th). She belongs to RWA and DARA.
Find Ophelia Here: Website | Facebook | Twitter | Goodreads
***About the Book***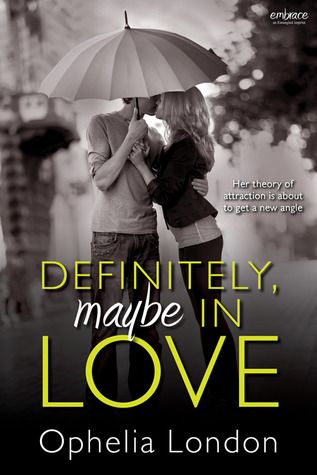 Definitely Maybe in Love by Ophelia London

Her theory of attraction is about to get a new angle.

Spring Honeycutt wants two things: to ace her sustainable living thesis and to save the environment. Both seem hopelessly unobtainable until her college professor suggests that with a new angle, her paper could be published. Spring swears she'll do whatever it takes to ensure that happens.

"Whatever it takes," however, means forming a partnership with the very hot, very privileged, very conceited Henry Knightly.

Henry is Spring's only hope at publication, but he's also the über-rich son of a land developer and cash-strapped Spring's polar opposite. Too bad she can't help being attracted to the way he pushes her buttons, both politically and physically. As they work on her thesis, Spring finds there's more to Henry than his old money and argyle sweaters…but can she drop the loud-and-proud act long enough to let him in? Suddenly, choosing between what she wants and what she needs puts Spring at odds with everything she believes in.

Definitely, Maybe in Love is a modern take on Pride and Prejudice that proves true love is worth risking a little pride.

Amazon ★ Barnes & Noble ★ Goodreads
Grab your copy of Definitely, Maybe in Love today, and be sure to check out our post on the launch of Entangled Embrace to see all of the premiere titles and enter the giveaway for a Kindle Fire and an iPod Shuffle!
Related Posts