We're thrilled that we got to sit down with author Natalie Anderson to chat about her latest release Taming His Tutor. She had lots of awesome things to say, but first we'll give you the 411 on the book: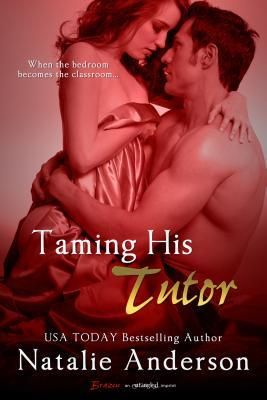 Taming His Tutor
by
Natalie Anderson
Published by
Entangled: Brazen
on August 25, 2014
Genres:
Contemporary Romance
Pages:
250
Goodreads
Buy the Book
When the bedroom becomes the classroom…

Computer guru Abbi Hayes needs to kick her sex life into overdrive—and she's designing the perfect App to make it happen. Thanks to all of the self-help bedroom tips she's accumulating, she'll be able to go from boring and passive to own-him-now vixen with a couple of swipes of a touch screen. And when former NBA basketball star Joe Burns offers to help her test out her 'product,' how can she say no?

Joe can't quite believe this temptress-in-training is his formerly shy, geeky ex-math tutor. If Abbi wants to discover her inner vamp, he'll happily be her how-to guide. But it only takes few face-to-face lessons to realize that underneath the talk, there's a truly passionate woman begging to be claimed by someone strong. Someone like him.

Maybe it's time to teach his former teen fantasy a few tricks of his own…
***INTERVIEW***
Thanks for stopping by Pretty Sassy Cool today, Natalie. We can't tell you how excited we were to get to chat with you today–it seems like we've been waiting forever to introduce our readers to Abbi and Joe!
Thank you SO much for having me here today! LOL – yeah, I'm so excited for Abbi and Joe to finally get their day in the sun 🙂
Tell us a little about Taming His Tutor. Was it a fun book to write?
It was a fun book to write… I had such a giggle putting together some of the flirt tips for Abbi's app. Because, we've all been there, right? Back in the day I was totally unsure of how to flirt properly… and oh I so had the experience of attempting to flirt and totally failing… so yeah, there was a big part of me that related to Abbi (including that Lego addiction, lol).
We loved it. What kind of research did you have to do to make sure everything stayed authentic?
You know a chunk of the story centers around Abbi learning how to be good in bed, right? (Or really, discovering that with the right person, she already IS)… so, um… research?!

My husband loves helping me out with my research 😉
🙂 How would you introduce Abbi to readers?
She's a friend – she's a little shy, a little klutzy, a lot like any of us really. That bit insecure but wanting to do better, try hard… she's striving, you know? And I really like that about her. She's proactive about trying to sort her stuff out… but she does need a little help. Sometimes we all do, right?

But Abbi totally lucks it getting Joe on board!
Agree. Tell us about Joe. You know we want to know all the things!
He's a honey. He's determined, he wants to achieve and build up his security in the way he knows best and at heart he's a good guy, but he's been a bit broken up and he hasn't quite got it together inside… and then Abbi's coming along and she's gonna blow him to bits again… Reforming is a good thing tho 😉

Oh and he's super muscly. Super, super fit and strong. Totally physical. I do love that about him 😉
We love that, too. Do you have more plans for these characters?
I think they have plans… they're getting on with their happy 😉 But at this stage I'm not planning to revisit them in a future book, but you can never say never!
Awww, we definitely want more of them! How do you build your characters? Do you know every single detail of their lives?
By the end of the book, absolutely. I try to build up so I can fully understand them right at the start in the planning stage, but every time they hold something seriously vital back until I'm almost done with that first draft… Then, and only then, they let out the big super secret angsty bit, and I'm like OHHHHHH, so THAT'S why you wouldn't do such and such…

And so I have to go back and in the second draft start to weave all that deeper juiciness in 🙂
How would you describe yourself in three words?
Optimistic. Enthusiastic. Tall.
Nice! What advice can you give to aspiring writers?
Just write. You have to just sit down and write the WHOLE damn book. It's a cliche but that's because it's the truth. You have to finish that book. Then put it aside and start the next. And read. Read lots, write lots. That's the basics covered – then you can do the conferences and the workshops… but finish your first book first!
So many authors say that! Which character makes you swoon the most (yours or someone else's)?
Oh I'm such a tart I have many book boyfriends on the go! I always fall in love with the heroes I'm writing (be a it hopeless if I didn't!). But usually, my absolute fave is the guy I'm currently working on which at the moment is a gorgeous workaholic called Connor. He's scarred, a little (emotionally) scared and a whole lot sexy and he's so damn determined to win his way to another round with the ball-busting, heartless heroine he had a searing-hot one-night-stand with back in chapter one…
We can't wait to meet him! Do you have any current or future projects you can tell us about?
I'm working on a couple of projects – first up is the next book in my indie series: BOUND FOR ME is Connor's story and is the fourth in the Be for Me series. This series is super hot and has been a heap of fun to write – its centers around a bunch of guys who used to work snow patrol together in winter and lifeguard at the pool in summer… they sure know how to give the kiss of life… and how to meet a woman's needs 😉

I'm also working on the final two books in a trilogy releasing with Harlequin Modern/Presents. If you want to keep up to date with my release schedule (and that would be awesome if you did) then go and sign up for my monthly (sometimes less!) newsletter or come find me on Facebook.
Is there ever anything that you always wish someone would ask you, but they never do?
Well I really wish Richard Branson would call and ask me to bring my family for an all-expenses paid, month-long holiday on his Necker Island, but damn he hasn't made that call yet…
LOL Thanks again for coming by, Natalie. We can't wait to get our ::grabbyhands:: on Taming His Tutor!
Thanks so much again for having me!
***About Natalie Anderson***
USA TODAY bestseller Natalie Anderson writes fun, frisky, feels-good contemporary romance for Entangled Publishing, Harlequin Mills & Boon and independently. She's the author of the 'Be for Me' series: BREATHE FOR ME (Xander), BEG FOR ME (Logan) and BARED FOR ME (Rocco), with BOUND FOR ME coming soon. She also writes young adult fiction as Natalie King for Penguin NZ.
With over thirty books published, she's been a Romantic Times Award nominee & a finalist for the R*BY (Romantic Book of the Year). She lives in Christchurch, New Zealand with her husband, four children and what feels like a million ducks.
Find Natalie Here: Website | Facebook | Twitter | Goodreads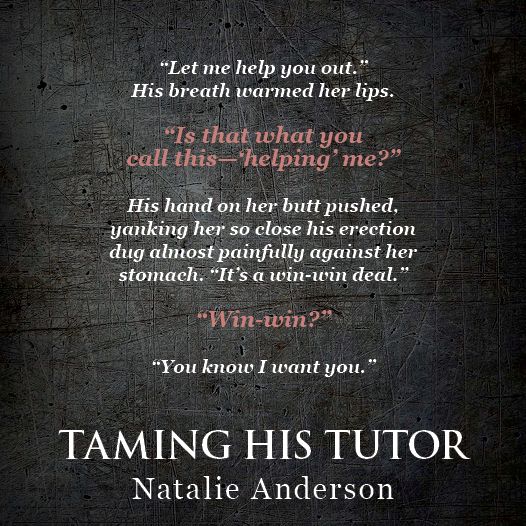 Related Posts