Have you checked out the In Vino Veritas series by Lauren Jameson yet? We were lucky enough to get to chat with Lauren and we asked her if she had a playlist for Linger, the third book in the series. Here's what she had to say:
Many authors have a soundtrack to which they write their novels. For me, this soundtrack is often the theme song for whatever cartoon is playing on Disney Junior! But while writing Linger there were definitely songs that I played on repeat, and I found myself putting together a playlist… and then editing that list when I was doing edits, and again when I started to promote the book.
For fun, from this list I have pulled the top five songs that I think Logan and Scarlett would get busy to. I'd love to know what you think!
Madness by Muse– To me, this song demonstrates that crazy feeling you have when you are just so into someone new.
Troublemaker by Olly Murs– My husband is not a fan, but I love Olly Murs. This song gets my blood pumping, and I imagine it would for Scarlett and Logan too!
Demons by Imagine Dragons– This song makes me antsy in all the right ways, if you know what I mean!
Till the Love Runs Out by One Republic– I love the beat in this one. I can imagine this song as the soundtrack behind the first sex scene in Linger, if it were ever made into a movie!
Alone Together by Fallout Boy– It's the lyrics of this one that get me. They're perfectly romantic.
***About Lauren Jameson***
Lauren Hawkeye/ Lauren Jameson never imagined that she'd wind up telling stories for a living… though when she looks back, it's easy to see that she's the only one who is surprised. Always "the kid who read all the time", Lauren made up stories about her favorite characters once she'd finished a book… and once spent an entire year narrating her own life internally. No, really. But where she was just plain odd before publication, now she can at least claim to have an artistic temperament.
Lauren lives in the Rocky Mountains of Alberta, Canada with her husband, toddler, pit bull and idiot cat, though they do not live in an igloo, nor do they drive a dogsled. In her nonexistent spare time Lauren can be found knitting (her husband claims that her snobby yarn collection is exorbitant), reading anything she can get her hands on, or sweating her way through spin class. She loves to hear from her readers!
Find Lauren Here: Website | Facebook | Twitter | Goodreads
***About the Book***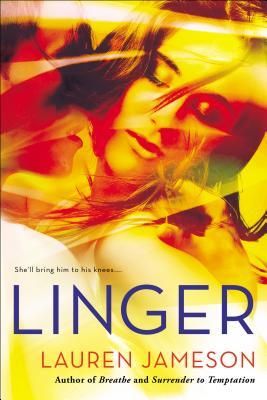 Linger
by
Lauren Jameson
Series:
In Vino Veritas #3
Published by
Berkley
on September 2, 2014
Genres:
BD/sm
,
Erotica
Pages:
304
Goodreads
Buy the Book
From the author of Breathe and Blush comes a blisteringly hot new novel about baring it all.…

On her last night in Nevada before embarking on a yearlong veterinary internship, Scarlett Malone is celebrating—and looking for one night of incredible pleasure. But the man who draws her eye is not her usual type: He's a cowboy whose alpha-male tendencies tempt her beyond belief. Scarlett can't understand why she wants this man and no one else, but she's determined to entice him to submit.…

Dr. Logan Brody lives an isolated life in rural Montana, running a ranch and suppressing his submissive tendencies. Only on his occasional trips does he give into his hidden urges. He can't deny his scorching attraction to Scarlett or that she makes him want more, but he never lets anyone break him down fully. He's hers for one night and one night only.

But when Scarlett shows up at Logan's door as his intern for the year, he realizes that the walls around his heart are about to crumble—and that this sexy dominant woman has no intention of letting him keep control.…
What about you, pretties? What's your favorite song to get down and dirty to?
Related Posts