You know how much we love supporting debut authors, so we were thrilled when we were invited to participate in the Debut Authors Bash again this year. We were even more excited when we realized that we would be chatting with middle grade author Lauren Magaziner. Here's what she had to say when we sat down with her to talk about The Only Thing Worse Than Witches:
***INTERVIEW***
We're so excited to get to sit down and chat with you today, Lauren! Tell us a little about The Only Thing Worse Than Witches. Was it a fun book to write?
YES! SO MUCH FUN! I mean, the writing process was pretty much me chortling and cackling over my keyboard…

For those of you who don't know, The Only Thing Worse Than Witches is about a boy named Rupert who answers an ad to become a witch's apprentice, but soon finds himself in way over his head with the young witch-in-training who desperately needs his help. You can read a more in-depth description of the book on my website.
That does sound fun! What is it about writing a Middle Grade book about witches that first caught your eye?
Middle grade has ALWAYS been in my heart! Most of my all-time favorite books are middle grade ones. Even in high school and college, I always gravitated back to the children's section! It's definitely my home base.

As for witches, specifically: all I can say is that witches and I have a good history–I have always LOVED witch books and movies growing up, and my favorite holiday is Halloween (big surprise!).

But it was really studying abroad in Edinburgh that got me determined to write a funny witch book. Scotland is so full of spooktacular stories and dark history that I just kept thinking: witches. But I was so very happy in my study abroad experience that I felt sunny and upbeat. I think the mixture of the witchy atmosphere and my happy, happy self equated to a hilarious, super fun witchy book.
We love studying abroad, too! What kind of research did you have to do to make the story seem believable?
Surprisingly, not much. Since it's a fantasy, a lot of it comes from my imagination. The setting was based on somewhere real (Positano, Italy, which I had traveled to over spring break), but obviously the "witch town" part of that setting was entirely fictional.

However, I unsuccessfully attempted to research things when I was running short on ideas. For example, I once googled "Funny ways to torture people," when trying to come up with a Mrs. Frabbleknacker punishment. Sadly (or not so sadly, I guess), nothing showed up on Google, so I had to rely on my own wonky brain for that one!
How would you introduce Rupert to readers?
With his arms elbow-deep in sludge as he searches for a paperclip in the Gliverstoll town dump, grumbling about his evil teacher Mrs. Frabbleknacker. Poor kid!
Do you have more plans for Rupert or Mrs. Frabbleknacker?
Not at the moment, but I'll never say never! 🙂
Readers will be happy to hear that! If you could introduce one of your characters to another character from any other book, who would it be and why?
Oh, I'd totally introduce Witchling Two to Luna Lovegood from the Harry Potter series. I think they'd have a grand old time being total space cadets together. Seriously, I'd pay to watch them interact.
We ♥ Luna! How would you describe yourself in three words?
Imaginative
Witchtacular
Sillyshorts
Nice. Do you have any interesting writing quirks or rituals?
I'm most productive in my room, lying on my bed with my laptop on my stomach. I prefer silence, lots of light, and a cup of tea.
What's the best piece of advice you ever received from another author?
"Prose is architecture, not interior decoration, and the Baroque is over." -Ernest Hemingway

I guess Ernest Hemingway didn't directly give me this piece of advice, but when I first heard this quote, I felt like he was talking right to me!

This is my all time favorite piece of writing advice. It reminds me that I write to build a strong story, not to make pretty, decorative sentences. When I look at writing that way, I find it much easier to axe my favorite sentences/jokes during revisions if it will ultimately help serve the foundation of the story.
That is great advice. Which character makes you swoon the most (yours or someone else's)?
My biggest book swoons: Ron Weasley, who has the singular best quips of any character I've ever read. Love that humor! Also, I adore geeky, cute Cricket Bell from Lola and the Boy Next Door.

My biggest TV swoons: The Tenth Doctor (David Tennant's doctor from Doctor Who). That grin! That suit-and-converse combo! His humor! Swoon! Also, Ben Wyatt from Parks and Rec is like my nerdy soulmate.

My biggest movie swoons: Indiana Jones and Han Solo…. or pretty much every character Harrison Ford plays.
We love them too! Especially Peeta, Ron, and Cricket! Do you have any current or future projects you can tell us about?
Currently, I'm working on another humorous, whimsical middle grade stand-alone, which is about a school for thieves, muggers, robbers, burglars, crooks, and otherwise intolerable criminals. It doesn't have a title yet, but SOON! Stay tuned! It's slated to come out in early 2016 from Dial Books for Young Readers (Penguin Group).
So exciting! Is there ever anything that you always wish someone would ask you, but they never do?
"Which Hogwarts houses would you sort your characters and yourself into?"

Great question, self! Here's the scoop:

Rupert: GRYFFINDOR.
Witchling Two: HUFFLEPUFF.
Mrs. Frabbleknacker: SLYTHERIN. (I mean, did anyone ever doubt?)
Nebby: RAVENCLAW.
Storm: RAVENCLAW.
Rupert's mom: GRYFFINDOR.
The Fairfoul Witch: SLYTHERIN.
I would be: SLYTHERRAVENGRYFFINPUFF. Is that cheating? I identify with all the houses for different reasons! But fiiiiiine, here's a real answer: when I was 11, I would have asked the sorting hat to place me in Ravenclaw. Today, I would ask for Gryffindor.
LOL Best response ever. Thanks again for coming by Pretty Sassy Cool today, Lauren. We can't wait to read The Only Thing Worse Than Witches!
***About Lauren Magaziner***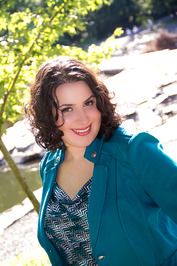 Lauren Magaziner grew up in New Hope, Pennsylvania, where she spent her childhood with her nose in a book and her fingers curled over a keyboard.
Lauren studied Creative Writing and Philosophy at Hamilton College. She wrote her debut novel, The Only Thing Worse Than Witches, while studying abroad in Edinburgh, Scotland her Junior year. In addition to writing a book in Scotland, Lauren also herded sheep, attended a royal wedding, witnessed a waddling parade of Penguins, rode the real Hogwarts express, spotted the Loch Ness monster, and stuck her face in a fairy river of eternal youth. (All of those things are true, and Lauren has the pictures to prove it.)
Lauren currently lives in Brooklyn and continues to write humorous, whimsical, wonky children's books. She also now works for two delightful Scholastic classroom magazines, and her coworkers still think her last name is a hoax. She loves writing short stories, plays, and articles for the magazine and creating online teaching resources.
The Only Thing Worse Than Witches is available now! Her untitled second middle grade book is due out in Winter 2016.
Find Lauren Here: Website | Facebook | Twitter | Goodreads
***About the Book***
The Only Thing Worse Than Witches
by
Lauren Magaziner
Published by
Dial
on August 14, 2014
Genres:
Middle Grade
Pages:
272
Goodreads
Buy the Book
Roald Dahl meets Eva Ibbotson in this hilarious middle grade debut perfect for reading aloud

Rupert Campbell is fascinated by the witches who live nearby. He dreams of broomstick tours and souvenir potions, but Rupert's mother forbids him from even looking at that part of town. The closest he can get to a witchy experience is sitting in class with his awful teacher Mrs. Frabbleknacker, who smells like bellybutton lint and forbids Rupert's classmates from talking to each other before, during, and after class. So when he sees an ad to become a witch's apprentice, Rupert simply can't resist applying.

But Witchling Two isn't exactly what Rupert expected. With a hankering for lollipops and the magical aptitude of a toad, she needs all the help she can get to pass her exams and become a full-fledged witch. She's determined to help Rupert stand up to dreadful Mrs. Frabbleknacker too, but the witchling's magic will be as useful as a clump of seaweed unless Rupert can figure out a way to help her improve her spellcasting—and fast!
What do you think, pretties? How excited are you to check out The Only Thing Worse Than Witches?
Related Posts