We haven't checked out any of author Kennedy Ryan's other titles, but when we read the summary for Loving You Always, we jumped on the blog tour as fast as we could. We loved loved loved the book (our review will post soon!) and were so excited that we got to sit down with Kennedy for a few minutes to talk about the Bennetts.
***INTERVIEW***
What sparked the idea for The Bennetts Series?
Short answer: The Chattahoochee River. Long answer: My son has autism, and like many kids on the spectrum, is obsessed with water. When it's warm, we spend up to two hours a day by or in the water. A few years ago it was the Chattahoochee River. It inspired the fictional town in the Bennetts series, Rivermont. By the River one day, a scene popped into my head of a girl standing between two best friends, a hand on each chest, keeping them from coming to blows. That scene made it into the book. I just started asking questions about the three of them and it went from there.
How fun! How would you introduce Walsh and Kerris to readers? We want to know all the things!
I would introduce Walsh as an assured man, who has had all the privileges most of us can only imagine, but who hasn't been spoiled by them. Someone who is generous. This description oversimplifies him, though. Those are all traits from his mother, but his father is ruthlessly ambitious, single-minded about anything he wants and is willing to trample over others to get it. Walsh is afraid he has more of his father in him than he'd like. And when he falls for his best friend's girl, all that drive and single-mindedness wants to focus on taking her. So in many ways, he is a man at war with himself.

Kerris is a girl who has had to work for everything she has. Abandoned at birth, she is rootless and searching. Her past marks her; marks her relationships and how she views herself. She is quietly ambitious and incredibly generous with her time. She is concerned for other always. Kerris has a strong sense of doing what is right. Only meeting Walsh, her soon-to-be fiancé's best friend throws right into a tailspin. For someone who has always closed her emotions off from everyone, she finds herself opening to Walsh in a way she never has with anyone else. And it spooks her badly.
We have to admit that we love both of them. A lot! How would you describe yourself in three words?
Driven, Passionate, Content
Great description. 🙂 Which character makes you swoon the most (yours or someone else's)?
Gideon Cross! LOL
Oooh! Great choice. Is there ever anything that you always wish someone would ask you, but they never do?
I kind of wish people were more curious about my choice to make both Cam and Kerris multi-racial and abuse survivors. I went to a lot of trouble making them mirror characters who wrestle with the same issues, and no one really notices! LOL! But as far as ethnicity goes, that is kind of the point. I always want various hues and ethnicities in my stories, but done in such a way that it doesn't take over the story. It isn't what the story is about, and it's something a wide audience embraces and appreciates.
We definitely noticed. Thanks so much for coming by today, Kennedy!
***About Kennedy Ryan**
Kennedy Ryan writes contemporary romance and women's fiction. She always give her characters their happily ever after, but loves to make them work for it! It's a long road to love, so sit back and enjoy the ride. In an alternative universe and under her government issue name, Tina Dula, she is a wife to the love of her life, mom to a special, beautiful son, and a friend to those living with autism through her foundation Myles-A-Part, serving Georgia families.
Her writings on Autism have appeared in Chicken Soup for the Soul, and she has been featured on the Montel Williams Show, NPR, Headline News and others. Ryan is donating a portion of her proceeds to her own foundation and to her charitable partner, Talk About Curing Autism (TACA).
Her interview series MOMMIES DO THE MOST AMAZING THINGS is featured each month in Brooke Burke's online magazine Modern Mom.
Find Kennedy Here: Website | Facebook | Twitter | Goodreads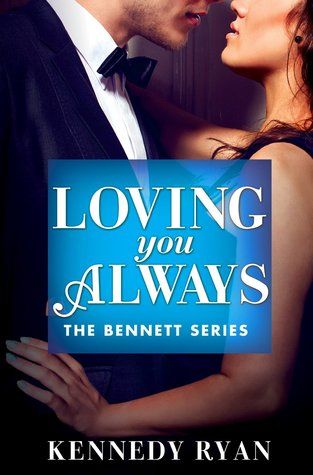 Loving You Always
by
Kennedy Ryan
Series:
The Bennetts #2
Published by
Forever
on October 7, 2014
Genres:
Contemporary Romance
Pages:
256
Goodreads
Buy the Book
The man she can never have . . . 

Kerris Moreton should be the happiest woman in the world: She has a successful business and is about to start the family she's always wanted. But the man of her dreams-the one whose green eyes see straight into her soul and whose gentle hands make her body hum with pleasure-is not hers.

Each secret moment with Walsh Bennett serves to remind Kerris of what she's missing. And every stolen hour makes it harder to see her future without him. But being with Walsh would betray a sacred promise and upend her perfect life. When tragedy strikes, the razor's edge between love and loyalty grows sharper than ever. And Kerris must decide where her heart will fall.
***GIVEAWAY***
Win a copy of Loving You Always
a Rafflecopter giveaway
Good luck!
Related Posts