In case you missed our post about the launch of Entangled's brand new Embrace imprint (with awesome giveaway!), we're pretty excited about their latest endeavor dedicated to one of our favorite genres: New Adult! We can't wait to share our reviews for these amazing books, which will be coming soon. We're getting to get to know a few of the authors behind the books with fun interviews. Yesterday, we sat down with debut author Mary Duncanson, and today, we're visiting with Kelley York:


***INTERVIEW***
Thank you so much for stopping by Steamy Guys After Dark today, Kelley! We're so excited that you're one of the premiere Entangled: Embrace authors. We can't wait for our readers to check out Hushed. What kind of research did you have to do to prepare for it?
There is always a little bit of research involved for all of my books. For Hushed, it was primarily murder tactics and police procedures. A member of the Entangled team has a husband who is a police officer, so that helped with a few questions we had regarding what happens with bodies when they're found.
That's helpful! Give us your six-second elevator pitch for Hushed.
Hushed is about a college boy named Archer with a hit list, convinced he's murdering in the name of justice for the girl he loves. Then along comes the new guy in town who has Archer rethinking everything he's grown up believing.
We have to admit that the premise is very intriguing. Do you have any interesting writing quirks or rituals?
Hmm. I'm sure I have plenty of quirks. I have a tendency of including certain things in every single one of my books: (1) a "broken" boy of some kind, (2) water…such as the ocean, a river, a lake, (3) someone dying, (4) trios of main characters, like Archer+Evan+Vivian in Hushed, Ashlin+Chance+Hunter in Made of Stars, and Vince+Adam+Casper in Suicide Watch. I'm trying to break out of those habits in my current projects.
LOL We love trios. How would you describe yourself in three words?
Loyal, flighty, logical.
Nice combo. What's the best piece of advice you ever received from another author?
Probably to not judge myself so harshly. I'm excruciatingly critical with my own work to the point where I psych myself out of wanting to finish a project or submitting it because I think it's crap. It's taken a long time for me to be able to step back and let others decide how I'm doing.
That's great advice. Which character makes you swoon the most (yours or someone else's)?
Oh, man. I have a massive crush on Daniel from my paranormal book, Hollowed. He's just adorable and so sweet. From other peoples' books… I recently was flipping through and re-reading parts of Four Summers by Nyrae Dawn, and fell in love with Nathaniel Chase all over again.
We ♥ Nyrae Dawn. Do you have any current or future projects you can tell us about?
I have several in the works, haha. Dirty London is likely to be released first, as it's nearest to completion. There are four other books I've started in some shape or form. I can't wait until work and moving has settled so I can get busy on them.
We can't wait to check them out. Is there ever anything that you always wish someone would ask you, but they never do?
I suppose I've always wanted to talk character psychology and building relationships with someone who wanted some tips. It's my favorite part of writing, and I get so excited helping other writers brainstorm when it comes to that, and helping them figure out little details of their characters.
We love that you love to help others. 🙂 Thanks again for coming by, Kelley. We can't wait for our readers to get to know your characters!
Thank you for having me!!
***About Kelley York***
Once upon a time, Kelley York was born in central California. And it's there she she still resides with her lovely wife, step-daughter, and an abundance of cats, while fantasizing about moving to England or Ireland. She has a fascination with bells and animals, is a lover of video games, Doctor Who, manga and anime, and likes to pretend she's a decent photographer. Her life goal is to find a real unicorn. Or at least write about them.
Kelley is a sucker for dark fiction. She loves writing twisted characters, tragic happenings, and bittersweet endings that leave you wondering and crying. Character development takes center stage in her books because the bounds of a person's character and the workings of their mind are limitless.
Her first book, HUSHED, was released by Entangled Publishing in December 2011. Her second and third books, HOLLOWED and SUICIDE WATCH, were released in 2012, and her next Entangled book, MADE OF STARS, is slated for October 1st, 2013.
Find Kelley Here: Website | Facebook | Twitter | Goodreads
***About the Book***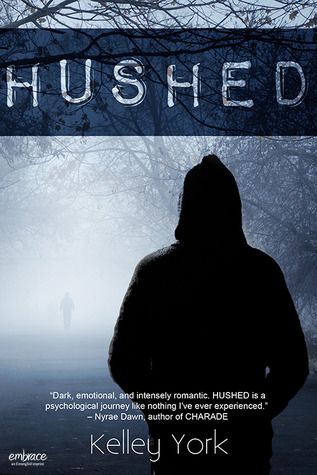 Hushed by Kelley York

He's loved her. Killed for her. Yet he may not be able to save her.

Eighteen-year-old Archer couldn't protect his best friend, Vivian, from what happened when they were kids. Since then, he's never stopped trying to shelter her from everything else. It doesn't matter that Vivian only uses him when skipping from one toxic relationship to another. Archer is always there, reeled in and tossed out, waiting to be noticed.

Then Evan Bishop breezes into town with a warm smile and calming touch, and Archer can't deny his attraction to him. Evan is the only person who keeps him around without a single string attached. And the harder Archer falls for Evan, the more he sees Vivian for the manipulative hot-mess she really is.

But Viv has her hooks in deep, and once she finds out Archer's dark secret, she threatens to expose the truth if she doesn't get what she wants. And what she wants is for him to end his relationship with Evan…permanently.

Amazon ★ Barnes & Noble ★ Goodreads
Grab your copy of Hushed today, and be sure to check out our post on the launch of Entangled Embrace to see all of the premiere titles and enter the giveaway for a Kindle Fire and an iPod Shuffle!
Related Posts