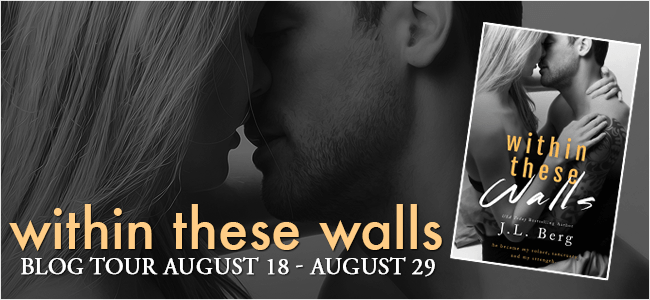 We ♥ reading Within These Walls and can't wait to share our review with you! In the meantime, we sat down with author JL Berg for a few minutes to talk about this awesome story. First, here's the 411 on the book: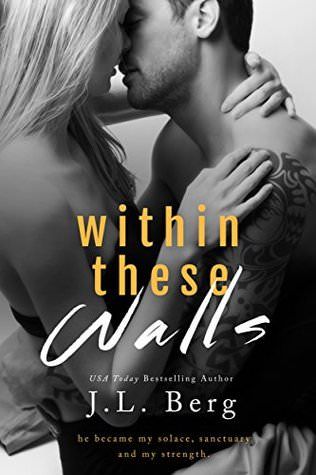 Within These Walls by JL Berg
Also by this author: Remembering Everly
Published by Self-Published on August 18, 2014
Genres: Contemporary Romance, New Adult
Pages: 323
Goodreads  Buy the Book

Within these walls, he became my solace, my sanctuary and my strength.

I am not strong. I am just a survivor of circumstance.
Isn't that what we all do? Survive?

Each of us has our own set of circumstances to muddle through. Mine are just more…complicated.

Born with a severe heart defect, I've seen the inside of a hospital room more than my own bedroom.

I was drowning, a prisoner to the illness that owned me, until he appeared. He thinks he's blocked out the world with his tattoos and hard exterior, but I see the real Jude, the one he so desperately wants to forget.

But is he the answer to my prayers or will he break my already damaged heart forever?

My name is Lailah Buchanan, and this is our story of hope, redemption and sacrificing it all for the one you love.
Read the first chapter of Within These Walls by JL Berg.
***INTERVIEW***
Thanks for stopping by Pretty Sassy Cool today, JL! What sparked the idea for Within These Walls?
It all started with the idea of a love so consuming that it was able to withstand anything—illness, grief and so much more. That one idea kind of bounced around in my head for a while until Jude and Lailah appeared and then everything else developed around them.
This book deals with some very heavy topics! What kind of research did you have to do to make the story seem believable?
When I decided to set the entirety of the book in a hospital, I knew I'd have my work cut out for me. Not only was I dealing with the in and outs of the medical field, but I also had a character who had an incredible illness I knew nothing about. I started with research, combing through pages on the internet trying to find what I could, but ended up seeking out individuals to help me. My biggest help was Becca, a 21-year old woman suffering from a chronic heart defect. She helped give me the emotional side of the disease I couldn't understand with basic research. I had some help along the way from nurses and CNAs as well, but Becca was my biggest help.
It's all so realistic, and we think you did an amazing job. How do you build your characters? Do you know every single detail of their lives?
My characters seem to create themselves. Once I've settled on a name and a general persona, they tend to take on a life of their own. Writers really are crazy!
LOL How would you introduce Lailah to readers?
Lailah is incredibly strong. She's been dealt a bad hand in life, and the way in which she choses to deal with it is so admirable. She's also very naïve socially. Having very little experience with people her own age, she's not a typical twenty-two year old and I love the process of watching her grow into herself through the book.
Perfect description. Tell us about Jude. We want to know all the things!
Jude. I love my Jude. He's so dreamy. I can't tell you everything because I don't want to spoil the book, but I will tell you he's hot, tatted and isn't what he appears to be. He can also do very wicked things with pudding. 😉
Pudding? How about what he can do with a shower. Js We ♥ Jude! How would you describe yourself in three words?
Creative, funny, dorky.
What is the one thing readers would be surprised to learn about you?
I'm incredibly shy—but it's a weird type of shy. Put me in a room of strangers and I will disappear into the wall, but if I'm in a group of friends, I'm the life of the party. I'm great at signings when people come to my table, but yet I'm too timid to walk up and introduce myself to a group of people in the lobby. ← See I'm weird!!!
Stop! You're not weird! What advice can you give to aspiring writers?
Everyone can hire an amazing model or designer for their cover or set up a huge blog tour, but at the end of the day…the most important thing is your book. Make sure the quality of work you are putting out is something you can be proud of. Within These Walls is my fifth book, and I'm just as nervous about this release as I was about the first. I know fifteen books from now the feeling will be exactly the same because every book I write is a part of me—a piece of my soul I'm giving to the world. Make sure you're doing the same.
Great advice. Which character makes you swoon the most (yours or someone else's)?
I'm a sucker for redeemable men. I love a hero that grows. Whether he's a bad boy that changes for the better because of the woman he loves, or a damaged soul who heals because he's given a second chance—I adore the idea of a hopeless man finding his way because of the woman he loves.
We love them, too. Do you have any current or future projects you can tell us about?
I'm currently working on Ready or Not—the fourth full length novel in the Ready series. This book revolves around Liv Quinn and her pain in the ass new neighbor, Jackson Reid. After that, I have something special planned that I have yet to reveal!
We can't wait to find out more. And if by chance it has to do with Jude's brother, Roman, we wouldn't be able to contain ourselves 🙂 Is there ever anything that you always wish someone would ask you, but they never do?
I've always wanted someone to ask me what kind of chocolate is my favorite. Mostly because I wouldn't mind a box or two showing up at my front door.

P.S. the answer is All. ALL types of chocolate.
We'll have to send you some chocolate, then. Thanks again for coming by. We can't wait for our readers to get to know Lailah and Jude!
***About JL Berg***
J.L. Berg is the USA Today bestselling author of the Ready Series. She is a California native living in the beautiful state of historic Virginia. Married to her high school sweetheart, they have two beautiful girls that drive them batty on a daily basis. When she's not writing, you will find her with her nose stuck in a romance novel, in a yoga studio or devouring anything chocolate. J.L. Berg is represented by Jill Marsal of Marsal Lyon Literary Agency, LLC.
Find JL Here: Website | Facebook | Twitter | Goodreads
***GIVEAWAY***
Win a $100 Amazon Gift Card, a copy of When You're Ready, and a Heart Necklace!
a Rafflecopter giveaway
Good luck and don't forget to check out the other stops on the tour!
Related Posts