We're on a roll this week with interviews! Today, we're thrilled to sit down and chat with romance author Jennie Marts about Hidden Away, the latest book in her Hearts of Montana Series!
***INTERVIEW***
Thanks for coming by Pretty Sassy Cool today, Jennie. We'll get right to it Tell us a little about Hidden Away. Was it a fun book to write?
Hidden Away is a second chance love story about a Cherry Hill, a small town diner owner and the town's Sheriff Taylor Johnson. Cherry's cousin is killed in a car accident and leaves her the guardian of her eight year old nephew, Sam. Unfortunately, her family doesn't think she has the means to take care of Sam so Taylor steps in and claims that he and Cherry are engaged to be married. But Cherry has a secret that could tear their new family apart.
This book is the second in the Hearts of Montana series, so it was fun to go back to the town of Broken Falls and revisit the characters and the world built in Tucked Away.
What kind of research did you have to do to make the story seem believable?
I grew up in a small town in Kansas and my husband and I lived in a small town in Montana. So a lot of the world-building of a small town comes from my personal experience, like church suppers in the basement and making 'salads' with only 3 ingredients and one of them is Cool Whip. I interviewed a couple of Sheriff's deputies with questions concerning discharging their weapons, DNA information, and fact-checking. I also researched adoption and paternity laws in the State of Montana. You never know what will show up in my Google feed.
Fun! I'm from a small town, too. Do you have more plans for the Hearts of Montana series?
Yes, for sure. Hidden Away is the second book and the third book in the series, Stolen Away is set to release next fall. It will be Cash's story.
We can't wait for that! How would you introduce Cherry to readers?
Cherry is a feisty curvy red-head with a heart the size of Montana. She is fun and flirty, always smiling, and has a big laugh. She runs Cherry's Diner and has a strong work ethic, often getting there early and staying late at night. She's only ever fallen in love once and it was with Taylor Johnson, who has returned to town after nine long years.
Tell us about Taylor. We want to know all the things!
Taylor is a tall, blond drink of water, with a muscular build and a scruff of blond whiskers. He was raised on a ranch and wears cowboy boots and knows how to two-step. His mom died when he was in high school and he didn't quite know how to deal with it, so he left town and joined the military, leaving the only girl he's ever loved behind. But his dreams have always been haunted by the gorgeous redhead and now he's back in town and back in Cherry's life.
Intriguing! A cowboy and a military man. How would you describe yourself in three words?
Funny, Smiling, Big-hearted
What is the one thing readers would be surprised to learn about you?
For a couple of years in high school, I was a major rocker girl. This was in the eighties so I had the big hair similar to David Lee Roth's from Van Halen and I had a poster of Def Leppard in my locker. One of my first concerts was to see The Scorpions and they opened with a little-known band called Bon Jovi. I switched schools and persona's in 11th grade and became a cheerleader and Student Body President my senior year.
Wow! Which character makes you swoon the most (yours or someone else's)?
Probably Zack from Tucked Away–he's a cowboy and I have a thing for cowboys. He's also a gorgeous single dad who is tough on the outside and tender on the inside. I fall a little bit in love with all of my heroes though.
Us, too. Do you have any current or future projects you can tell us about?
I am currently working on a new series called the Bannister Brothers about a family of brothers. So far, the first two brothers, Bane and Owen, play hockey, the third is a rock star, and the fourth is the cute, smart nerdy little brother who is an accountant and takes care of all of their money. Worth the Shot is available right now in the Mischief Under the Mistletoe box set and Icing On the Date is available for preorder from Amazon. You can find all of my books on my Amazon author page.
We have a weakness for rock stars, so we're super excited to check out the Bannister Brother series, too! Thanks again for coming by, Jennie. We can't wait to get our ::grabbyhands:: on Hidden Away!
***About Jennie Marts***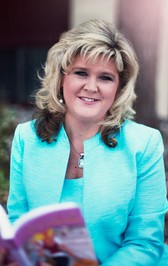 Jennie Marts loves to make readers laugh as she weaves stories filled with love, friendship and intrigue. She writes for Entangled Publishing and reviewers call her books "laugh out loud" funny and full of great characters that are "endearing and relatable."
She is living her own happily ever after in the mountains of Colorado with her husband, two sons, two dogs and a parakeet that loves to tweet to the oldies. She's addicted to Diet Coke, adores Cheetos and believes you can't have too many books, shoes or friends.
Her books include the contemporary western romance Hearts of Montana series, the romantic comedy/ cozy mysteries of The Page Turners series, and her latest hot hockey players series, the Bannister Brothers Books.
Find Jennie Here: Website | Facebook | Twitter | Goodreads
***About the Book***
Hidden Away
by
Jennie Marts
Also by this author:
Tucked Away
Series:
Hearts of Montana #2
Also in this series:
Tucked Away
Published by
Entangled: Select
on November 16, 2015
Genres:
Contemporary Romance
Character(s):
Cowboys
,
Heroes in Uniform
Pages:
248
Goodreads
Buy the Book
Secrets have a way of revealing themselves….

Right after a fire breaks out in her diner, a phone call changes Cherry Hill's life. The tragic death of her cousin leaves Cherry sole guardian of her eight-year-old nephew. But the upper crust side of the Hill family deems her unfit and is determined to take Sam away from her. The only one on her side is the sexy sheriff, Taylor Johnson, the man who broke her heart nine years ago when he left town.

Taylor Johnson has sworn to protect the citizens of Broken Falls, but should that extend to a fake engagement to the woman who captured his heart so long ago? It doesn't take long for his pretend feelings to turn real for both Cherry and her adorable nephew, Sam.
But Cherry's been hiding a secret from Taylor that could rip this new family apart…
***EXCERPT***
The siren wails of the fire engine were a welcome sound as Cherry Hill shot another burst of white foam from the extinguisher. Panic welled in her chest as she watched the flames creep up the diner's wall above the griddle.
Holy shiz-buckets.
Keep Reading the Excerpt for Hidden Away
Keep Reading the Excerpt for Hidden Away
What started as a small grease fire was rapidly turning into a desperate situation.
Cherry swore as she battled to save the only thing she had left.
"Make sure everyone's out of the building," she yelled at Stan, the diner's cook. Thankfully the breakfast crowd had thinned, and only a few people had been left in the restaurant when the grease flamed on the griddle and the fire began. "You should get out too. I got this."
Stan attacked the fire with a dish towel, keeping the flames from spreading across the kitchen counter. "No way, dude! I'm not leaving you."
The door to the kitchen swung open, and three large firemen filled the small room.
Well, two large firemen and one skinny guy, the best you could hope for on a small-town volunteer fire squad. One of the men dragged a fire hose through the door, and Cherry groaned as she heard glassware hitting the floor, unlucky bystanders in the path of the thick hose.
"I thought you weren't supposed to use water on a grease fire," she said, dredging up old advice her granddad had given her when she'd taken over the diner.
One of the firemen stepped toward her. He held a fire extinguisher in his hands. "Don't worry. You can trust a fireman to always have the right equipment."
Recognizing the voice, Cherry's head snapped up, and she looked into the grinning face of Taylor Johnson.
What in the hamhock is he doing here?
Still not used to having him back in town, Cherry's heart did a flip each time she saw him. She gulped. He had the right equipment for just about anything.
But Taylor was the new Sheriff—since when did he fight fires?
Before she had a chance to ask, another flame shot up, this one catching the side of her arm, and she cried out.
The grin disappeared as Taylor stepped forward, now all business, and put his body between hers and the fire. He yelled at the cook and pointed at Cherry. "Get her out of here before one of you gets hurt even worse!"
The whoosh of the water jetting from the hose drowned out his words, but Stan must have got the idea because he wrapped an arm around Cherry's middle and pulled her out the front door and onto the street in front of the restaurant.
Gasping, Cherry took in great gulps of clean air and prayed that the fireman could save the diner.
What do you think, Pretties? Do you love Cowboy romances?
Related Posts