We ♥ Christina Lee and were thrilled when we were invited to participate in the tour for Promise Me This, the fourth book in the New Adult Between Breaths Series. We sat down with Christina to talk about all the things:

***INTERVIEW***
Thanks for stopping by Pretty Sassy Cool today, Christina. You already know we're crazy in love with you and we can't wait for our readers to get to know you a little better.
Aw, thank you!
Tell us a little about Promise Me This. Was it a fun book to write? What was your favorite part?
I think the book's tagline says it best: A new love will test the boundaries of passion between a privileged boy next door and the tattooed, blue-haired girl who helps him embrace his wild side…

Nate and Jessie's banter was fun to write because they're such opposites. But it was a challenging book for me given the emotional intensity and the intimate scenes. Having said that, I really love all the steamy scenes between them.
We do too 🙂 Your guys always make us weak in the knees, Christina. What kind of research did you do to keep everything so authentic?
That's so nice to hear! Research? Eep. Um, does my dating life count as research? 😉 I didn't find "the one" until my early thirties so I had plenty of interesting experiences before then. Plus, I come from a family of boys, on both sides. Boys boys everywhere. 😉
LOL How was your approach to writing Promise Me This different from writing the other books in the series?
I don't think it was much different. I knew the characters voices and when they spoke to me, I started writing. I did however want to make sure certain things were authentic. I have a background in mental health so my refresher on domestic violence brought me back to some former clients I used to treat, along with their internal struggles.
It was so real, Christina. How would you introduce Jessie to readers? We ♥ her!
Outside of her colorful tattoos and blue hair, she is a bold, fiery and unapologetic girl who is sure of her sexuality and knows what she wants. She is my favorite female from all of my books.
It's tough for us to decide, but we think she's our favorite, too! Tell us about Nate. We want to know all the things!
Ah, Nate. His deep-seated fears from his terrible childhood force him create some rules around intimacy. And along comes Jessie to flip those rules on their head. Jessie makes Nate feel things—vulnerable and hopeful and like his true self. Once he's allowed to blossom, he is one hell of a dirty talker. 😉
You know we love love love Bennett, but dang! Nate might be our favorite, too! If you could introduce one of your characters to another character from any other book, who would it be and why?
Well, they all kind of know of each other in the series. But I would want Nate and Quinn to hang out a lot more. They have way more in common than even they realize.
*nods* How would you describe yourself in three words?
Empathic, trust-worthy, sarcastic.
Great description! What is the one thing readers would be surprised to learn about you?
I can be funny sometimes. Get me going and off I go. =)
How do you feel about writer's block when there's a deadline? How do you remedy that?
There's no room for that on deadlines, unfortunately. I set small goals and reach them. Period.
You're such a trooper! Which character makes you swoon the most (yours or someone else's)?
Oh gosh, PLENTY of others, given the number of books I read. So, I'll just stick to mine for this interview. Kai from Whisper to Me still makes me very swoony.
Us, too. *sigh* Do you have any current or future projects you can tell us about?
My first adult contemporary romance, Two of Hearts, releases in 2015. And stay tuned for news about the Between Breaths series.
Eep! We can't wait!! Is there ever anything that you always wish someone would ask you, but they never do?
Gah, great question. Probably not, you guys are GOOD!
🙂 Thanks again for coming by. We can't wait for our readers to get their ::grabbyhands:: on Promise Me This!
THANK YOU for having me!
***About Christina Lee***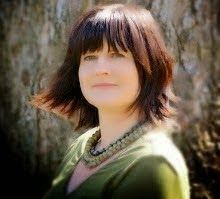 Mother, wife, reader, dreamer. Christina lives in the Midwest with her husband and son–her two favorite guys. She's addicted to lip gloss and salted caramel everything. She believes in true love and kissing, so writing romance novels has become a dream job.
Christina is the author of the Between Breaths series from Penguin. All of You, Before You Break, and Whisper to Me are available now, and Promise Me This releases on October 7th, 2014. Christina is also the creator of Tags-n-Stones (dot com) jewelry.
Find Christina Here: Website | Facebook | Twitter | Goodreads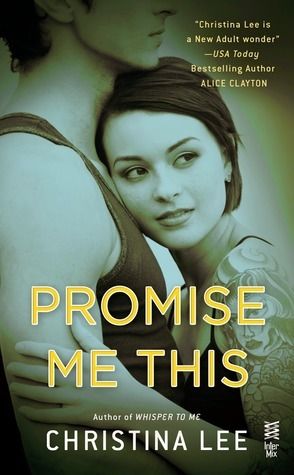 Promise Me This
by
Christina Lee
Also by this author:
All of You
,
There You Stand
,
Two of Hearts
,
The Darkest Flame
,
Three Sacred Words
,
Touch the Sky
,
The Deepest Blue
,
The Hardest Fall
,
Twelve Truths and a Lie
Series:
Between Breaths #4
Also in this series:
All of You
,
There You Stand
Published by
InterMix
on October 7, 2014
Genres:
New Adult
Pages:
246
Goodreads
Buy the Book
A new love will test the boundaries of passion between a privileged boy next door and the tattooed, blue-haired girl who helps him embrace his wild side...

Nate has developed quite a playboy reputation around campus. It's not that he doesn't respect or trust women; he doesn't trust himself. The men in Nate's family are prone to abusive behavior—a dirty secret that Nate's been running from his entire life—so Nate doesn't do relationships. But he can't help himself around one girl…

Jessie is strong, independent, and works at a tattoo parlor. Nate can't resist getting close to her, even if it's strictly a friendship. But it doesn't take long for Nate to admit that what he wants with Jessie is more than just friendly.

With Jessie, he can be himself and explore what he's always felt was a terrifying darkness inside him. Even when Nate begins to crave her in a way that both shocks and horrifies him, Jessie still wants to know every part of him. Testing their boundaries together will take a trust that could render them inseparable… or tear them apart.
***GIVEAWAY***
Win paperback copies of All of You and Before You Break
a Rafflecopter giveaway
Good luck and be sure to stop by on Monday when we post our review of Promise Me This!
Related Posts