We are so excited that Sofia Grey sat down and chatted with us recently about her latest release, His Temporary Fix. We've got her fun interview as well as an excerpt from the book to share with you today:
***INTERVIEW***
Thanks for stopping by Pretty Sassy Cool today, Sofia! We'll get right to it Describe His Temporary Fix in ten words or less (we know, we're starting off with a brutal question).
Grieving soldier. Needs distraction. One night stand.
That's almost haiku-like! What sparked the idea for this book?
Oddly enough, seeing a guy standing in the shallows one evening. He had a small dog barking at his heels, but he was totally oblivious to it. Instead, he gazed at the horizon, completely lost in his own world. That guy became Zack.
How interesting! Soldiers make us weak in the knees. What kind of research did you do to prepare for His Temporary Fix?
I'm lucky in that a work colleague was engaged to a soldier (they've since married), and she could tell me a little about Army life, and overseas deployments. I also have a friend who works for the military, and she was able to get official answers to my picky process questions.
How did the characters take shape in your imagination?
I had the broad idea for Zack, and this shaped up when I found an image of a guy on Pinterest (https://www.pinterest.com/pin/469148486153642510/) especially regarding his tattoos. Holly was a little more vague in my head, and so I trawled Pinterest to get some ideas. One girl leapt out at me. That's her, I decided.

The story was originally going to take a completely different direction, with Zack coming back to New Zealand for a wedding. A good friend of mine suggested I make it a funeral instead, and the story came together rapidly, in ways I couldn't have predicted.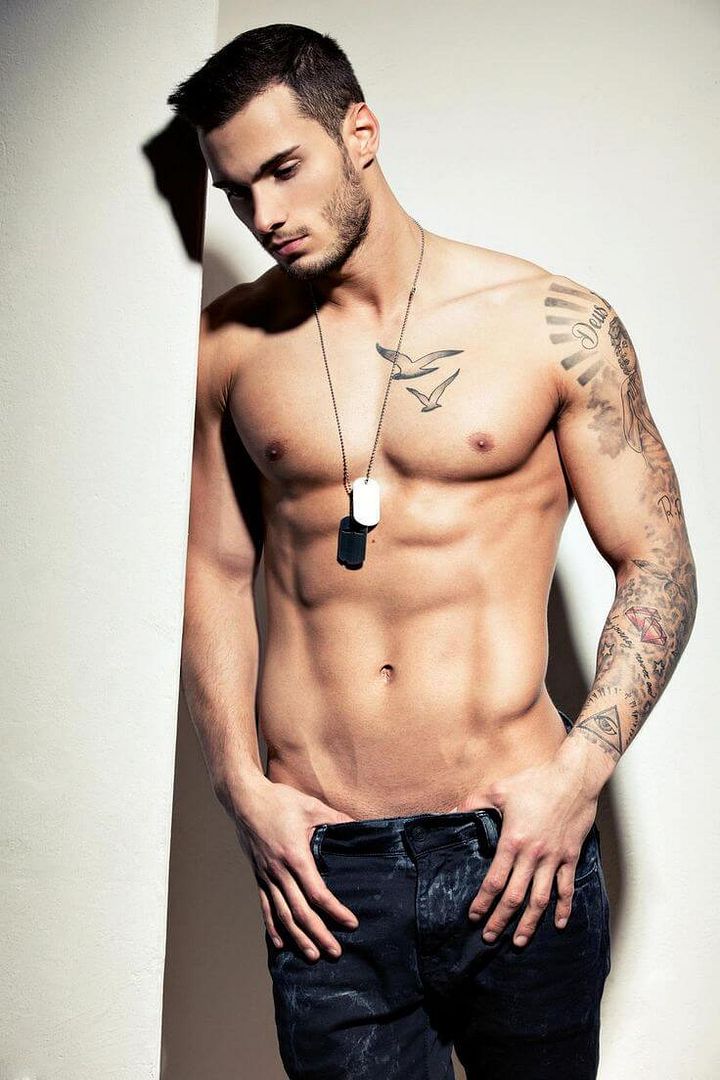 How would you introduce Holly to readers?
Holly and her younger brother, Jasper, were orphaned when she was twelve years old. She has something of a Galahad complex, and a history of rescuing people and animals. This means she sometimes gets taken advantage of. She yearns for love, and her love life is littered with mistakes that have left her broken hearted. She's just made the decision to reinvent herself, and to not get caught up in other people's problems, but as soon as she meets Zack her intentions go flying out of the window.
Tell us about Zack. We want to know all the things!
Zack is in his mid-late twenties. He's a Corporal in the New Zealand Army, in an Infantry regiment, currently on deployment in Afghanistan. He's a confident man, responsible and honourable. His stepfather knocked him around as a child, and he grew up with a fierce sense of justice, of standing up for the little guy.

He adored his young sister, Marnie, and was devastated by her untimely death. When he learned that her boyfriend, a guy Zack didn't get on with, might have been abusing Marnie, he is overwhelmed with guilt.

In Zack's words: "I just feel so fuckin' useless. Like everything I believed in was wrong. I was on the other side of the world, breaking up fights over land that had nothing to do with me, while my baby sister needed me. The one person I should have protected. I let her down, Hol. Let her down so fucking badly."

Pen-picture of Zack: tall, with a lean, strong build. Enjoys running. Has 2 seagulls inked onto his chest, a pattern of tribal swirls inked onto his arm, and a quotation: That which does not kill us makes us stronger – his squad's motto. He also has two ornate crosses on his back, a memorial to fallen comrades. He likes vodka, bacon sandwiches, and lazy BBQ dinners. He has a keen sense of humour and is fiercely loyal to his friends. He likes rock music, and wishes he'd had the chance to see Nirvana live in concert.
We him! How would you describe yourself in three words?
Loyal, imaginative, spontaneous
What is the one thing readers would be surprised to learn about you?
I'm English, but I HATE CUCUMBER. I love afternoon tea with tiny little cakes, and pots of Earl Grey, or jugs of Pimms, but I'll pass on the cucumber sandwiches thank you! If I buy a salad sandwich I have to remove the cucumber before I eat it.
Wow! We like cucumber, but we get it. Which character makes you swoon the most (yours or someone else's)?
My book boyfriends vary, but the constant ones would be Alexander Barrington from The Bronze Horseman (yummy soldier, and so brave!), Dmitri Belikov from the Vampire Academy series (evil-vampire-killing warrior), and Judd Lauren from the Psy/Changeling series. I love it when a man of ice is thawed by a girl.
PS – I've met Nalini Singh (the author of the Psy/Changeling series) at a romance writers conference and she is as lovely as you imagine
Great choices, Sofia. We talked about Alexander in at least a couple of podcast episodes, and we love Nalini! We still need to read the Vampire Academy books. Do you have any current or future projects you can tell us about?
There are several on the go. I'm planning the next in the Love at the Beach series, and this one features a fireman, Dean, who will rescue Steph (Marnie's friend in His Temporary Fix).

I've the next in the Talisman series coming out end November / early December – ADDICTION. This is a full length paranormal romantic suspense.

And I'm working on revisions for a standalone contemp romance that has a crossover with the Talisman world – Pole Position. This tells the story of Jon and Anita Craigowan, the supporting characters in OBSESSION. Look out for that in early 2016.
We can't wait! Is there ever anything that you always wish someone would ask you, but they never do?
If I'd like a free jug of Margarita?
haha That, we definitely could help you out with! Thanks again for coming by, Sofia. We can't wait to get our ::grabbyhands:: on His Temporary Fix!
***About Sofia Grey***
Romance author Sofia Grey spends her days managing projects in the corporate world and her nights hanging out with wolf shifters and alpha males. She devours pretty much anything in the fiction line, but she prefers her romances to be hot, and her heroes to have hidden depths. When writing, she enjoys peeling back the layers to expose her characters' flaws and always makes them work hard for their happy endings.
Find Sofia Here: Website | Facebook | Twitter | Goodreads
***About the Book***
His Temporary Fix
by
Sofia Grey
Also by this author:
Crash Into Love
Series:
Love at the Beach #1
Also in this series:
Crash Into Love
Published by
Entangled: Select
on October 26, 2015
Genres:
Contemporary Romance
Character(s):
Military Guys
Pages:
111
Goodreads
Buy the Book
One night is all it takes...

Holly Jacobs loses her heart a little too easily. Never again. But when she meets the sexy soldier on the beach, Holly knows she's in big trouble. Zack Winter is gorgeous and in pain, and when he kisses Holly, all of her resolve melts away...

Zack is on short-term leave to attend a funeral, and he's walking a fine line. The loss is unbearable...and he'll do whatever it takes to distract himself from it. Especially if it means a night of searingly-hot sex with Holly Jacobs. Only his brilliant idea isn't exactly going according to plan.

One night isn't nearly enough. But if it goes much longer it might end in broken hearts…
***Watch the Trailer***
***EXCERPT***
If I moved the slightest, I could kiss him. My mouth dry at the thought, I licked my lips and heard his breath hitch. We stood there, suspended in time, gazing into each other's eyes. My arms were draped over his shoulders, his body heat scorching me. I wondered how soft his hair was, if I dared to slide my fingers under his cap or stroke the fine fuzz at the back of his neck. I knew if he brushed his lips across my skin, I'd melt. His stubble looked rough and scratchy. Delicious.
Keep Reading the Excerpt for His Temporary Fix
Keep Reading the Excerpt for His Temporary Fix
"Don't you need to go, Holly Jacobs?" Even the way he murmured my name was sexy. This was crazy. Add that to my track record of bad decisions and getting involved with Zack was dumb on an epic level. I was incapable of having a no-strings fling. For me, it was all or nothing, and this time I was going to make the sane decision.
"Why don't you call me just Holly?" Asking him another question was harmless.
I saw a flash of white teeth in the darkness. "I like your name." He sounded amused. "Is that okay, Just-Holly?"
Dear God. In the middle of his grief and distress, he still had a sense of humor. I really needed to escape before I found any more reasons to linger. But I didn't move an inch.
"You sure you don't want to come back to my place?" His whisper reverberated through me, turning my spine liquid and my knees to jelly. He shifted position slightly and I felt him trailing a hand up my back, the fingertips tiptoeing with excruciating slowness and precision.
"Zack, I don't do one-night stands."
"I'm here for two nights."
"I only met you an hour ago. I don't know anything about you."
"It's only sex, Holly. Not a marriage proposal." He sounded amused rather than offended.
What do you think, Pretties?
Related Posts