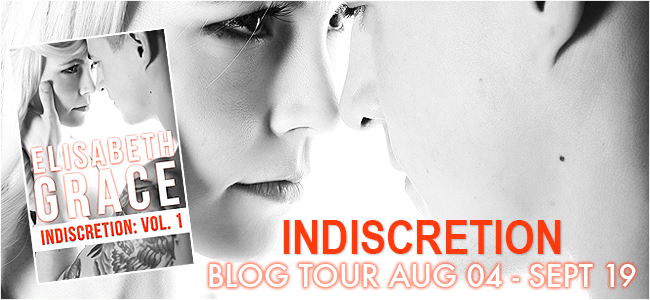 we got to help reveal the cover for this awesome new series by Elisabeth Grace. We're even more excited that we get to participate on the awesome blog tour for Indiscretion: Volume One! We've got a great interview with Elisabeth, but first here's the 411 about the book:
Indiscretion: Volume One
by
Elisabeth Grace
Also by this author:
Rumor Has It
,
Built to Last
Series:
Indiscretion #1
Published by
Self-Published
on August 3, 2014
Genres:
Contemporary Romance
,
New Adult
Pages:
73
Goodreads
Buy the Book
F*ck and chuck. Pump and dump. Hit it and quit it. One night stand. Didn't matter how I branded it—that's all she had wanted it to be. That much was clear when she left me with my pants down and my dick still out.

What she hadn't counted on was fate intervening and our worlds colliding—again.

The day I showed back up in the life of Chloe Griffins, I knew I had to have her again. My body was hungry for another taste. Like an addict, I'd been craving another hit for months, and there she was—flesh and bone, tits and ass.

The fact that she worked for the competition should've been reason enough for me to leave her alone. I had a job to do that summer and f*cking Chloe wasn't part of it. But I was like a man possessed.

I'd do whatever it took to have her again.
***INTERVIEW***
Hi, Elisabeth! Thanks for taking the time to stop by Pretty Sassy Cool today! You already know how excited we were when you decided to write a Serial! What sparked the idea for the Indiscretion Series?
The setting came first. I visited Maine four years ago and fell in love with. I left knowing that I wanted to set a story there. The plot sort of developed when I thought of all the places I wanted to include in the story…all the places I enjoyed spending time. I thought about what types of story lines could work, what type of scenes would be most successful and it came together that way.
Give us your elevator pitch about Indiscretion.
Ugh. Really girl? You're gonna make me do an elevator pitch? Don't you know us writers hate those? LOL Okay, here goes…Stuggling to make ends meet girl meets uber rich man. Being with him allows her to to discover a piece of herself that's been missing, but staying with him risks everything she values most.
You did a great job!! What was your favorite part of Indiscretion to write?
Probably the meet cute. They are usually my favourite part to write and as a reader. I always enjoy figuring out how the H/h will meet so I'm usually chomping at the bit to write it after I've plotted it out!
You do write great meets! We still can't get over it from Rumor Has It! How would you introduce Chloe to readers?
This is Chloe. She's smart, intelligent, and sweet, but could stand to lighten up a bit. 😉
We ♥ Chloe 🙂 Tell us about Max. We want to know all the things!
Oh, my Max. Max was born into privilege but has never been entirely comfortable with his lot in life. He's spent his life feeling like he isn't good enough for his father and hasn't ever lived up to his expectations. He's burdened by his own demons that he's carried with him for years. On a lighter note, Max prefers his sex like every other area in his life–he likes control. He wants to steer the ship so to speak, but Chloe's not complaining! 😉
Neither are we. We have to admit, you write some pretty hot characters! How do you stay on the edge of sexy without going over into gross territory?
I think for me it starts with sexual tension between the characters and then when they finally do connect on that level there needs to be visceral responses from whoever's POV we're in. Less insert part a into part b and more how does it feel physically, mentally where is their head at? This serial series is certainly the sexiest I've written yet so it's scared me a bit to put it out there. The response so far has been great but I was really nervous about it.
What's your favorite genre to read?
Romance – anything with a HEA makes me a happy girl!!
::sigh:: Us, too! What is the one thing readers would be surprised to learn about you?
That I have the next seven books planned and somewhat plotted in my head…I just have to write them. LOL
We can't wait to read all of them! What's next for you?
Up next is a contemporary women's fiction novel titled, Moment Of Impact, which focuses on a woman who awakes from a six year coma only to find out that her husband has remarried and her daughter now calls another woman mommy. After that it's back to my New Adult Limelight series–the third book is titled Collateral Damage, and will focus on Calder Fox.
OMG We love Calder! You answered this question for us before, but we have to ask it again: Is there ever anything that you always wish someone would ask you, but they never do?
How does it feel to be a #1 NYT Bestseller? LOL Dare to dream, right? 😉
We know you will and we can't wait to celebrate with you! Thanks again for stopping by today, Elisabeth! You're one of our favorites!
About Elisabeth Grace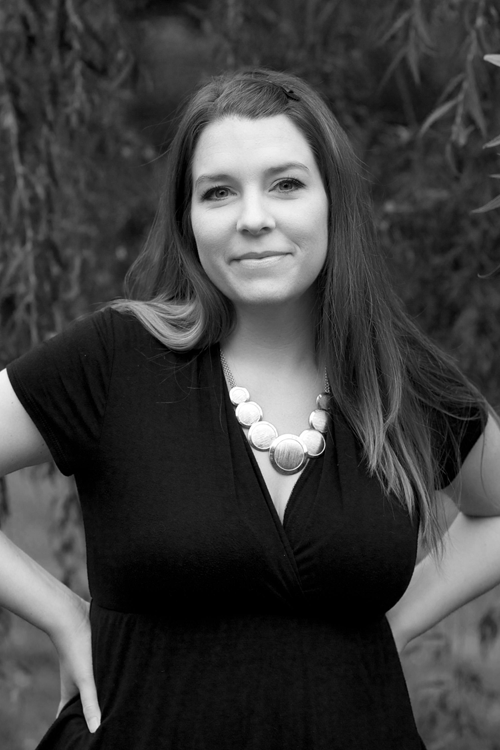 Elisabeth has a soft spot for romance novels with happily ever afters and a hot spot for alpha males! She currently lives outside Toronto, Canada with her hubby and two small children. Life is busy, but never too busy for a good story and to share her love of reading and writing with others.
For more of the lowdown on Elisabeth find her here: Website | Facebook | Twitter | Goodreads
***GIVEAWAY***
Enter to Win Signed Copies (all FOUR Volumes) of Indiscretion
a Rafflecopter giveaway
Good luck and don't miss out on the other awesome stops on the Indiscretion: Volume One Tour!
Related Posts