All month long, we're featuring some of our favorite authors, along with a quick Q&A and some of their favorite recipes. We've got daily giveaways with chances to win some amazing (and steamy!) reads plus a month-long Recipes for Romance Grand Prize Giveaway for a box filled with books and more!
Today CJ Carmichael stopped by with a recipe for Sweet Potato Casserole!


**Q&A with CJ Carmichael**
What is your favorite holiday tradition?
Opening stockings on Christmas morning with my guy and my daughters. We have a fire blazing, coffee and carols playing in the background.
What is your most unusual holiday memory?
I remember the year I bought my boyfriend home for Christmas and then ended up skidding on ice during the drive back and going off the road. Snow is not always romantic!
What was your favorite moment under the mistletoe?
I think it's in my book! When Lily falls off the ladder while hanging the mistletoe and her boss comes to help her. There's a moment of awareness between them when they realize they are standing under the mistletoe together…
What's your favorite Christmas carol or holiday movie?
I love The Family Stone. It has humor and genuine emotion which are a terrific combination.
What's the sexiest gift you ever got/gave?
My guy gives me scented bath oil every Christmas. It's an expensive brand and a lovely treat. He loves the way it makes me smell… 🙂

Peppermint Mocha or Pumpkin Spiced Latte?
Pumpkin Spiced Latte
Egg Nog or Apple Cider?
Egg Nog
Themed Christmas Tree or HodgePodge?
HodgePodge
Old School Bulbs or Icicle Lights?
Icicle Lights
During this Holiday Season, is it better to Give or Receive?
Give
**About CJ Carmichael**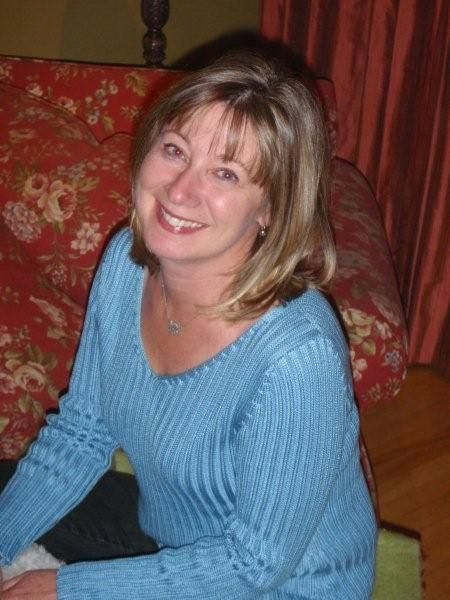 National bestseller, CJ Carmichael, has published over 35 novels and has twice been nominated for a RITA award. She likes to write stories about romance, family and intrigue, usually in small town or rural settings. When it's time to take a break from the computer, she heads to the Rocky Mountains near her home in Calgary where she lives with her partner Michael. If you'd like to learn more about her books, check out her website.
Find CJ Here: Website | Facebook | Twitter | Goodreads
We can't wait to try out CJ's delicious recipe for:
**Sweet Potato Casserole**
Message from CJ:
This is one of those standard dishes that my friends and family insist must be served every Thanksgiving and Christmas with the roast turkey.

| | | | |
| --- | --- | --- | --- |
| Side Dishes | Prep Time: 20 minutes | Cook Time: 30 minutes | Serves: 8 |
Ingredients:
sweet potato
cream
salt
pepper
brown sugar
butter
pecans
Directions:
Bake a couple of sweet potatos ahead of time. On Christmas morning peel and mash them. Heat them with 1/4 cup of cream, then mash again and add salt and pepper to taste. Spread them in a buttered casserole dish (a quiche dish is perfect). Cover with pecan halves. Melt 1/4 cup brown sugar in frying pan and add 1/2 cup brown sugar. Stir until it is smooth and bubbly. Spread over the top of the casserole, then bake at 350, with five minutes of broil at the end.
Want more Side Dishes? Get recipes for Side Dishes and lots of other delectable holiday dishes from your favorite authors all month long right here on Steamy Guys After Dark!

**About What Child Is This**

What Child Is This by CJ Carmichael
Series: A Frost Family Christmas
Published by Self-Published on September 29, 2013
Pages: 88
Frost Farm owner, Garret Frost, and his Public Relations Manager, Lily Parker, each have their own reasons for dreading Christmas this year. Garret's a widower, stressed with the responsibility of running the family's maple syrup business while raising his young son on his own. And Lily's still trying to recover from the tragic loss that ended her marriage.

Adding to their personal challenges, Garret's adorable son Duncan has just told Santa that all he wants for the holidays is to visit the North Pole. How's Garret going to manage that? And then an abandoned baby is found in the manger of the nativity scene beside the Sugar Shack…

Just as it seems like the holiday will be a total bust, an almost-kiss under the mistletoe has Garret looking at Lily in a whole new way. Despite all the holiday mayhem, could this end up being the best Christmas ever?
Don't miss out on our posts featuring the other stories in this collection:
Dec 17 — Roxy Boroughs, author of Home for Christmas
Dec 22 — Brenda Collins, author of The Holly & The Ivy
Other Books by CJ Carmichael:
Don't forget to enter our month-long Recipes for Romance Grand Prize Giveaway for a box filled with books and more!
Happy Holidays!
xo-
The Steam Team

Related Posts