We're so excited that Sweet Surprise author Candis Terry stopped by to dish on writing with us today! Check out the 411 about her latest title, Sweet Surprise, and what she's got to say about writing small town romances, then enter the awesome giveaway below 🙂
Why I Love Writing Small Town Romances
Guest Post by author Candis Terry
Today, instead of trying to make some brilliant notations of writing tips or quirky commentary on the state of undress in an erotica I just read, I thought I'd give myself a reminder of why I love writing small town romances. Hopefully it will give you a little behind-the-scenes look at why I choose to sit in a room by myself night after night with my fingers on the keyboard even when my head is nodding and my eyes are half-closed.
CHARACTERS – Though the stories created in my head always start with a situation and never the characters, it is the characters who bring the situation to life. In a romance its obvious the hero and heroine are the most important. But in my stories I find the entire cast of characters to be just as important because they help the hero and heroine come to life. I've written everything from a backseat driving ghost mom who hands out unwanted advice to her adult children, to an amorous 80+ year old bow-legged cowboy, and in my newest book, Sweet Surprise, I tackle the complexity of my heroine being a single mom. Some of these characters are a mix of people I've met along the way and some are just completely made up in my head. All of them are folks I'd like to spend a little time with over a hot cup of coffee.

COMMUNITY – In my stories the community always plays a large part. Whether its coming together to fix up the neighborhood or celebrate the quirkiness of the town in a parade that goes up the street one way, turns around and comes back down the same way. I know they'll always work together for what's best for the entire community. If you've read either of my books series—The Sugar Shack or Sweet, Texas—you probably know that the community actually counts as another character.

LOCATION – Always my favorite. I'm an outdoors girl and the locations I select usually offer mountain rivers and streams, gorgeous vistas, and romantic settings. This is where I truly get my ahhhhhh moments. Just because its snowing outside my window doesn't mean I can't imagine an incredible summer sunset from a pine-scented mountaintop.

RESEARCH – To get a true feel of the places I write about I actually get on a plane or in our truck (with travel trailer attached). I love discovering new places and the little things that make each location special whether it's the little museums or the locals' favorite restaurant or bar. I don't think I could have ever come up with Bud's Nothing Finer Diner's famous Diablo burger had I not put boots on ground in Texas. I hope when you read my stories, you actually get a real sense of being there. And sometimes, I'll admit, it's really hard to leave.

LAST BUT CERTAINLY NOT LEAST—READERS – I'm never sure how much readers understand why we authors write. At heart we are storytellers. But it is the true joy of knowing we've made a reader smile, or laugh, or shed a tear. It's the connection from us to you. A lifeline, so to speak. And you are all the most important reason I keep writing long after my body tells me it's time to quit and go to bed.
***About Candis Terry***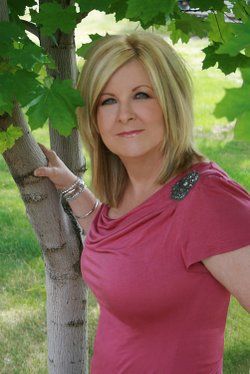 Candis Terry was born and raised near the sunny beaches of Southern California and now makes her home on an Idaho farm. She's experienced life in such diverse ways as working in a Hollywood recording studio to scooping up road apples left by her daughter's rodeo queening horse to working as a graphic designer. Only one thing has remained constant: Candis' passion for writing stories about relationships, the push and pull in the search for love, and the security one finds in their own happily ever after. Though her stories are set in small towns, Candis' wish is to give each of her characters a great big memorable love story rich with quirky characters, tons of fun, and a happy ending.
Find Candis Here: Website | Facebook | Twitter | Goodreads
***About Sweet Surprise***
Sweet Surprise
by
Candis Terry
Also by this author:
Home Sweet Home
Series:
Sweet Texas #4
Also in this series:
Home Sweet Home
Published by
Avon Books
on January 27, 2015
Genres:
Contemporary Romance
Pages:
384
Goodreads
Buy the Book
Playing naughty or nice...

Fiona Wilder knows all about falling in lust. Love? That's another story. Determined not to repeat past mistakes, the single mom and cupcake shop owner is focused on walking the straight and narrow. But trouble has a way of finding her. And this time it comes in the form of a smoking hot firefighter who knows all the delicious ways to ignite her bad-girl fuse.

Can lead to heartbreak...

Firefighter Mike Halsey learned long ago that playing with fire just gets you burned. He's put his demons behind him, and if there's one line he won't cross, it's getting involved with his best friend's ex. But when fate throws him in the path of the beautiful, strong, and off-limits Fiona, will he be able to fight their attraction? Or will he willingly go down in flames?

Or a sweet surprise!
***EXCERPT***
Fiona swallowed. Something warm and forbidden swirled in the pit of her stomach, then wound its way into her heart and other vital parts of her body. In the old days she'd tug him closer and take what she wanted. But this was a new day. A new Fiona. A more responsible Fiona who, unfortunately, couldn't seem to get this man off her mind.
"Then maybe this won't work out." She eased her hand from his and instantly missed the fire in his touch.
"Maybe." Those broad shoulders beneath that fresh cotton T-shirt lifted in a nonchalant shrug. "I'm willing to give it a shot if you are."
Give what a shot, she wanted to ask. The actual work? Or the sexual tension that ignited between them like gasoline and matches?
A sigh expanded her chest. "If you're going to work for me there can't be any flirting. Or touching."
His smile widened to a grin. "It'll be a pleasure working under you."
Oh boy.
***GIVEAWAY***
A Sweet Surprise Cupcake Prize Pack
a Rafflecopter giveaway
So what do you think, pretties? What do you love about small town romances?
Related Posts