All month long, we're featuring some of our favorite authors, along with a quick Q&A and a few fun This or That? questions. We've got a big giveaway with lots of chances to win some amazing (and steamy!) reads and other great prizes!
Today author Amy Lane stopped by to chat with us about Freckles!
**Q&A with Amy Lane**
What is your favorite Christmas song?
Heigh-Ho
What was your favorite moment under the mistletoe?
Mate–every year.
To warm yourself up after playing in the snow, do you drink hot cocoa, egg nog, or hot apple cider?
Hot Apple Cider
A Charlie Brown Christmas, Rudolph the Red-Nosed Reindeer, or How the Grinch Stole Christmas?
How the Grinch Stole Christmas

Are you a Santa or a Scrooge?
Santa
Colored Lights or White Lights?
Colored lights!
Sugar Cookies or Gingerbread Men?
Sugar Cookies
Presents … Christmas Eve or Christmas Day?
Christmas Day
Christmas Parade or Christmas Party?
Christmas Parade

Out of the characters in your book, who is most likely to:
-shake the presents?
Sandy from Freckles
-get drunk on Christmas Eve?
Sandy from Freckles
-eat the cookies left for Santa?
Sandy from Freckles
-kiss Santa Claus?
Finn–Candy Man
-steal the sleigh?
Richie–Winter Ball
-Make snow angels … naked ;)?
Scotty–Puppy, Car, and Snow

**About Amy Lane**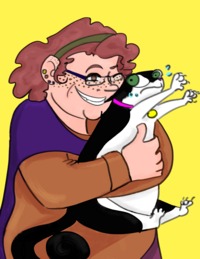 Amy Lane exists happily with her noisy family in a crumbling suburban crapmansion, and equally happily with the surprisingly demanding voices who live in her head.
She loves cats, movies, yarn, pretty colors, pretty men, shiny things, and Twu Wuv, and despises house cleaning, low fat granola bars, and vainglorious prickweenies.
She can be found at her computer, dodging housework, or simultaneously reading, watching television, and knitting, because she likes to freak people out by proving it can be done.
Find Amy Here: Website | Facebook | Twitter | Goodreads

**About Freckles**
Freckles
by
Amy Lane
Also by this author:
The Deep of the Sound
Series:
Riptide 2016 Holiday Charity Bundle
Published by
Riptide Publishing
on November 14th 2016
Genres:
Christmas
,
Contemporary Romance
,
M/M Romance
,
Opposites Attract
Character(s):
Doctors/Medical Guys
Pages:
170
Goodreads
Buy the Book
Carter Embree has always hoped to be rescued from his productive, tragically boring, and (slightly) ethically compromised life. But when an urchin at a grocery store shoves a bundle of fluff into his hands, Carter goes from rescuee to rescuer—and he needs a little help.

Sandy Corrigan, the vet tech who helps ease Carter into the world of dog ownership, first assumes that Carter is a crazy-pants client who just needs to relax. But as Sandy gets a glimpse into the funny, kind, sexy man under Carter's mild-mannered exterior, he sees that with a little care and feeding, Carter might be Super-Pet Owner—and decent boyfriend material to boot.

But Carter needs to see himself as a hero first. As he says good-bye to his pristine house and hello to carpet treatments and dog walkers, he finds that there really is more to himself than a researching drudge without a backbone. A Carter Embree can rate a Sandy Corrigan. He can be supportive, he can be a hero, he can be a man who stands up for his principles!

He can be the owner of a small dog.
***GIVEAWAY***
Enter the rafflecopter below to win some fabulous prizes, including a $25 Amazon Gift Card from Pretty Sassy Cool!:
EVERYONE'S A WINNER! Just sign up here and get 10 Steamy Holiday Stories, including one from author Opal Carew!
Winner's choice of any ebook from Amy Jo Cousins's backlist
an ebook copy of Candy Cane Christmas from author Laura Trentham
A literary infinity scarf and buckle bracelet from author Lori Wilde
A signed paperback (of any book) or a free ebook of Christmas on the Last Frontier from author J.H. Croix
One of (3) $10 Amazon gift cards from author Jennifer Ryan
a $5 Amazon gift card from author Robin Bielman
a copy of Three Christmas Wishes from author Sheila Roberts
a $10 Amazon gift card from author Daire St. Denis
Print copies of One Night Charmer, Tough Luck Hero, and Last Chance by Maisey Yates
a $10 Amazon gift card from author Charlie Cochet
Christmas jewelry from author Jennifer Conner
a Rafflecopter giveaway
Merry Christmas & Happy New Year!

***Don't Miss Our Other Countdown to Christmas Posts:***
Related Posts