We're kicking off our Countdown to Christmas today! All month long, we're featuring some of our favorite authors, along with a quick Q&A and a few fun This or That? questions. We've got a big giveaway with lots of chances to win some amazing (and steamy!) reads and other great prizes!
Today author Amy Jo Cousins stopped by to chat with us about Glass Tidings!
**Q&A with Amy Jo Cousins**
What is your favorite Christmas song?
Mele Kalikimaka, the Hawaiian Christmas song by Bing Crosby. My parents met in Hawaii and we grew up with that song playing every year.
What was your favorite moment under the mistletoe?
I've never actually been kissed under mistletoe, so if anyone would like to remedy that, I'm up for it… 😉
To warm yourself up after playing in the snow, do you drink hot cocoa, egg nog, or hot apple cider?
Mulled wine!
A Charlie Brown Christmas, Rudolph the Red-Nosed Reindeer, or How the Grinch Stole Christmas?
How the Grinch Stole Christmas

Are you a Santa or a Scrooge?
Santa
Colored Lights or White Lights?
Colored lights!
Sugar Cookies or Gingerbread Men?
Chocolate chip
Presents … Christmas Eve or Christmas Day?
Christmas Day
Christmas Parade or Christmas Party?
Party

Out of the characters in your book, who is most likely to:
-shake the presents?
Eddie from Glass Tidings, with no shame.
-get drunk on Christmas Eve?
Gray (Glass Tidings) being maudlin…
-eat the cookies left for Santa?
Eddie (Glass Tidings), for sure.
-kiss Santa Claus?
Eddie (Glass Tidings), especially if it would get him a special treat.
-steal the sleigh?
Eddie (Glass Tidings) again, alas.
-Make snow angels … naked ;)?
Eddie would egg Gray into doing it with him. LOL.

**About Amy Jo Cousins**
Amy Jo Cousins writes contemporary romance and erotica about smart people finding their own best kind of smexy. She lives in Chicago with her son, where she tweets too much, sometimes runs really far, and waits for the Cubs to win the World Series again.
Find Amy Jo Here: Website | Facebook | Twitter | Goodreads

**About Glass Tidings**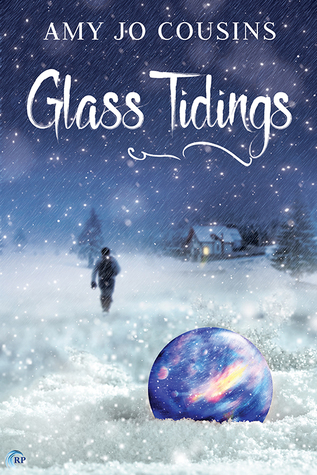 Glass Tidings
by
Amy Jo Cousins
Series:
Riptide 2016 Holiday Charity Bundle
Published by
Riptide Publishing
on December 5th 2016
Genres:
Christmas
,
Contemporary Romance
,
M/M Romance
Character(s):
Artists/Photographers/Producers/DJs
,
Reclusive Heroes
Pages:
226
Goodreads
Buy the Book
Eddie Rodrigues doesn't stay in one place long enough to get attached. The only time he broke that rule, things went south fast. Now he's on the road again, with barely enough cash in his pocket to hop a bus south after his (sort-of-stolen) car breaks down in the middle of nowhere, Midwest, USA.

He's fine. He'll manage. Until he watches that girl get hit by a car and left to die.

Local shop owner Grayson Croft isn't in the habit of doing people any favors. But even a recluse can't avoid everyone in a town as small as Clear Lake. And when the cop who played Juliet to your Romeo in the high school play asks you to put up her key witness for the night, you say yes.

Now Gray's got a grouchy glass artist stomping around his big, empty house, and it turns out that he . . . maybe . . . kind of . . . likes the company.

But Eddie Rodrigues never sticks around.

Unless a Christmas shop owner who hates the season can show an orphan what it means to have family for the holidays.
***GIVEAWAY***
Enter the rafflecopter below to win some fabulous prizes, including a $25 Amazon Gift Card from Pretty Sassy Cool!:
EVERYONE'S A WINNER! Just sign up here and get 10 Steamy Holiday Stories, including one from author Opal Carew!
Winner's choice of any ebook from Amy Jo Cousins's backlist
an ebook copy of Candy Cane Christmas from author Laura Trentham
A literary infinity scarf and buckle bracelet from author Lori Wilde
A signed paperback (of any book) or a free ebook of Christmas on the Last Frontier from author J.H. Croix
One of (3) $10 Amazon gift cards from author Jennifer Ryan
a $5 Amazon gift card from author Robin Bielman
a copy of Three Christmas Wishes from author Sheila Roberts
Print copies of One Night Charmer, Tough Luck Hero, and Last Chance by Maisey Yates
a $10 Amazon gift card from author Charlie Cochet
Christmas jewelry from author Jennifer Conner
a $10 Amazon gift card from author Daire St. Denis
a Rafflecopter giveaway
Amy Jo Cousins offered Winner's choice of any ebook from Amy Jo Cousins's backlist in our giveaway, so be sure to sign up for her newsletter!
Merry Christmas & Happy New Year!

***Don't Miss Our Other Countdown to Christmas Posts:***
Related Posts