We were lucky enough to have historical romance author Alissa Johnson stop by and share a special message with us today!
***Message from Alissa Johnson***
Hello Readers!
I'm delighted to introduce A Talent for Trickery, the first book in my new Victorian-set "Thief-takers" series. Our hero, Private Investigator Owen Renderwell, is on the hunt for a thief and murderer. And he knows just how to catch his man. All he needs is a little help from our heroine, Miss Charlotte Walker-Bales. The daughter of an infamous confidence man, Lottie is in a unique position to offer insight into the mind and motives of a hardened criminal. There's just one flaw in Owen's otherwise excellent plan. Lottie hasn't spoken to him in eight years. She has no interest in working alongside a man of the law, and certainly not the one who betrayed her trust, endangered her family, and broke her heart.
Lottie did agree, however, to deliver a brief message to those readers who claim no affiliation with The Thief-takers, Scotland Yard, or any other investigative or law enforcement agency.
To whomever it may be of interest,

I have received of late a fair number of requests for advice on how best to lie, cheat, steal, and swindle one's way to fame and fortune.
Obviously, I have never personally engaged in such reprehensible behavior.

I will admit, however, to being the eldest daughter of the late Mr. William Walker, who was alleged (but never officially proven) to have been a successful thief and trickster. You will find below a page taken from one of his journals.*

William Walker's Guide to Trickery and Deceit.
Lessons for my darling [name redacted]

Pick your mark carefully. Don't toy with a tiger when a kitten will do.
Know your mark well. Learn his fears, his desires, his strengths and weaknesses. One cannot manipulate a man without first having a firm grasp of him.
Never take from a mark more than he can afford to lose. Steal a hundred pounds from a prince, and it's unlikely he'll report the crime. He would prefer to quietly suffer the inconvenience than admit to the shame of having been duped. Steal a shilling from a pauper, and he'll hunt you down like a dog. Which is why you must always…
Use an alias, change it often, and never stay in one place for too long. Don't make it easy for your enemies to find you.
Be careful of the lies you tell. But more importantly…
Be careful with the truth. Nothing will land a body in hot water quite so quick as too much honesty.
There is no honor amongst thieves. If you must work with accomplices, then make certain that, no matter how many parties are involved, you are the least trustworthy of the lot. In this way, you will always know from which direction betrayal is most likely to arise.
Disregard 7 if your accomplice is also your father.
Carry upon your person a set of lock picks at all times. One never knows when one might need entrance through a barred door, or exit from set of manacles.
Know when to give up on a scheme. No plan is fool-proof. You cannot possibly account for every conceivable obstacle and danger. When the odds of failure outpace the chances of success, walk away. No amount of coin is worth your freedom, or your life.

*This material is offered only as an example of my father's creative musings on a theoretical life of crime. It is not an admittance of actual criminal activity undertaken by any member of my family.

However, were I the sort of woman inclined to take such instructions to heart, I believe I would pay particular attention to lesson number 6.

With Kindest Regards,
Miss Charlotte Walker-Bales
***About Alissa Johnson***
Alissa Johnson is a RITA-nominated author of historical romance. She grew up on Air Force bases and attended St. Olaf College in Minnesota. She currently resides in the Arkansan Ozarks where she spends her free time keeping her Aussie dog busy, visiting with family, and dabbling in archery.
Find Alissa Here: Website | Facebook | Twitter | Goodreads
***About the Book***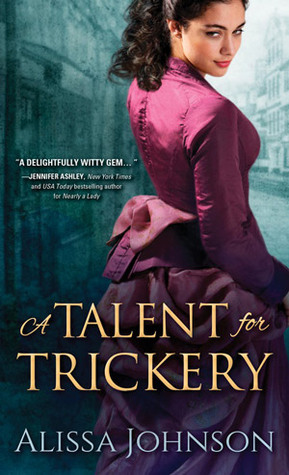 A Talent for Trickery
by
Alissa Johnson
Series:
The Thief-takers #1
Published by
Sourcebooks Casablanca
on November 3, 2015
Genres:
Forbidden Love
,
Historical Romance
Character(s):
Heroes in Uniform
Pages:
352
Goodreads
Buy the Book
The Lady is a Thief

Years ago, Owen Renderwell earned acclaim—and a title—for the dashing rescue of a kidnapped duchess. But only a select few knew that Scotland Yard's most famous detective was working alongside London's most infamous thief…and his criminally brilliant daughter, Charlotte Walker.

Lottie was like no other woman in Victorian England. She challenged him. She dazzled him. She questioned everything he believed and everything he was, and he has never wanted anyone more. And then he lost her.

Now a private detective on the trail of a murderer, Owen has stormed back into Lottie's life. She knows that no matter what they may pretend, he will always be a man of the law and she a criminal. Yet whenever he's near, Owen has a way of making things complicated…and long for a future that can never be theirs.
***GIVEAWAY***
Historical Romance Book Bundle Featuring Alissa Johnson's A TALENT FOR TRICKERY
a Rafflecopter giveaway
Related Posts