Did you know know that Harlequin Escape is one year old this week? We're celebrating this momentous occasion with a week filled with interviews, reviews, and excerpts, plus awesome giveaways, here on Steamy Guys After Dark and on our sister site featuring YA: Swoony Boys Podcast!
Today, we're chatting with Vanessa Stark, author of Room Service:


***INTERVIEW***
Thank you so much for stopping by Steamy Guys After Dark today, Vanessa. We're excited to get to know you and your books!
Thanks for having me 🙂
Tell us a little about Room Service. Was it a fun book to write?
It was so much fun! I wrote it after returning home, full of inspiration, from an amazing romance writers conference in QLD (my first). Natasha, the heroine in Room Service, popped into my head fully formed and bursting with conflict – she is a virgin and a bestselling erotic romance author!
Give us your twenty second elevator pitch about Room Service.
Natasha Raven, bestselling erotic romance author and virgin (who doesn't write her own sex scenes), needs some sexual experience – fast – when she's asked to share her naughty writing secrets at a writers conference. Can hot, hotel-staffer, Jace, help her out? Or does he have an even deeper secret than Natasha!
What was your favorite part to write?
I loved writing the scene where Natasha pretends to be an experienced lover. I really felt for her because I knew how difficult it must have been to 'play' this role with the childhood upbringing she'd experienced. Also, the scene was a huge turning point for Natasha, character-growth wise.
How do you build your characters? Do you know every single detail of their lives?
They seem to form organically inside my mind and allow me snippets of information as the story develops. Weirdly enough, I often continue to learn more about them long after the story is written.
How would you introduce Jace to readers?
Jace is a hot, young, hotel staffer who has the power to melt knees with just one glance! Strong, gorgeous and also a gentleman, Jace seems perfect in every way. But is he harbouring a secret even darker than Natasha's?
In Room Service, Natasha is an author who has secretly never written a sex scene (or had sex!). Do you dread or love writing sex scenes?
I think they are so much fun to write, so I don't dread them at all. But I do cringe when people that I know have read them!!!
LOL How would you describe yourself in three words?
Curious, romantic, happy
Great words! When did you write your first book and what was the title? Did you always want to write?
I have always wanted to write. The first story I wrote was about Skeletor (from He-Man), titled 'Blue Blood' when I was 7 yrs old. However the first actual novel I wrote was a historical romance. It's full of cringe-worthy sex scenes, and awful dialogue. But it was fun and made me want to do better 🙂
Oh, the He-Man/She-Ra memories! Do you have any interesting writing quirks or rituals?
I have a favourite daggy cardigan with missing buttons that I always wear during the winter while I write. For some reason I feel like a 'real' writer when I slip it on. Also, I need a hot drink of some sort – normally coffee but sometimes Earl Grey tea.
Fun. What's the best piece of advice you ever received from another author?
Write the story you would love to read.
Great advice. How do you feel about writer's block when there's a deadline? How do you remedy that?
I'm so frightened by the idea of getting writer's block before a deadline. But luckily, deadlines actually work for me by giving me a concrete goal. Plus, I always pop a bottle of bubbly in the fridge as a reward for when I finish a project.
We're all about the reward system. According to your bio, you also hold a part-time job. How do you find the time and energy to write?
It is difficult sometimes. Like most writers, we all have children and/or pets, partners, parents, jobs, houses etc. There are times where writing has to be put aside, but there are also times when, even if you should be doing the washing, or the dishes, or sleeping, the story lures you and you cannot help but write. I live for those moments, when the rush of writing overrides even tiredness!
Us, too. What is the one thing readers would be surprised to learn about you?
That I once slept in a garden shed, in London, with three travelling-friends 🙂
That sounds like an interesting story. Which character makes you swoon the most (yours or someone else's)?
I swoon over so many characters I find it hard to choose just one. But I loved Flynn from Rachael John's rural romance, Jilted and Max from Sarra Manning's You Don't Have to Say You Love Me.
Do you have any current or future projects you can tell us about?
I have a lot of projects on the go including a sequel to Room Service, and a hot, contemporary romance starring a sexy, Irish-Italian hero.
Can't wait to check those out! Is there ever anything that you always wish someone would ask you, but they never do?
What is my favourite food? Croatian soup – it's a beef broth with noodles that my mum makes. I can eat five bowls of it in one sitting!
Sounds yummy. Thanks again for coming by today, Vanessa.
You're welcome. Thanks for having me. It was so much fun!
***About Vanessa Stark***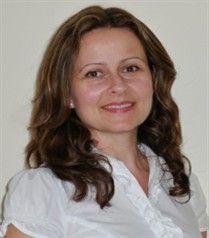 Vanessa Stark lives on the coast of Western Australia with her husband, their three chatty children, and three calming goldfish. When she is not writing, Vanessa can be found at the local bookstore where she works part-time.
Find Vanessa Stark Here: Website | Twitter | Goodreads
***About the Book***
Room Service
by
Vanessa Stark
Published by
Escape Publishing
on February 1, 2013
Genres:
Contemporary Romance
Pages:
45
Goodreads
Buy the Book
Although she is a bestselling author of erotic romance, Natasha Raven has never penned a sex scene. Her sister, Liza, was responsible for the sizzle in Natasha's books – until she passed away only months ago. Now Natasha must write the scenes herself. Trouble is, she hasn't a clue what to write and being a virgin doesn't help. When she is invited to speak at a conference workshop titled 'From Your Sheets to the Page,' Natasha panics. But a suggestive wink from a young hotel staffer named Jace gives her an idea. But will she go through with it? And is Jace all that he seems?
***GIVEAWAY***
eBook copies of Ravenous, Not Your Average Joe, In Another Life, It's Love, Dude, Summer Fling, Bonjour Cherie, and Room Service
a Rafflecopter giveaway
Good luck and be sure to check out all the other interviews and reviews we've got going on to celebrate the first Birthday for Harlequin Escape!
Related Posts