All month long, we're featuring some of our favorite authors, along with a quick Q&A and some of their favorite recipes. We've got daily giveaways with chances to win some amazing (and steamy!) reads plus a month-long Recipes for Romance Grand Prize Giveaway for a box filled with books and more!
Today Tanya Michaels stopped by with a recipe for Cranberry Ice!


**Q&A with Tanya Michaels**
What is your favorite holiday tradition?
Almost twenty years ago, my husband and I had our first date on December 1. As our first anniversary approached, we agreed we wouldn't exchange anniversary gifts since we were broke college students who would be exchanging Christmas gifts just a few weeks later. But I couldn't let our anniversary pass without something to commemorate it, so I had an ornament engraved for him. He broke the pact too—proposing on December 1 and giving me a beautiful sapphire engagement ring (my birthstone). He loved the ornament so much he suggested we exchange ornaments every December 1st, ornaments we'd pick out for each other because of some personal significance. Once we had kids, it didn't take them long to catch on and want their own special Dec. 1 ornaments. As a result, we now own waaay more ornaments than our tree needs, but many of them are linked to funny or poignant memories.
What is your most unusual holiday memory?
When I was 17, I spent Christmas morning volunteering in a battered women and children's shelter. It wasn't my most festive Christmas, but it was eye-opening. It made me appreciate that, while I've faced challenges in my life, I am truly, truly blessed. And watching the strength of those women trying to build new lives was incredibly inspiring.
What was your favorite moment under the mistletoe?
At my future in-law's farm, after J and I announced our engagement to everyone!
What's your favorite Christmas carol or holiday movie?
My favorite Christmas carol is O, Holy Night, but Baby, It's Cold Outside runs a close second. I own about fifteen different combined versions of them 🙂
What's the sexiest gift you ever got/gave?
That's a tough call because my husband has given me some really cool gifts over the years—some might not seem sexy to others, but there's a lot of appeal in a gift that shows your spouse really gets you. Still, I have to go with the trip he gave me to Napa Valley, complete with decadent wine tastings and a couples' spa day.

Peppermint Mocha or Pumpkin Spiced Latte?
I'm a sucker for anything with peppermint!
Egg Nog or Apple Cider?
Hot Apple Cider
Themed Christmas Tree or HodgePodge?
Our Christmas tree is insane (see above re: ornament collection). We have ornaments the kids have made at school over the years, ornaments that light up and make music, antique German heirlooms, Star Wars, Pokemon…
Old School Bulbs or Icicle Lights?
Tiny white twinkle lights
During this Holiday Season, is it better to Give or Receive?
I love giving gifts—not just at Christmas but all year round!
**About Tanya Michaels**
Four-time RITA finalist Tanya Michaels is the best-selling author of over thirty women's fiction and romance novels, including the popular Colorado Cades trilogy. The first book in the trilogy, Her Secret, His Baby, is currently nominated for an RT Book Reviews Reviewers' Choice Award. She loves traveling to speak to readers and writers, and she watches way, way too much TV. She lives outside Atlanta, GA with a husband who had no idea what he was getting into and two diabolically imaginative children.
Find Tanya Here: Website | Facebook | Twitter | Goodreads
We can't wait to try out Tanya's delicious recipe for:
**Cranberry Ice**
Message from Tanya:
This recipe is a family tradition that my great-great aunt passed down. My dad is one of 10 siblings, and everyone makes it for Thanksgiving or Christmas. I felt like a real grown up the first time I made it and served it at a holiday dinner 🙂 I like the light, tart refreshing palate cleanser after heavier foods. My son, who has a serious milk allergy, loves it because he feels like it's "ice cream" he can have.

| | | | |
| --- | --- | --- | --- |
| Desserts | Prep Time: 15-20 minutes | Cook Time: needs to freeze overnight | Serves: 6 to 8 |
Ingredients:
1 bag whole cranberries
1 cup water
1 cup sugar
½ cup orange juice
2 egg whites
Directions:
Combine water and cranberries, boil until berries begin to pop. Then put through a strainer into a container (discarding the berry skins afterward). Stir sugar and orange juice into mix and let cool. Place container in freezer. When ice crystals begin to form, whisk two egg whites and blend in until mixture is uniform. Freeze overnight.
Want more Desserts? Get recipes for Desserts and lots of other delectable holiday dishes from your favorite authors all month long right here on Steamy Guys After Dark!

**About Second Chance Christmas**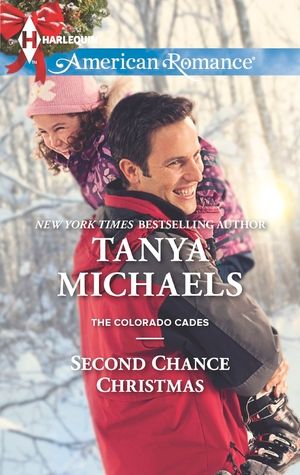 Second Chance Christmas by Tanya Michaels
Series: The Colorado Cades
Published by Harlequin on December 5, 2013
Pages: 224
A Christmas To Remember…

Ski-lodge manager Elisabeth is the quiet Donnelly twin – sedate, mature, responsible. It wasn't like her to fall in love with ski patroller Justin Cade, famous for his killer smile, blue eyes and way with women. But it was just like him to dump her when things began to get serious.

Now he's suddenly back in her life, and the timing couldn't be worse. Elisabeth has plans to marry a successful businessman, and with Christmas around the corner, she wants to make the holidays special for her adopted young goddaughter. Falling for Justin all over again would definitely not be the sensible thing to do. But maybe, for once in her life, Elisabeth should follow her heart instead of her head.
Other Books in The Colorado Cades Series:
Other Books by Tanya Michaels:
***GIVEAWAY***
Win a signed copy of the first two books in Tanya Michaels' Colorado Cades trilogy!
a Rafflecopter giveaway
Don't forget to enter our month-long Recipes for Romance Grand Prize Giveaway for a box filled with books and more!
Happy Holidays!
xo-
The Steam Team

Related Posts