Did you know know that Harlequin Escape is one year old this week? We're celebrating this momentous occasion with a week filled with interviews, reviews, and excerpts, plus awesome giveaways, here on Steamy Guys After Dark and on our sister site featuring YA: Swoony Boys Podcast!
Today, we're chatting with Serenity Woods, author of Summer Fling:


***INTERVIEW***
Thank you so much for stopping by Steamy Guys After Dark today, Serenity. We're excited to get to know you and your books!
You're very welcome – it's exciting to be here!
Tell us a little about Summer Fling. Was it a fun book to write?
It was a hugely fun book to write. It actually started as an entry for Harlequin Blaze's Aviator Challenge. The task was to write the first thousand words of a romance involving a guy and a plane. I know nothing about pilots and tried to think of a novel way (pardon the pun) of approaching the story. My husband has jumped out of a plane and I knew he'd be able to give me a few tips, and so Garth the skydiving instructor was born. It won the competition, and Escape Publishing snapped it up!
That's awesome. Give us your twenty second elevator pitch about Summer Fling.
The last thing sensible, cautious chocolatier Chloe Jackson is interested in is dating an impulsive, risk-taking skydiver. But Garth Rowland's recklessness hides a desire for freedom that only Chloe can provide…
What was your favorite part to write?
The opening few chapters where they jump out of the plane was so much fun. The whole metaphor for Chloe's desperate need to throw off her lifelong cautiousness and take a risk for once was interesting to explore. The other wonderful scene was where Garth finally tells Chloe about his captivity, and how that lies behind his desire for freedom. It was a very emotional scene to write.
We bet. How do you build your characters? Do you know every single detail of their lives?
Sometimes I do a character interview if I feel the need to get to know them better. Often I have a picture of a movie star I base them on, and I'll pin that to my noticeboard. I do plan sometimes, but quite often that will change over the course of the story, so I don't stick to my first ideas religiously.
We love character interviews. How would you introduce Garth to readers?
Garth is the ultimate tortured hero. He's heroic, courageous, loving and kind, but he's also haunted by the time he was in captivity in Afghanistan. He's terribly claustrophobic and can't be inside for long, which is one reason why he enjoys flying and skydiving so much.
In the book, your characters meet on a skydive. Have you ever been skydiving?
God, no! No way would you get me to jump out of a plane with only a piece of silk to hold me up! Here's a funny story for you – in the first draft I wrote that he jumps from fourteen thousand miles. Luckily a friend picked up that I meant feet!
LOL How would you describe yourself in three words?
I once asked my husband what one word he would use to describe me, hoping for "beautiful", "elegant" or "sexy". He said "capable". Sigh.

Creative, calm, a dreamer 🙂
Nothing wrong with capable. We think you're pretty 🙂 When did you write your first book and what was the title? Did you always want to write?
I wrote seven novels before I wrote my first romance. But that first romantic story was called "Bohemian Rhapsody" about an archaeologist on the hunt for an historical belt buckle in Prague. I don't think it was very good, looking back! But it was a start. Yes, I've written since I was fifteen. I've never really wanted to do anything else.
That's awesome. Do you have any interesting writing quirks or rituals?
I usually have a piece of chocolate to hand, LOL!
Us, too. What's the best piece of advice you ever received from another author?
That reviews tell you as much about the person writing them as they do about the book they've read.
How do you feel about writer's block when there's a deadline? How do you remedy that?
The only time I get writer's block is when I'm not sure what to write next. I tend to go in circles, shall I write this, or this, or this? Usually because I can't make my mind up which genre/market. Once I'm writing, I don't tend to get it (although I always reach a point about 30k in which I think holy crap, nobody's ever going to want to read this! Then you just have to push on and keep going. It's rarely as bad as you thought when you get to the end and read it back.) I try to write every day, like we do during NaNo, at least 1500 words without editing, and that's the easiest way to get a book finished.
That's great. What is the one thing readers would be surprised to learn about you?
I have an epic fantasy coming out with Angry Robot Books on October 29th under the name Freya Robertson. I have a two book contract with them and hope to write more F&SF in the future. Oh, and I can juggle 🙂
How fun! Which character makes you swoon the most (yours or someone else's)?
You mean apart from hubby? 🙂 My favourite hero that I've written is Heath from my other Escape novel, One Hot Winter's Night. He's called the Silver Fox because of his prematurely-grey hair, and he's gorgeous. He's also an archaeologist, which gives him extra points in my opinion!
We love a silver fox. Do you have any current or future projects you can tell us about?
I'm working hard on my fantasy at the moment, and my romance is kind of on hold right at this moment, but I absolutely plan to write more. Writing romance is liberating, it's fun, it's relatively easy and it's usually quick (quicker than a 170k epic fantasy anyway!)
::nods:: Is there ever anything that you always wish someone would ask you, but they never do?
Would you like ten million dollars put into your bank account?
You'd be surprised how many times authors choose that question LOL Thanks for stopping by today, Serenity!
***About Serenity Woods***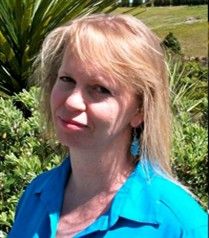 Serenity Woods lives in the sub-tropical Northland of New Zealand with her wonderful husband and gorgeous teenage son. She writes fun, flirty, and sexy romances in a variety of romantic sub-genres. She's won several writing competitions and is a member of the Romance Writers of New Zealand. She would much rather immerse herself in reading or writing romance than do the dusting and ironing, which is why it's not a great idea to pop round if you have any allergies.
Find Serenity Woods Here: Website | Facebook | Twitter | Goodreads
**About the Book**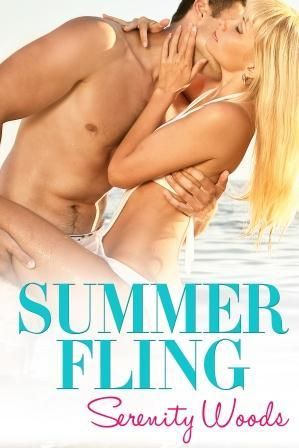 Summer Fling by Serenity Woods
Published by Harlequin Escape on December 8, 2012
Pages: 174
A love story that starts at the top of the world.

For Chloe, a tandem skydive seems like the perfect opportunity to prove to her ex that she's not as boring as he declared. But planning to jump and actually jumping are very different things. Luckily, there's a gorgeous instructor who is happy to come up with an ingenious way to distract her.

After escaping captivity in Afghanistan, Garth Rowland spends most of his time outdoors, trying to forget the terrifying memory of being imprisoned and tortured. Then he meets Chloe, who embodies freedom with her sky-blue eyes and hair the colour of the summer sun…

Soon, a one-night stand on the beach quickly leads to a summer fling. But they both have ghosts to exorcise before love can set them free…
***GIVEAWAY***
eBook copies of Ravenous, Not Your Average Joe, In Another Life, It's Love, Dude, Summer Fling, Bonjour Cherie, and Room Service
a Rafflecopter giveaway
Good luck and be sure to check out all the other interviews and reviews we've got going on to celebrate the first Birthday for Harlequin Escape!
Related Posts