All month long, we're featuring some of our favorite authors, along with a quick Q&A and some of their favorite recipes. We've got daily giveaways with chances to win some amazing (and steamy!) reads plus a month-long Recipes for Romance Grand Prize Giveaway for a box filled with books and more!
Today Ros Baxter stopped by with a recipe for Merryballs!


**Q&A with Ros Baxter**
What is your favorite holiday tradition?
We encourage the kids to do something for people who are doing it tough over the holiday season. Sometimes we bake cupcakes for the goodwill lunch in the city; sometimes we buy goats from World Vision for African communities. This year we're making our version of rumballs (with no rum and lots of chocolate – the recipe is below). The kids really get into this tradition – even if they do ask the hard questions.

Last year it was Ms 5: What are their names?

Me: Who?

Ms 5: The people we're making the cakes for.

Me: Erhhh…
What is your most unusual holiday memory?
A Christmas lunch of lobster, champagne and Christmas pudding in the pool one year it was too hot to get out (I live in Queensland, Australia!).
What was your favorite moment under the mistletoe?
Last Christmas – three little bodies pouncing on me out of the darkness and giving me (very rough) Christmas smooches.
What's your favorite Christmas carol or holiday movie?
Easy! Love, Actually. Funny, sad, sweet, heartbreaking, sexy. It broke the mould.
What's the sexiest gift you ever got/gave?
A set of underwear and a set of instructions (and no I can't tell any more…).

Peppermint Mocha or Pumpkin Spiced Latte?
Can I say Italian Hot chocolate?
Egg Nog or Apple Cider?
Cider for me – the colder the better – it's 30 degrees Centigrade here today and only going to get hotter before Xmas.
Themed Christmas Tree or HodgePodge?
Ha! My kids are 9, 8, 5 and 1 so it's homemade decorations and fights over who gets to place the angel at our place.
Old School Bulbs or Icicle Lights?
The daggier the better.
During this Holiday Season, is it better to Give or Receive?
Always give. Love buying, wrapping and giving gifts.
**About Ros Baxter**
Ros writes fresh, funny, genre-busting fiction. She digs feisty heroines, quirky families, heroes to make you sigh and tingle, and a dash of fantasy from time to time.
Ros has published Sister Pact, a romantic comedy co-written with her sister Ali, with Harper Collins; and Fish Out of Water and White Christmas with Escape Publishing. She has sequels to Sister Pact and Fish Out of Water coming out in 2014, as well as a new single title romantic comedy: Lingerie for Felons.
Ros lives in Brisbane, Australia, with her husband Blair, four small but very opinionated children, a neurotic dog and nine billion germs.
Ros loves to hear from readers and connect with them on her facebook and twitter pages.
Find Ros Here: Website | Facebook | Twitter | Goodreads
We can't wait to try out Ros's delicious recipe for:
**Merryballs**
Message from Ros:
I'm a consultant, author, businesswoman and mother of four small children. Yep, you heard me right. FOUR. No, I'm not Amish but I am (possibly) a little mad. I certainly feel it most days. What this diverse portfolio means is that I'm what is sometimes politely called "time poor". In reality, this looks a little like a localized grade 5 tornado. So for me, thinking about, planning and cooking food absolutely cannot complicate my life any more than it already is.
Any recipe I adopt has to be fast, easy and preferably use no more than three ingredients. I'm a huge fan of the "food assembly" movement, and this recipe is a prime example – ie assembling recipes from other food, rather than having to do too much preparation yourself. It's yummy, fast, cheap and easy!
| | | | |
| --- | --- | --- | --- |
| Desserts | Prep Time: 10 minutes | Cook Time: Nil | Serves: Party nibbles for 10 (or a few hungry kids) |
Ingredients:
One packet of your favourite chocolate biscuits/cookies
One 250g tub cream cheese
Coconut for rolling
Directions:
Pulse biscuits in food processor
Add cream cheese and blend until smooth
Roll into balls and roll in coconut
Refrigerate until hard
Want more Desserts? Get recipes for Desserts and lots of other delectable holiday dishes from your favorite authors all month long right here on Steamy Guys After Dark!

**About White Christmas**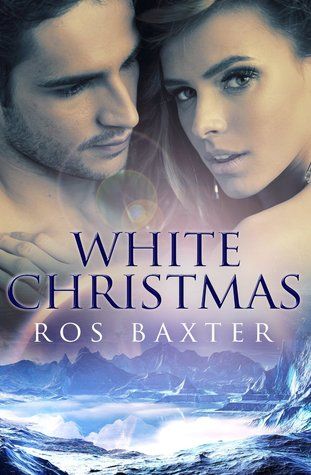 White Christmas by Ros Baxter
Published by Escape Publishing on December 1, 2013
Pages: 29
What if your only chance at survival was to seduce the man who broke your heart?

Seventeen years after the Apocalypse, Admiral-class Explorer Tabysha is caught up in a firefight and shot down over Tyver, where ice vampires hunt human warmth. Seeking shelter in an ice cave, she is instructed to stay put and await rescue. But after another ship crash-lands, and the Hunter Gatherers stalk its wounded pilot, Tabi breaks protocol.

When it turns out the survivor is the man who stole her heart then skipped out on her ten years before, it seems to Tabi that no good deed goes unpunished, and things can't get any worse. But she's so wrong.

As the Hunters pick up the escalating heat signature of the former lovers, Tabi has to tell Asha that there is only one way to repel the creatures stalking them.

And it involves picking up where they left off ten years before.
Other Books by Ros Baxter:
***GIVEAWAY***
Win eBook copy of Ros's hip mermaid mystery fantasy romance Fish Out of Water!
a Rafflecopter giveaway
Don't forget to enter our month-long Recipes for Romance Grand Prize Giveaway for a box filled with books and more!
Happy Holidays!
xo-
The Steam Team

Related Posts