All month long, we've featuring some of our favorite authors, along with a quick Q&A and some of their favorite recipes. We've got daily giveaways with chances to win some amazing (and steamy!) reads plus a month-long Recipes for Romance Grand Prize Giveaway for a box filled with books and more!
This is our last post of the month, and we couldn't have picked a sexier story or a more awesome author. We ♥ her so much and invite you to sit back and mix up a delicious cocktail to savor tonight. We hope you've had as much fun as we have this month. Here's to a happy new year, Steamettes!
Today Robin Bielman stopped by with a recipe for Semifreddo Bellini!


**Q&A with Robin Bielman**
What is your favorite holiday tradition?
Hmm… I think my favorite tradition is driving around different neighborhoods to check out all the holiday lights. We usually stop for a hot chocolate (or café mocha in my case) first and then visit favorite streets and new ones so we can ohh and ahh. Okay, I'm really the only one who does that. 🙂
What is your most unusual holiday memory?
When I was young my family often went to Hawaii for the holidays and I'll never forget eating Christmas dinner in one of the hotel restaurants with cockroaches (the hotel staff called them B-52's) diving from the walls or wherever the heck they were, to the floor. Luckily one never landed in anyone's food!
What was your favorite moment under the mistletoe?
One year we were visiting my hubby's grandparents and they had mistletoe hanging in the doorway to the kitchen and my hubby caught me and gave me the sweetest kiss. There was always something wonderful about being with his grandparents (who were married f
What's your favorite Christmas carol or holiday movie?
My favorite Christmas song is Santa Baby, but that's not really a carol is it? LOL Let's see, I also love Jingle Bell Rock and Rudolph The Red-Nosed Reindeer. Oh, and Let It Snow. (As a side note, my hubby's great, great, great, great, great, great, great, uncle was Franz Gruber. He wrote Silent Night.) As far as favorite movies, there's Die Hard, Elf, The Santa Clause, The Holiday, and the classics. Sorry, I can't pick just one!
What's the sexiest gift you ever got/gave?
Hmm… without being too revealing, I'll say lingerie and a weekend away with my hubby to a bed and breakfast in Big Bear. It was December and it was snowing. We stayed in our room the whole time. 😉

Peppermint Mocha or Pumpkin Spiced Latte?
Peppermint mocha. I love them!
Egg Nog or Apple Cider?
Egg nog
Themed Christmas Tree or HodgePodge?
Hodgepodge, but I love the idea of a themed one.
Old School Bulbs or Icicle Lights?
Old School Bulbs
During this Holiday Season, is it better to Give or Receive?
I love to give. I'm more comfortable giving. Buying and giving gifts is really one of my favorite things to do.
**About Robin Bielman**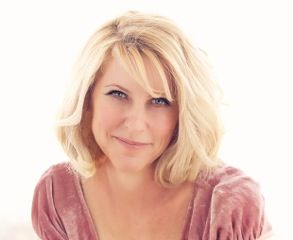 Robin Bielman lives in Southern California with her high school sweetheart husband, two sons, and crazy-cute mini Labradoodle, Harry (named after Harry Dresden from Jim Butcher's Dresden Files books). When not attached to her laptop, she can almost always be found with her nose in a book. She also likes to run, hike, and dip her toes in the ocean. Filled with wanderlust, she longs to visit many different places and fulfill her curiosity. She wouldn't mind indulging her sweet tooth in every location either. She's a lover of Post-it notes, cable television shows and café mochas. Writing is a dream come true, and she still pinches herself to be sure it's real.
She writes contemporary romance for Entangled Publishing. Her Secret Wishes series includes Kissing the Maid of Honor and Her Accidental Boyfriend. Her other novels include Worth the Risk and Risky Surrender. In July, 2014 her first single title paranormal romance, Veiled Target, will be released from Samhain Publishing. She loves to connect with readers. Learn more and sign up for her newsletter on her website at http://robinbielman.com.
Find Robin Here: Website | Facebook | Twitter | Goodreads
We can't wait to try out Robin's delicious recipe for:
**Semifreddo Bellini**
Message from Robin:
With a name like that, it's got to be good, right? Recipe courtesy of Martha. 🙂
If you love peaches and love champagne, you will love this drink! It's a slushy mixture that makes this cocktail a little different – and more fun!
Ingredients:
1 cup peeled and chopped peaches, frozen until hard
¼ cup peach schnapps
¾ cup plus 2 tablespoons chilled champagne
2 tablespoons sugar
1 cup small ice cubes
Directions:
Blend peaches, peach schnapps, 2 tablespoons champagne, sugar, and ice in a blender until smooth. Divide the mixture between 2 tall champagne flutes, then top off each glass with ¼ cup plus 2 tablespoons champagne. Serve. Enjoy!
Want more Cocktails? Get recipes for Cocktails and lots of other delectable holiday dishes from your favorite authors all month long right here on Steamy Guys After Dark!

**About Yours at Midnight**

Yours at Midnight by Robin Bielman
Published by Entangled: Ever After on December 17, 2012
Pages: 95
Lyric Whetsone only had eyes for Quinn Sobel's brother Oliver, until a car crash took Oliver's life on New Year's Eve. Then, a moment of shared grief between Quinn and Lyric became something more impassioned, something that frightened Quinn so much he ran from Lyric's bed and her life, disappearing for four long years.

Now Quinn's back for another New Year's Eve, struggling for closure, desperate to leave his grief in the past and make amends with the girl of his dreams.

But Lyric has a secret–one that could drive Quinn from her life forever. Will Quinn run away from the love and acceptance he's always wanted…or will he claim his New Year's kiss and make her his at midnight?
Other Books by Robin Bielman:
***GIVEAWAY***
Win your choice of any of author Robin Bielman's eBooks!
a Rafflecopter giveaway
Don't forget to enter our month-long Recipes for Romance Grand Prize Giveaway for a box filled with books and more!
Happy New Year!
xo-
The Steam Team

Related Posts