All month long, we're featuring some of our favorite authors, along with a quick Q&A and some of their favorite recipes. We've got daily giveaways with chances to win some amazing (and steamy!) reads plus a month-long Recipes for Romance Grand Prize Giveaway for a box filled with books and more!
Today Rhian Cahill stopped by with a recipe for Risotto!


**Q&A with Rhian Cahill**
What is your favorite holiday tradition?
We also put our family tree up on December 1. I load a Christmas CD in the player and everyone gathers around to hang the decorations on the tree. Of course this year will be a little different as Son#1 moved out of home recently and Princess One is 21 two days before our usual tree trimming. It's going to be the beginning of new traditions I think.
What is your most unusual holiday memory?
I'm not sure I have any. Oh, maybe it was the year Princess One had the Chicken Pox. 🙂
What was your favorite moment under the mistletoe?
We've never done the whole mistletoe thing but I have kissed Santa in front of our Christmas tree.
What's your favorite Christmas carol or holiday movie?
After four kids I'm outta love for holiday movies and all those nights of carols by candlelight have done me in for the 'traditional' Christmas song but there's an Aussie song called Six White Boomers that I totally loved when the kids were little. They'd sing that one at the top of their lungs. Always made me smile.

Peppermint Mocha or Pumpkin Spiced Latte?
Neither
Egg Nog or Apple Cider?
Apple Cider
Themed Christmas Tree or HodgePodge?
HodgePodge
Old School Bulbs or Icicle Lights?
Icicle lights
During this Holiday Season, is it better to Give or Receive?
Both! 😉
**About Rhian Cahill**
Rhian Cahill is the alter ego of a stay-at-home mother of four. With motherly duties rapidly dwindling Rhian is able to make use of the fertile imagination she used to keep herself sane for all those years of slavery. Having spent some years living overseas and visiting tropical climates has helped inspire some steamy stories. Multi-published in erotic romance and contemporary romance, Rhian, with the help of Mr. Muse, spends her days and nights writing.
When not glued to the keyboard you'll find her book in hand avoiding any and all housework.
Find Rhian Here: Website | Facebook | Twitter | Goodreads
We can't wait to try out Rhian's delicious recipe for:
**Risotto**
Message from Rhian:
This is great for those of us that don't like to cook. 🙂

Side Dishes

Prep Time: However long it takes you to chop up the ingredients of choice
Cook Time: Not sure because I just let the rice cooker do all the work but I think it's about 20 minutes. But if you don't have a rice cooker you can still do this in a saucepan, you just put it on low simmer and make sure you stir it regularly.
How many will this
Ingredients:
2 cups Arborio rice, crushed garlic, any vegetables you have in the fridge, 1 litre chicken stock, oil (you can pretty much add whatever you want)
Directions:
You need a rice cooker. Turn on the cooker and add some oil, once heated add the garlic vegetables and stir for a minute. Add rice, stir until everything is coated in the oil and sizzling nicely. Give that a minute or so then put in the stock. Make sure the liquid covers everything by about a centimetre. Make sure the cooker in on cook, put the lid on and walk away. 🙂
Want more Side Dishes? Get recipes for Side Dishes and lots of other delectable holiday dishes from your favorite authors all month long right here on Steamy Guys After Dark!

**About Secret Santa**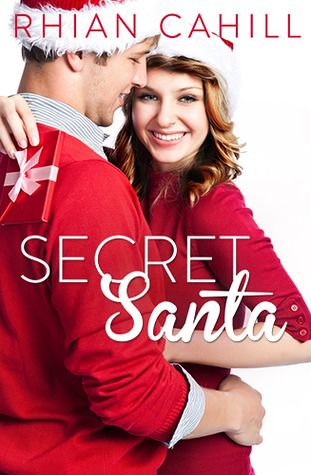 Secret Santa by Rhian Cahill
Published by Escape Publishing on December 1, 2013
Pages: 52
From bestselling author Rhian Cahill. Sometimes Santa doesn't give you what you want — he gives you what you need.

The last thing Jenn wants this Christmas to be is merry. Hibernating in her apartment is the perfect plan for someone who has lost way more than just her Christmas cheer. She'll re-emerge on December 26th and move on with her life.

Morgan has had just about enough of dancing around the sexual chemistry between himself and his manager, Jenn. If he has his way, she won't spend this Christmas — or any other — alone. With the help of a bogus set of secret Santa envelopes, he's going to deliver a Christmas present to the woman he loves, one she'll never forget!
Other Books by Rhian Cahill:
***GIVEAWAY***
Win the digital set of Rhian's holiday novellas (Christmas Wishes, New Year's Kisses, Valentine's Dates and Secret Santa)!
a Rafflecopter giveaway
Don't forget to enter our month-long Recipes for Romance Grand Prize Giveaway for a box filled with books and more!
Happy Holidays!
xo-
The Steam Team

Related Posts