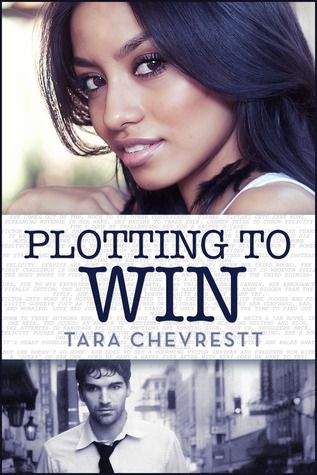 Plotting to Win
by
Tara Chevrestt
Published by
Escape Publishing
on June 1, 2013
Genres:
Contemporary Romance
Pages:
143
Goodreads
Buy the Book
In New York City, seven writers compete for a hundred thousand dollars, a publishing contract with Bright House, and the title of the next bestseller. One is Felicity James. One is Victor Guzman.

Drama, plagiarism, and trash talk play out to enthralled audiences across the country as all seven contestants compete against each other in a range of heated challenges, with tensions reaching breaking point. As Felicity and Victor start up a show‐mance, their relationship burns up the ratings.

Will this sizzling fling escalate into a vicious battle for money and fame, or will these two authors manage to write their own happy ending?

Kassiah: The idea behind Plotting to Win by Tara Chevrestt is pure genius–a reality show based on authors competing for a publishing contract, money, and critiques from some of the hottest names in the book industry.
Our heroine, Felicity James, is a romance writer looking for her big break rather than love when she meets crime-writer Victor Guzman. Still, she can't help but notice him, in spite of his bad attitude right from the beginning.
With his short dark hair, olive skin, and perfectly arched dark eyebrows, the man was fine with a capital F, but his bad attitude was oozing through his tight t-shirt.
The pair are competing with the other contestants in two rounds per week, beginning with writing query letters and including all kinds of interesting tasks. Victor and Felicity can't seem to stay away from each other. It's more than the publishing contract at stake, though. Victor needs to win the competition to take care of his mother with the money he would earn.
He told himself it was for the best. He couldn't afford the distraction, but he felt guilty as hell for how things were playing out. She was a good woman and deserved so much better…
Like most reality TV shows, we find ourselves hanging on the edge of our seats to learn what the next challenge will be and who will win each round.
That was what I loved the most about this book–the authenticity of the show. Chevrestt obviously put in a ton of thought to this competition, from the set design to the individual challenges. It was brilliant. Felicity was alright, and I liked Victor. I liked that after he hurt Felicity, he still tried to make it right. The end was perfect.
So what didn't I like? For as authentic as the show was, I didn't think the people were totally realistic. I wanted more from all of them–more emotion, more understanding for what their motivations were, just more. I think if a little more attention was paid to character building, this book would be amazing. With that being said, I totally think it should be made into a movie!
If you're looking for a light-hearted, quick read with a sweet ending and love reality television, Plotting to Win is the book for you.
Report Card
Cover
Characters
Plot
Writing
Steam
Overall:
3
***GIVEAWAY***
We've got a copy of
Plotting to Win
to give away! To enter, just fill out the rafflecopter below:
a Rafflecopter giveaway
Related Posts