All month long, we're featuring some of our favorite authors, along with a quick Q&A and some of their favorite recipes. We've got daily giveaways with chances to win some amazing (and steamy!) reads plus a month-long Recipes for Romance Grand Prize Giveaway for a box filled with books and more!
Today Patricia Rice stopped by with a recipe for Make-Ahead Mashed Potatoes!


**Q&A with Patricia Rice**
What is your favorite holiday tradition?
Decorating the tree while playing old-fashioned carols, drinking hot chocolate, and eating cookies and drinking eggnog. (Don't ask me about taking down the tree though—we tend to use 12-footers!)
What is your most unusual holiday memory?
The time our daughter flew home for the holidays and her flight was delayed until Christmas Day. We had a two hour drive to the airport to pick her up, and there wasn't a restaurant open anywhere on the road. By the time she got off the plane, she was starving. We had pancakes at Denny's for Christmas dinner.

One of my favorite holiday memories was from Thanksgiving, after we'd just moved our empty nest to the Carolinas, far from home. We had no one to share dinner with in our new home, so we arranged to meet my Florida-dwelling brother and son at a seafood shack on the Carolina coast. It was a wonderful setting and company that we didn't normally enjoy. And the deep-fried turkey wasn't bad either.
What was your favorite moment under the mistletoe?
Probably the year we were first married and I had our first child in my arms. Our new home, our mistletoe, and all was right in our world for that moment, even though we knew my husband would be drafted the next month.
What's your favorite Christmas carol or holiday movie?
My favorite carol is the one I'm listening to at any given moment during the holidays! I'm partial to Carol Of The Bells, but I love any choral version of the old songs.
What's the sexiest gift you ever got/gave?
I was married on Valentine's Day, which meant I got a lot of interesting gifts the Christmas before! My husband-to-be gave me a cookbook, though.

Peppermint Mocha or Pumpkin Spiced Latte?
Peppermint mocha all the way—I'm addicted to sweet, although I certainly wouldn't turn down the latte because spicy is equally naughty.
Egg Nog or Apple Cider?
Egg nog, lush and creamy!
Themed Christmas Tree or HodgePodge?
At one point I attempted to do a tree with just red and green and crystal, but then we started pulling out all the sentimental old ornaments and hodge podge it was. I prefer sentiment to ornament.
Old School Bulbs or Icicle Lights?
We had great big old-fashioned bulbs for years but eventually, we gave up and went with the tiny ones. Now that we're in Southern California, maybe we should do hot chili peppers?
During this Holiday Season, is it better to Give or Receive?
In any holiday season, it's better to give. In our family, we all have so much, it's hard to justify getting more when there are so many who do without. But even when we had very little, it was more fun watching the kids with their gifts then opening our
**About Patricia Rice**
With several million books in print and New York Times and USA Today's bestseller lists under her belt, former CPA Patricia Rice is one of romance's hottest authors. Her emotionally-charged contemporary and historical romances have won numerous awards, including the RT Book Reviews Reviewers Choice and Career Achievement Awards. Her books have been honored as Romance Writers of America RITA® finalists in the historical, regency and contemporary categories.
A firm believer in happily-ever-after, Patricia Rice is married to her high school sweetheart and has two children. A native of Kentucky and New York, a past resident of North Carolina and Missouri, she currently resides in Southern California, and now does accounting only for herself. She is a member of Romance Writers of America, the Authors Guild, and Novelists, Inc.
Find Pat Here: Website | Facebook | Twitter | Goodreads
We can't wait to try out Pat's delicious recipe for:
**Make-Ahead Mashed Potatoes**
Message from Pat:
I don't know where I found the original recipe but there is a similar one at allrecipes.
When we do holiday dinners, it's normally for a large table of picky eaters. Out of all the people likely to show up, I'm the only who doesn't like mashed potatoes. And since I'm the one doing the cooking, I tended to fix sweet potatoes rather than mess with peeling and whipping potatoes while the turkey goes cold. I'd much rather spend my holiday talking and baking.
When I found this recipe that allowed me to prepare the potatoes in advance, I was all over it, and now preparing the dish the day before becomes part of our tradition.

| | | | |
| --- | --- | --- | --- |
| Side Dishes | Prep Time: 45 minutes | Cook Time: 30-40 minutes | Serves: approximately 12, depending on how hungry they are! |
Ingredients:
4-5 lb Yukon potatoes
8 oz room temperature cream cheese
8 oz sour cream
1-1 ½ cps milk
½ tsp salt
½ tsp pepper
2 tbsp butter
chopped chives and/or paprika
Directions:
Cut potatoes in chunks (I don't peel), boil in salted water for about 30 minutes, until tender; drain.
Put potatoes in large mixing bowl with cream cheese. Beat. Add sour cream and milk slowly until fluffy. Add salt and pepper.
Spray 13"x9" pan with nonstick oil, add potato mixture, sprinkle with paprika; cool; cover; refrigerate up to 24 hours
Preheat oven 375, dot potatoes with butter, bake until heated through and top is browned—approx 30-40 minutes
sprinkle with chives
Want more Side Dishes? Get recipes for Side Dishes and lots of other delectable holiday dishes from your favorite authors all month long right here on Steamy Guys After Dark!

**About Wench in Wonderland**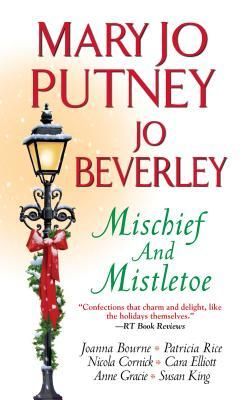 Wench in Wonderland by Patricia Rice
Published by Kensington on September 25, 2013
Pages: 320
In this sparkling holiday collection, eight acclaimed authors unwrap the most daring of Regency delights. . .

Christmastime in England–a time for passionate secrets, delicious whispers, and wicked-sweet gifts by the fire. From a spirited lady who sets out to save her rakish best friend from an unsuitable engagement, to a bold spy who gets the unexpected chance to win the woman he's always loved, to a vicar's daughter who pretends to be a saucy wench, these holiday tales will make you curl up in front of the fire for a memorable season of mischief and mistletoe. . .
Other Books by Patricia Rice:
Don't miss out on our posts featuring the other stories in this anthology:
Nicola Cornick, author of On a Wicked Winter Night
Mary Jo Putney, author of She Stoops to Wenchdom
***GIVEAWAY***
Win a copy of Small Town Girl!
a Rafflecopter giveaway
Don't forget to enter our month-long Recipes for Romance Grand Prize Giveaway for a box filled with books and more!
Happy Holidays!
xo-
The Steam Team

Related Posts