All month long, we're featuring some of our favorite authors, along with a quick Q&A and some of their favorite recipes. We've got daily giveaways with chances to win some amazing (and steamy!) reads plus a month-long Recipes for Romance Grand Prize Giveaway for a box filled with books and more!
Today Magan Vernon stopped by with a recipe for Chocolate Chip Gooey Butter Cookies!


**Q&A with Magan Vernon**
What is your favorite holiday tradition?
Drinking hot cocoa and driving through neighborhoods to look at the holiday decorations
What is your most unusual holiday memory?
Kind of morbid, but about six years ago my Nanu had a massive stroke three days before Christmas he had a massive stroke and then the next day my father had his third heart attack. Christmas was spent going between two hospitals in town. It was nuts.
What was your favorite moment under the mistletoe?
I've never been under the mistletoe 🙁
What's your favorite Christmas carol or holiday movie?
True story, I used to be obsessed with the Whitney Houston/ Denzel Washington movie The Preacher's Wife.
What's the sexiest gift you ever got/gave?
I've never really received a sexy gift. My husband should get on that.

Peppermint Mocha or Pumpkin Spiced Latte?
PSL is my addiction.
Egg Nog or Apple Cider?
Apple Cider.
Themed Christmas Tree or HodgePodge?
Hodge Podge that is half decorated (two kids under three and a dog means the bottom half doesn't have any ornaments)
Old School Bulbs or Icicle Lights?
Icicle lights
During this Holiday Season, is it better to Give or Receive?
I absolutely LOVE shopping for my kids and niece and nephew. I was uber excited to buy a little kids toy blow torch for my nephew this year
**About Magan Vernon**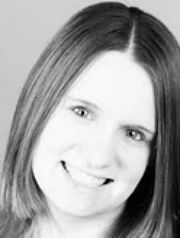 Magan Vernon is a Young Adult and New Adult writer who lives with her family in the insurance capital of the world. When not writing she spends her time fighting over fake boyfriends via social media.
Find Magan Here: Website | Facebook | Twitter | Goodreads
We can't wait to try out Magan's delicious recipe for:
**Chocolate Chip Gooey Butter Cookies**
Message from Magan:
| | | | |
| --- | --- | --- | --- |
| Desserts | Prep Time: 45 minutes | Cook Time: 10 minutes | Serves: 35-50 (depending on how big you make them) |
Ingredients:
Box Butter Cake Mix
8 oz cream cheese
1 stick butter
1 pkg chocolate chip cookies
1/4 tsp. vanilla
1 egg
Directions:
Preheat Oven to 350 degrees
In medium bowl mix cake mix, cream cheese (softened) butter and cream cheese), vanilla, egg and chocolate chips.
Put in fridge and chill for at least 30 minutes.
Roll into balls (about quarter size) and roll in powdered sugar before placing on a greased baking sheet.
Bake for 8-10 minutes at 350 degrees.
Want more Desserts? Get recipes for Desserts and lots of other delectable holiday dishes from your favorite authors all month long right here on Steamy Guys After Dark!

**About Off the Market**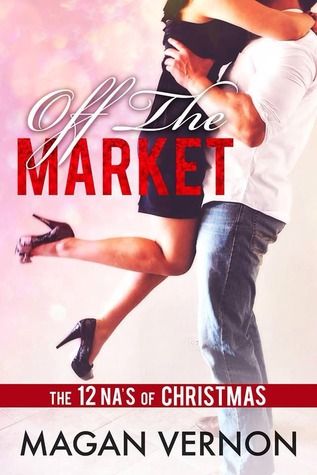 Off the Market by Magan Vernon
Series: The 12 NA's of Christmas
Published by Beautifully Broken Books on November 25, 2013
Pages: 55
Etta Davis didn't have showing a house penciled into her Christmas plans, but with the other realtors already off enjoying their holiday, she'd been stuck with the task. It wasn't all bad though, the house up for grabs used to belong to the family of her high school sweetheart, Andrew Lawson. Though now dilapidated, thanks to its current owners, it still held the power to bring back forgotten memories and turn the routine showing into something else entirely. Particularly when Andrew shows up, wanting to buy the house. Now Etta must decide whether a second chance is worth taking the house, and her heart, off the market.
Other Books by Magan Vernon:
Don't miss out on our posts featuring the other stories in The 12 NA's of Christmas Series:
Dec 7 — Chelsea M. Cameron, author of Christmas Catch
Dec 10 — Zoe Dawson, author of Brave
Dec 10 — Sawyer Bennett, author of If I Return
Dec 16 — Breena Wilde, author of Frosted Midnight
***GIVEAWAY***
Win a set of signed postcards for the Forever Wild series!
a Rafflecopter giveaway
Don't forget to enter our month-long Recipes for Romance Grand Prize Giveaway for a box filled with books and more!
Happy Holidays!
xo-
The Steam Team

Related Posts