All month long, we're featuring some of our favorite authors, along with a quick Q&A and some of their favorite recipes. We've got daily giveaways with chances to win some amazing (and steamy!) reads plus a month-long Recipes for Romance Grand Prize Giveaway for a box filled with books and more!
We wanted to start off the month with a bang! (pun intended) and knew we had to feature the novella by Lisa Renee Jones: Play with Me. We've already reviewed it (see our review) and loved it. Plus, there are two other awesome novellas in this awesome collection, and we know you'll love all three ♥
Today Lisa Renee Jones stopped by with a recipe for Oreo Pie!


**Q&A with Lisa Renee Jones**
What is your favorite holiday tradition?
Eating too much and then going to the movies! Every years at Thanksgiving we see two movies and put up our tree. It's always a time I look forward to.
What is your most unusual holiday memory?
New Years Eve 3 years ago I got food poisoning and lost 11 pounds in 3 days. For me to loose 3 pound when I struggle to do it is a nightmare. I've never been so sick.
What was your favorite moment under the mistletoe?
Definitely with my new husband. He's so into the holidays that he makes them romantic and fun.
What's your favorite Christmas carol or holiday movie?
National Lampoon's Christmas Vacation…that rant of his near the end is hilarious…..and where's the aspirin!
What's the sexiest gift you ever got/gave?
Our wedding rings November 9th in San Francisco when we finally said "I do"!

Peppermint Mocha or Pumpkin Spiced Latte?
Peppermint Mocha
Egg Nog or Apple Cider?
I'd rather have Egg Nog but fast conscious as I am I'd pick the cider and regret it.
Themed Christmas Tree or HodgePodge?
Diego (hubby) bought all kinds of specialty ornaments that are collectors items so we always use those.
Old School Bulbs or Icicle Lights?
Old School
During this Holiday Season, is it better to Give or Receive?
I've never been big on getting gifts. I think because I was a mom at such a young age, planning the boys Christmas was always what the fun was about.
**About Lisa Renee Jones**
New York Times and USA Today Bestselling author Lisa Renee Jones is the author of the highly acclaimed INSIDE OUT SERIES which has sold to more than twelve countries for translation with negotiations in process for more, and has now been optioned by STARZ Network for a cable television show, to be produced by Suzanne Todd (Alice in Wonderland).
Since beginning her publishing career in 2007, Lisa has published more than 30 books with publishers such as Simon and Schuster, Avon, Kensington, Harlequin, NAL, Berkley and Elloras Cave, as well as crafting a successful indie career. Booklist says that Jones suspense truly sizzles with an energy similar to FBI tales with a paranormal twist by Julie Garwood or Suzanne Brockmann.
Prior to publishing, Lisa owned multi-state staffing agency that was recognized many times by The Austin Business Journal and also praised by Dallas Women Magazine. In 1998 LRJ was listed as the #7 growing women owned business in Entrepreneur Magazine.
Lisa loves to hear from her readers. You can reach her at www.lisareneejones.com and she is active on twitter and facebook daily.
Find Lisa Renee Here: Website | Facebook | Twitter | Goodreads
We can't wait to try out Lisa Renee's delicious recipe for:
**Oreo Pie**
Message from Lisa Renee:
My kids loved this and everyone who has tried it with theirs tell me the same.

| | | | |
| --- | --- | --- | --- |
| Desserts | Prep Time: Hardly any! | Cook Time: None | Serves: Makes a full pie. |
Ingredients:
A bag of Oreo cookies, a glass pan, whipped cream.
Directions:
It's meant to make with kids — so it's easy! So simple and you will be shocked how it tastes!
Have kiddo put cookies on the bottom then spread whipped cream and repeat as high as you can get. Chill over night. It will mush together and taste and look like a real Oreo pie that was fretted over. And the kiddo made it!
Want more Desserts? Get recipes for Desserts and lots of other delectable holiday dishes from your favorite authors all month long right here on Steamy Guys After Dark!

**About Play with Me**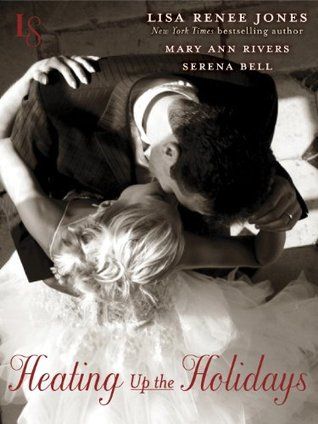 Play with Me by Lisa Renee Jones
Series: Heating Up the Holidays
Published by Loveswept on October 28, 2013
Pages: 356
Kali Miller has spent three years reporting fluff stories, waiting for the article that will
launch her career to new heights. When she suddenly finds herself forced to take a job as an executive secretary at a Vegas casino, Kali meets the subject of what will surely be a shocking exposé: her boss, Damion Ward, the arrogant and undeniably sexy CEO. But after Damion invites her to help him plan a Thanksgiving charity event, Kali begins to see another side of the man. And when she surrenders to the exhilarating tension simmering between them, Kali hopes her story will have a happy ending.
Check out our review of Play with Me here.
Other Books by Lisa Renee Jones:
Don't miss out on our posts featuring the other stories in this anthology:
Dec 18 — Mary Ann Rivers, author of Snowfall
Dec 30 — Serena Bell, author of After Midnight
***GIVEAWAY***
Win a copy of If I Were You by Lisa Renee Jones (2 to giveaway)
a Rafflecopter giveaway
Don't forget to enter our month-long Recipes for Romance Grand Prize Giveaway for a box filled with books and more!
Happy Holidays!
xo-
The Steam Team

Related Posts