All month long, we're featuring some of our favorite authors, along with a quick Q&A and some of their favorite recipes. We've got daily giveaways with chances to win some amazing (and steamy!) reads plus a month-long Recipes for Romance Grand Prize Giveaway for a box filled with books and more!
Today Jeanette Grey stopped by with a recipe for Mini-Minty Cheesecakes!


**Q&A with Jeanette Grey**
What is your favorite holiday tradition?
A few days before we head to my in-laws' house, my husband and I sit down with a giant pile of presents, wrapping paper and ribbon, our favorite playlist of holiday songs, and a couple of drinks, and we get all our wrapping done in one fell swoop. It's like a little quiet before the storm of visiting family and travelling—some time just for the two of us, and it helps put the rest of the holiday madness in perspective, somehow.
What is your most unusual holiday memory?
That would probably have to be the one and only time I ever saw my mother drunk. Her brother was in town for the holidays, and whenever he was around, the drinks were flowing. She apparently had a couple too many. She wasn't a loud drunk or anything—rather, she got incredibly quiet and incredibly red in the face. Made Christmas dinner interesting, to say the least.
What was your favorite moment under the mistletoe?
This is probably scandalous, but I don't think I've ever been caught under the mistletoe.
What's your favorite Christmas carol or holiday movie?
It's not exactly a carol, but my favorite Christmas song is The Christmas Wish, as performed by Kermit the Frog in the Muppets' 1970s-era Christmas special. It's sweet and loving without being sappy, and spiritual without referencing any particular religion, and it evokes exactly the feeling I want to have this time of year.
What's the sexiest gift you ever got/gave?
Christmas has always been a family affair for me, so I don't associate all that many sexy memories with it. I did give my boyfriend a pair of boxers back when I was fifteen, which at the time I thought was absolutely scandalous. (I'm pretty sure his mother did, too, when he told her.)

Peppermint Mocha or Pumpkin Spiced Latte?
Both. Can we do both, please?
Egg Nog or Apple Cider?
Egg nog. Om nom nom.
Themed Christmas Tree or HodgePodge?
Hodgepodge. The best part about decorating the tree at my grandmother's house as a child was digging out all the crazy, random ornaments and remembering how and where we got them.
Old School Bulbs or Icicle Lights?
Icicle lights. They're so pretty!
During this Holiday Season, is it better to Give or Receive?
Give, especially things that are homemade.
**About Jeanette Grey**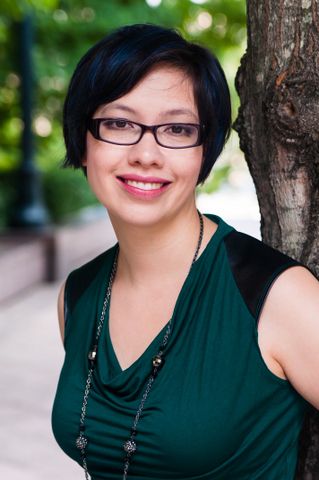 Jeanette Grey started out with degrees in physics and painting, which she dutifully applied to stunted careers in teaching, technical support, and advertising. When none of that panned out, she started writing. In her spare time, Jeanette enjoys making pottery, playing board games, and spending time with her husband and her pet frog. She lives, loves, and writes in upstate New York.
Find Jeanette Here: Website | Facebook | Twitter | Goodreads
We can't wait to try out Jeanette's delicious recipe for:
**Mini-Minty Cheesecakes**
Message from Jeanette:
I stumbled upon the minty aspect of these cheesecakes by accident when I only had mint Oreos in the house. Best happy accident ever!
These are great for a New Year's party. Individual servings make them easy to serve and eat. They're a nice break from the cookies everyone's getting sick of by that time of year, but the touch of mint still keeps them festive.
(The recipe is very liberally adapted from here, because I am bad at following instructions)
| | | | |
| --- | --- | --- | --- |
| Desserts | Prep Time: 15-20 minutes | Cook Time: ~20 minutes | Serves: 18-24 |
Ingredients:
1 package mint Oreos (regular ones work just as well, but your cheesecakes won't be minty)
2-8 oz. packages of cream cheese (I use the reduced Neufchatel cheese), softened
¾ c. white sugar
2 eggs
1 tsp. vanilla
½ c. mini chocolate chips
Directions:
Line cups of muffin tin with paper liners. Separate Oreos and discard (or, you know, eat) the creamy centers. Drop one cookie half into the bottom of each muffin tin with the unprinted side facing up.
Beat together cream cheese, sugar, eggs and vanilla until light and fluffy. Fold in chocolate chips. Fill muffin tins almost to the top.
Bake at 350 degrees for ~20 minutes or until set.
Want more Desserts? Get recipes for Desserts and lots of other delectable holiday dishes from your favorite authors all month long right here on Steamy Guys After Dark!

**About When It's Right**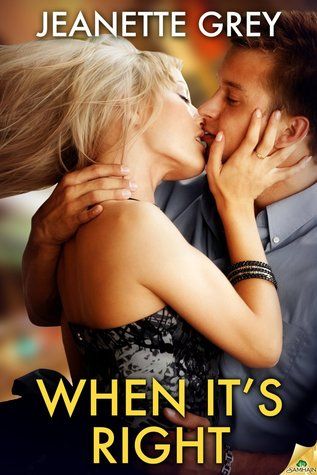 When It's Right by Jeanette Grey
Published by Samhain Publishing on December 3, 2013
Pages: 78
"He's the last resolution she intends to break."

Still licking his wounds after a messy breakup, Nate is at loose ends for New Year's Eve and itching for a wild and crazy adventure to jolt him out of his rut. Now if he could only convince his best friend, Cassie, to break away for an impromptu road trip to Times Square.

Fun as it sounds, Cassie is reluctant to accept Nate's invitation. Little does he know, she's made resolutions of her own-resolutions about finally getting over her long-standing crush on him. Telling herself this trip will be the perfect "last hurrah," she packs her bag.

The trip is a fiasco from the outset. A car that won't start, a freak storm that strands them on the side of the road, and a long drive with too much time for true confessions. Cassie's rocks Nate to the core, leaving him wondering if the best thing that ever happened to him has been right in front of him all along.

Warning: Contains two best friends, a secret crush, and a road trip that leads to tow trucks, unexpected hotel-room sharing, epiphanies, sex, and more.
Other Books by Jeanette Grey:
Don't forget to enter our month-long Recipes for Romance Grand Prize Giveaway for a box filled with books and more!
Happy Holidays!
xo-
The Steam Team

Related Posts