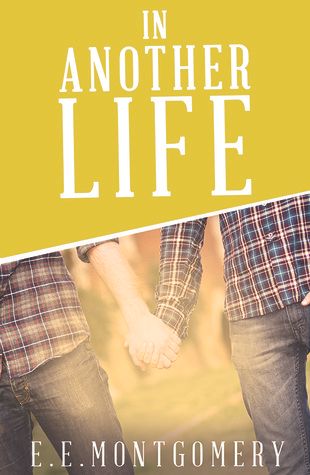 In Another Life
by
EE Montgomery
Published by
Escape Publishing
on September 1, 2013
Genres:
M/M Erotica
Pages:
20
Goodreads
Buy the Book
A moving short story about finding yourself, fixing past mistakes, and forevers...

When Eli was twenty-four, he thought he had it all: the job of his dreams, the man of his dreams, and a future that would last forever. But Mike had different plans, and he left Eli to follow them, breaking Eli's heart.

Eight years later, Eli and Mike cross paths, but a personal tragedy in Eli's life ensures any chance they had to reconnect slips away.

Eight years pass again, and Mike is back. Eli had finally started to hope that he could find happiness without Mike, but now he must make a decision: play it safe and risk living the rest of his life pining for the one man who made him feel whole, or risk everything on the hope that the third time is the charm.

Ms Kathy: In Another Life by E.E. Montgomery was utterly maddening, utterly heartbreaking, and utterly fantastically hopeful.
I absolutely loved the way Montgomery writes Eli and Mike, and I can tell you for sure that I'll be seeking out more from this author as soon as I can.
There were some odd moments – like Eli's noticing and comparing Mike's hair to devil horns several times. I wasn't sure if this was meant to be metaphorical and deep or just a simple surface observation, and at first, I didn't trust Mike at all. Well, and then Mike goes and breaks Eli's heart (this isn't a spoiler; it's in the description), and I really fucking hated him.
But at the end of the day, we all make mistakes, right? We all take the wrong paths sometimes, and it takes time and effort to get back onto the right path. There are moments of ache and sadness and unfulfilled passion, like this, after Eli and Mike's paths cross again the first time:
"Eli." Mike still held me and shuffled closer. I didn't want it but my body reacted just as it always had. My breath left me in a long, needy sigh, and no matter how I tried to disguise it, Mike knew.

"Eli," he whispered before he lowered his head and took my lips in a ravaging kiss.

He felt the same, yet different. His body was larger, more developed at thirty-two than it had been at twenty-four. The hard strength of it encouraged me to relax, to give into it, just like I always had. I fought it but my body knew this man, still craved him, even after all this time. By increments, I sank into the kiss.
It was perfect, and showed us so much about their relationship without diving into a detailed explanation or backstory.
I loved Quinn and Jerry, and I'm secretly hoping that when I seek out more from Montgomery, there is more to them that's been written.
I laughed so hard at Mike teasing Quinn and Jerry, and the depth of the friendship between the three men.
My heart broke all over again at this moment between Mike and Eli, near the end of the book:
"Why can't you?"

"I don't go home with strangers."

"That's good to know, but I'm not a stranger."

I peered myopically at him. "I don't know you anymore."

"You know enough."
I smiled at
"Answer that will you?" my pillow grumbled.
and
"Eli will call you back when he's finished throwing up all over my bedroom."
It was during those moments that I also cried, feeling the real truth of Eli's panic and fear and sadness, all of it washing over him.
By the end, I was misty-eyed again for all the right reasons. My cheeks from grinning by the time I read
"Will you come inside?"
My only real complaint is that there wasn't any sex in this book.

Did you know know that Harlequin Escape is one year old this week? We're celebrating this momentous occasion with a week filled with interviews, reviews, and excerpts, plus awesome giveaways, here on Steamy Guys After Dark and on our sister site featuring YA: Swoony Boys Podcast!
Today, we're chatting with EE Montgomery, author of In Another Life:

***INTERVIEW***
Thank you so much for stopping by Steamy Guys After Dark today, E.E.! We're excited to get to know you and your books! Tell us a little about In Another Life. It seems like a deeply emotional journey; was it a fun book to write?
I'm not sure I'd say In Another Life was fun to write. It was compelling. I heard Katy Perry's The One That Got Away on the radio while I was driving and had to turn the radio off so I could think about it. When I got home, I logged into iTunes, then put the song on repeat. Every time I listened to it, a bit more of the story came out of the fog. I never watched the YouTube video of the song – I didn't want to be influenced by someone else's interpretation. After four days, I sat down at the computer and met Eli. The emotions the song had built inside me consumed me for the entire time and I simply had to help Eli find his happy ever after.

Eli's future had to be Mike – no one else was as perfect for Eli as Mike but their love for each other was too big for them when they were so young (more for Mike than Eli). They had to grow into it. Unfortunately Mike couldn't work out how to do that together and they both had to suffer for it.
Give us your twenty second elevator pitch about In Another Life.
When they were young, Eli and Mike fell in love and thought it would last forever but Mike left Eli devastated and alone. Eli rebuilds his life but after meeting Mike twice over the next sixteen years, Eli realizes he'll never love anyone else the way he loves Mike. When Mike begs for another chance, Eli gives it to him. This time, it works.
What was your favorite part to write?
The beginning. The argument between Eli and Mike flowed so easily it felt more like a revealing than writing. I knew exactly how they each felt about the situation and the argument from the first word. They both feared that what they felt for each other wasn't enough for the long haul, but they approached the problem and a solution to it from opposing directions. It was that combination of similarity and opposition that sucked me in and kept me putting the words on the page.
How do you build your characters? Do you know every single detail of their lives?
Usually when I first begin a new story I know very little about the characters. Usually I can visualize only one scene and how they perceive that part of their lives. By the end of the second page (or, sometimes, the fourth chapter) I need to know more. That's when I sit on my back deck and watch the clouds go by. Sometimes a character's history and personality reveals itself to me in one sitting. Other times, I'm still spending time on the deck as I write the last scene. I spend a lot of time throwing possibilities into the air around me and discarding the ones that don't sound right for that character. I'm sure my neighbours think I'm odd, especially when I jump to my feet and yell, "It was the kid in year 7; the one who left just as Mike was starting to trust him".

At some point in my writing I have to put what I know on paper. I write character profiles, usually in the form of an exposé. With shorter works the profiles focus on the present, the time of the story. When I'm writing a novel or novella though, I need to know the background behind the character's attitudes and reactions. In those cases I track back at least to grandparents. By the time I've finished, I know what the characters were like in school, what they like and don't like and what parts of their history are still influencing their decisions and actions.

One thing I have trouble with my characters is keeping their physical appearance consistent. I spend so much time inside their heads, I forget to look at them. I write physical descriptions in dot point form and often colour code things as well to help me make sure they at least have the same coloured hair throughout. I've often thought of using some sort of cartooning program to create avatars but I don't want to use time I could be writing instead. I rarely use photos of real people because I don't want my characters to be influenced by them.
How would you introduce Eli to readers?
Meet Eli Jones. Eli is intelligent, sensitive and incredibly loyal. He's the type of man who truly loves only once in his life. He'll give his life to that love but he won't debase himself for it. He's no one's doormat.
What is it about Mike that Eli finds so compelling?
Mike understood Eli right from the beginning. He didn't make a big deal out of Eli's drive to succeed because he had the same drive.

Mike complements Eli perfectly. Eli cooks, Mike cleans. Eli reads, Mike plays the saxophone. Eli solves problems, Mike provides the problems. They laugh at the same things and are horrified at the same things. Mike is warm and doesn't mind Eli putting his cold toes on his calves. Eli knows nothing about gardening; neither does Mike, but he's willing to give it a go if Eli will help. Mike loves to snuggle and smells… perfect.
How would you describe yourself in three words?
Eccentric, optimistic, irreverent.
Interesting. When did you write your first book and what was the title? Did you always want to write?
I'm still writing my first book. It's a science fiction story called The Third Line. It's set on a planet that is killing Her inhabitants because they don't treat Her right. It has so many elements I've never seen before that I have no point of reference to make sure I get it right. The storyline is good, but the writing isn't. It will be—as soon as I put the time into doing a complete and major edit. There are a number of chapters that need to be rewritten, not from a plotting point of view but from a writing point of view.

I've always loved writing. My favourite part of primary school was just after the holidays when the teacher would tell us to write a paragraph about what we did over the holiday. I never did anything amazing but I always wrote way more than a paragraph and, yes, I'll admit it, I made a fair bit of it up. I remember writing a story about going on a balloon ride—about twenty years before I actually did it.

I tell people who ask, that I was thirty-six before I worked out what I wanted to be when I grew up. I'd been writing with serious intent for several years by then. No one said I had to be a quick learner!
Wow. Do you have any interesting writing quirks or rituals?
I'm not sure how to answer this one. Everything I do feels perfectly normal to me. Would people think my deck-sitting and almost Tourettic outbursts a quirk? What about the way I sing to the sheets as I peg them on the line? That activity always gives me the best story ideas, even if I always sing the same song (Canticle—Are You Going to Scarborough Fair).

I mostly edit at home where it's silent.

I do my best writing in cafes. I frequent a number of cafes, but there's one I go to more than any other. After nearly four years, the owner and I are on nodding and smiling terms. He's one of those wonderful people who understands implicitly that not everyone wants conversation with their tea and scones. As soon as he sees me walk in the door, he pulls the grapefruit Tiro from the refrigerator and the teapot from the shelf. He knows what I like.
LOL That's interesting. What's the best piece of advice you ever received from another author?
Get over yourself and rewrite it. They didn't use those exact words but the meaning was clear. After I spent a few days in a sulking snit, I realized they were right and… got over myself.
Great advice. What is the one thing readers would be surprised to learn about you?
I don't think there's anything surprising about me at all but I have friends who disagree. I'm passionate about equal rights, child protection and making sure the orange rinds are cut finely enough for the marmalade.
That is serious business. Which character makes you swoon the most (yours or someone else's)?
I read so much I don't always remember individual characters for long. I've never been a person to be attracted to looks alone, so the characters that appeal to me most are the ones with depth. I love a character that is intrinsically lonely, regardless of how many people are around, but, even though they desperately want to connect with someone else, won't settle for second best—unless it's a one-night stand or a friend with benefits and no commitment. I love characters that have a sense of humour and can laugh at themselves as well as other things in life. I love a character that never gives up on something that's important to him, no matter what the challenge is. The traditional alpha male leaves me cold.
Do you have any current or future projects you can tell us about?
I'm currently editing a Science Fiction romance novel. It's a rollicking space opera with a twist. My main character sold himself to a sex predator when he was a child in exchange for an education that would allow him to escape his life and make one he'd always dreamed of. The storyline is finished but I'm still layering, making sure I haven't left any plot holes and that my characters are consistent. The character is an emotional mess and I have to be really careful I show how he hides it without losing his humanity. Trying to get him to trust other people and get close to them is also a challenge.

I'm also writing two MM romances that each deal with domestic violence albeit from different angles. One of them, the victim is already out of the relationship and is rediscovering and rebuilding himself. I'm enjoying the challenge of making sure I don't minimize his fear, even though the situation is no longer active in his life. In the other one, I've begun with the main character just going into a full time relationship with his abuser (he doesn't know that though). It's going to be the story of how he discovers exactly how bad it is and how he gets out. I'm going to need to rewrite the first couple of chapters of this story a few times before I get it right and can move on.

With all this angst, I'll have to write something light and humorous next.
We hear you. Is there ever anything that you always wish someone would ask you, but they never do?
What details of medieval dress show status?
Nice. Thanks again for coming by today, EE.
***About EE Montgomery***
Until recently, E.E. Montgomery spent most of her nights studying at university. A belief that what you learn should help you earn has led E.E. into different careers. She has taught adolescents and adults, worked in fast food restaurants and upmarket jewellery stores, been a farmer, and run a small business specialising in therapeutic massage. Her most recent degree means E.E. Montgomery now spends her days managing a library. Being surrounded by books and planning ways to encourage others to read is one of the joys in life. Writing has been the thread that has stitched the fragments of a curious mind into a myriad of imaginary worlds — most just like the one we live in. A dedicated people-watcher, E.E. finds stories everywhere. In a cafe, a cemetery, a book on space exploration or on the news; there's a story of personal growth, love, and unconditional acceptance somewhere.
Find EE Montgomery Here: Website | Facebook | Twitter | Goodreads
***GIVEAWAY***
eBook copies of Ravenous, Not Your Average Joe, In Another Life, It's Love, Dude, Summer Fling, Bonjour Cherie, and Room Service
a Rafflecopter giveaway
Good luck and be sure to check out all the other interviews and reviews we've got going on to celebrate the first Birthday for Harlequin Escape!
Related Posts