All month long, we're featuring some of our favorite authors, along with a quick Q&A and some of their favorite recipes. We've got daily giveaways with chances to win some amazing (and steamy!) reads plus a month-long Recipes for Romance Grand Prize Giveaway for a box filled with books and more!
Today Gina Robinson stopped by with a recipe for Dad's Tom and Jerry Recipe!


**Q&A with Gina Robinson**
What is your favorite holiday tradition?
Where to start! There are so many. I love a good advent calendar. When our children were little we made homemade advent calendars in the days following Thanksgiving. We got large foam core poster boards for each of them and tons of glitter, stickers, and colorful markers. We made a square for each day, let each child pick out their favorite small wrapped candies then taped one on each day, with a special candy on Christmas Day. And then we let them decorate them to their hearts' content. Each child had their own style. I loved seeing what they created and it was a fun visual of how many days until Christmas. When they got a little older, my parents gave us a wooden advent calendar that we added to the mix and filled with Bible verses of the Christmas story, small ornaments and clues to fun surprises.
What is your most unusual holiday memory?
In 2008, we spent Christmas with my parents. It was a record snow year—four feet or more was piled up outside. It snowed so hard on Christmas Eve that the snow piled up on the roof over the vents and Dad had to get up early and shovel it off. My nephew, who was three at the time, kept insisting Santa was on the roof and Grandpa was going to come down the chimney. My dad has a gray beard. You can see why my nephew got confused. It was so cute.
What was your favorite moment under the mistletoe?
You know what, I don't think I have a mistletoe memory 😉
What's your favorite Christmas carol or holiday movie?
Elf.
What's the sexiest gift you ever got/gave?
I found out I was pregnant with my son on Christmas Eve. Does that count?

Peppermint Mocha or Pumpkin Spiced Latte?
Peppermint Mocha
Egg Nog or Apple Cider?
Apple Cider
Themed Christmas Tree or HodgePodge?
HodgePodge
Old School Bulbs or Icicle Lights?
LED 🙂
During this Holiday Season, is it better to Give or Receive?
Give!
**About Gina Robinson**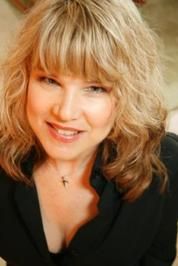 Gina Robinson loves a good love story and always has. She writes romance of all kinds–new adult, contemporary romance, historical romance, and romantic suspense.
Currently she's best known for her Agent Ex series– contemporary romance featuring sexy spies and plenty of adventure and humor. License to Love, the latest book in the series is available now.
She lives in the Pacific Northwest with her husband and children.
Find Gina Here: Website | Facebook | Twitter | Goodreads
We can't wait to try out Gina's delicious recipe for:
**Dad's Tom and Jerry Recipe**
Message from Gina:
For guests who don't drink, omit the brandy. The drink is still delicious.
My dad has been making this cocktail every Christmas Eve since he was a boy. We have it every year after we open presents. It doesn't feel like Christmas Eve without it!
Ingredients:
Eggs, separated, approximately 1 egg per serving
Superfine sugar, several tablespoons to 1/4 cup per serving to taste
1 jigger or shot of brandy per serving or to taste
Boiling water, enough to fill as many mugs as servings
Sprinkling of freshly grated nutmeg per cup
Directions:
Separate the appropriate number of eggs. In a large bowl, beat the egg whites until frothy. Slowly add about 3/4 of the superfine sugar while continuing to beat. Beat until stiff peaks are formed.
Beat the egg yolk(s) in a separate bowl with the remaining sugar until light yellow and lemon-colored. Fold the egg whites into the egg yolks until combined and refrigerate until ready to use.
Boil the water.
To each mug, add 1 jigger or shot (about 3 tablespoons) brandy (or more or less to taste) and several large heaping tablespoons of egg mixture. Stir. Fill mug with hot water. Stir again. Sprinkle with nutmeg.
Note: This recipe contains raw eggs. Pregnant women, young children, the elderly, and the infirm should not consume raw eggs.
Want more Cocktails? Get recipes for Cocktails and lots of other delectable holiday dishes from your favorite authors all month long right here on Steamy Guys After Dark!

**About Echo Bay Christmas**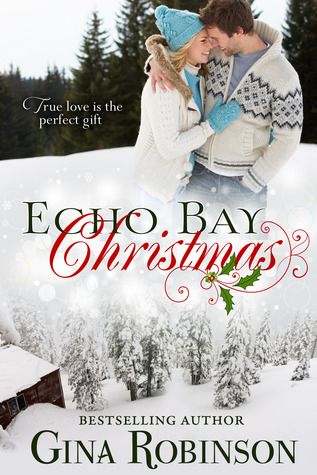 Echo Bay Christmas by Gina Robinson
Published by Self-Published on August 23, 2013
Pages: 306
SOME MEMORIES ARE TOO PAINFUL TO FACE

Tara Clark is spending her first Christmas at her grandparents' resort lodge since her brother died near there in a snowboarding accident on Christmas Eve ten years ago. When her matchmaking grandma sets her up with tiny Echo Bay's newest resident–none other than her ex-fiancé Ryan Sanders–not even a record snowfall can dampen the rekindling of a love that wouldn't die.

SOME LOVES ARE TOO STRONG TO DENY

When Ryan Sanders returns to the small town he grew up in, his life feels nearly complete. But as the snow piles up in the week before Christmas, and his ex-fiancée Tara shows up, Ryan has to face the truth that he has never really gotten over her. And with Christmas Eve fast approaching, all he wants for Christmas is Tara.
Other Books by Gina Robinson:
***GIVEAWAY***
Win an ebook copy of Echo Bay Christmas!
a Rafflecopter giveaway
Don't forget to enter our month-long Recipes for Romance Grand Prize Giveaway for a box filled with books and more!
Happy Holidays!
xo-
The Steam Team

Related Posts