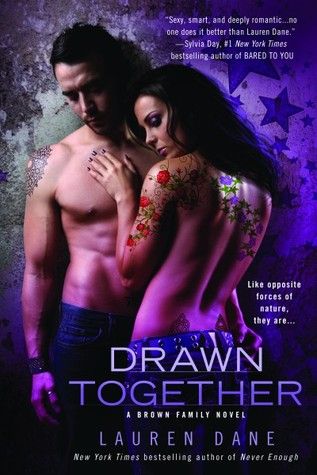 Drawn Together
by
Lauren Dane
Also by this author:
Back to You
,
Falling Under
Series:
Brown Siblings #6
Published by
Berkley
on October 1, 2013
Genres:
Contemporary Romance
Pages:
304
Goodreads
Buy the Book
Beauty is more than skin-deep…

Tattoo artist Raven Smith is blunt and hard, broken and jaded, dark and beautiful. While she doesn't hide her painful past, she does keep a wall around her heart. She's free sexually—but no one gets to the real Raven beneath the prickly exterior.

With a voice like smoke, Jonah Warner is a smooth-talking, highly successful attorney, with a body that should never be hidden by a suit. He's the kind of man who never takes no for an answer and always gets what he wants. And what he wants is Raven. She's a survivor, and he finds that incredibly alluring.

Jonah gets under her skin in a way Raven has never experienced. He makes her break all her rules—including her no-monogamy rule.

But when a figure from Raven's past shows up at the tattoo parlor and drops a bomb into her life, their relationship will face the ultimate challenge…

Kassiah: Drawn Together is the first book that I've read by Lauren Dane, but it definitely won't be the last.
Tattoo artist Raven Smith has a strict no-relationships (and no monogamy) rule when she meets her match in dominant attorney Jonah Warner.
Jonah Warner was beyond hot. He was on-fire sexy. Like panties on fire. Raven looked him over, imagining him naked. Imagining him over her, under her, whatever.
Their connection is instantaneous and smoking hot–they can't deny their chemistry, even though neither of them ever envisioned being with someone like the other.
"Everyone has a story." She pulled a big pad out. "Here are some of the designs I worked up for you."

"I'd rather hear your story."

She sent him a raised brow and he liked it. A lot.

"Fine. But as you noted, I don't like being told no." Her smile sent a shiver through him.

"You'll get used to it." He took her hand, turning it to press a kiss at her wrist. She smelled good. Warm. He liked the pleased surprise on her face and the indrawn breath.

"Or maybe you could get used to telling me yes."
Throughout the story, Raven comes to grips with her past and lets Jonah in little by little. He wants her to be his and makes no qualms about it.
"It's not marriage. It's monogamy. You can do it. You're the girl who came out to L.A. at seventeen and made herself a life. You sure as hell can fuck me and only me. Unless…well, I'd say something like unless you're not really into this thing between us. but that would be a lie. Because I know you are. I can see it in your features. I can feel it around my cock when I'm inside you. You're not a liar, Raven, and neither am I. I won't let you be."
As their relationship progresses, Raven gives in to her feelings for Jonah more and more and realizes that letting go can be not only a good thing, but the best thing ever.
"So Jonah Warner."

"Yeah. Unexpected, huh?"

"I dunno. You tell me."

She nodded. "He is. I have rules, Brody. Lots of them. He makes me break them. Left and right."
There's some family drama on both sides, but it all felt really authentic to me. Jonah is a single dad, and I loved that part of him. I liked this story a lot–there are funny moments and touching moments and my rob, some really hot stuff, too. Jonah also says some pretty swoony things.
"I want to dance with you with the breeze in yoru hair and my hands on your bare skin."
Even though I jumped in at the end of the Brown Siblings Series, I didn't feel lost at all and this book can totally stand on its own. One of the things that I didn't like about this book was Raven's seemingly quick acquiesence to what Jonah wanted. I definitely think that if I had read the other books in this series, I would not feel this way and would have more fully understood how far she's come to get to where she's at in Drawn Together.
Something else that I didn't like was the D/s stuff. That's not really my thing, though I don't mind it. I was just surprised that Jonah and Raven didn't have any kind of conversation about what was going to happen. I do admit that my experience with that is limited, so I might have an unrealistic expectation. Though hot with chemistry off-the-charts, I felt at times that their interactions were described with clinical assessment rather than passion and heat.
"I want you to ride my cock awhile," he spoke, lips against her neck.

"And then, because I've wanted it for a while, you're going to suck me off."
There were some technical words that I didn't love and some motivations that I didn't understand.
With that being said, I did really like this story and will definitely be checking out the other books in this series. Lauren Dane is a great story-teller. The characters, the feelings, the emotions–they're all real, and I can't wait to get to know more of them.
Report Card
Cover
Characters
Plot
Writing
Steam
Overall:
3.5
**INTERVIEW**
Welcome, Lauren! We're so excited to have you stop by Steamy Guys After Dark today!
Thanks so much for having me!
Tell us a little about Drawn Together. Was it a fun book to write?
I've been waiting to write Raven's story for several years now so on one hand, it was a lot of fun to write. On the other hand, it was a story I really wanted to do right and the pacing and reveal of her story and the way she fell for Jonah had to be perfect so it was a slower and more painstaking process than other books can be.

In the end, I am so thrilled with the way it turned out – I think I did Raven and her HEA with Jonah justice and I hope readers agree.

Drawn Together is the story of Raven Smith and Jonah Warner. Over the Brown Family series we've seen lots of prickly behavior from her and had a few glimpses of her softer side but she's always had this backstory – this reason she acts the way she does and I didn't want to tell her story until I had the right match for her.

As it happens, Jonah Warner, uber alpha, came along at just the right time and I was so excited to write this book and give her the HEA she needed.

She doesn't totally change because of love. She's still Raven. But Jonah gets her and he's worth opening up for. And he's sort of pushy and bossy and so totally patient she can't resist. She finds herself breaking all her personal rules for him and sort of liking it too.

It's a love story on a few levels, not just between Raven and Jonah, but also between these characters and their friends and family too, which is the heart of this series. Oh and smoking hot sexytimes too 😉
Agree. It's so hot. Do you have any interesting writing quirks or rituals?
No, not really. I don't like to write without a title, and I always have a book playlist so I listen to music when I work. Otherwise I don't have a muse, I don't have any real quirks.
How would you describe yourself in three words?
Intense, funny, sleepy.
LOL at sleepy. What's the best piece of advice you ever received from another author?
I think Nora Roberts has the best advice, which is to sit down and do the work.
Which character makes you swoon the most (yours or someone else's)?
Gosh that's a hard one! Of my own I'd say Jonah Warner or Brody Brown. Of someone else's that'd be Rule Turner (Eileen Wilks' Lupi books) or Roarke from the In Death series.
How do you build your characters? Do you know every single detail of their lives?
My characters reveal themselves to me on their own schedule. I have a basic idea of who they are, but as I write I find out things about them I never had any clue about.

I start with a basic sketch and a general motivation and then I write. It just comes to me as I work. Liv, from Chased, for instance, the whole backstory about her mother wasn't something I knew up front at all, it just showed up on the page.

So I write and make notes and power through parts I hate and think suck horribly and at some point (usually several places in the book) things come to me and these epiphanies enable me to go back and flesh out earlier scenes and later motivations for my characters.
If you could introduce one of your characters to another character from any other book, who would it be and why?
Hm, I think I'd introduce Polly Chase to Eve Dallas. Eve has Mira as a mother figure, but I think Polly would be good for her in that way she is with everyone who needs some mothering and unconditional love. I also think Eve would be good for Polly, who would appreciate Eve's perspective (and I bet she and Sommerset would get on famously too)
We have to admit a weakness for hot guys with tatts. What kind of research did you do to prepare for Drawn Together?
Back when I wrote Laid Bare I watched a lot of video of people doing tattoos to get a feel for Brody's world so that played into Raven's world. I loved to look up all sorts of designs when she was planning out Jonah's tattoo (different sorts of design, Celtic/Nordic, etc) I watched some piercings as well.

I live in the Northwest so many of the places they go are my favorites (Zeek's Pizza, Red Mill, The Dahlia Lounge, etc) and I know the neighborhoods I set parts of the story in. Written On the Body doesn't exist, but that neighborhood does, for instance.

Other stuff is made up totally like Happy Bend – although I hear there is an actual town in Arkansas called Happy Bend, it's not the one from the book! I promise you real citizens of Happy Bend I would not insult your town that way, LOL.
🙂 Do you have more plans for the Brown Siblings series?
This part of the series is over. I've written books for everyone and I don't want to drag it out and have readers thinking, "She should have ended this three books ago." But there's a whole new generation of Brown/Keenan/Copelands coming up as well as Jonah's brothers so we haven't seen the last of these characters.
That makes us really happy. We especially can't wait for Jonah's brother Toby. Is there ever anything that you always wish someone would ask you, but they never do?
I'm always surprised by the things I get asked (usually in a good way, LOL!) I've never been asked the one about introducing my character to another book's character before, which is a fun question.
Yay! Thanks again for coming by. We can't wait to get to know Raven and Jonah (and everyone else)!
Thank you so much for having me!
**About Lauren Dane**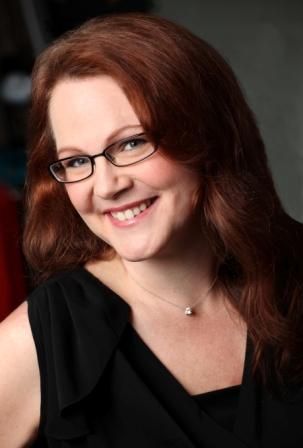 The story goes like this: While on pregnancy bed rest, Lauren Dane had plenty of down time so her husband took her comments about "giving that writing thing a serious go" to heart and brought home a secondhand laptop. She wrote her first book on it before it gave up the ghost. Even better, she sold that book and never looked back.
Today Lauren is a New York Times and USA Today bestselling author of over forty novels and novellas across several genres. Though she no longer has to deal with Polly Pocket and getting those tiny outfits on and off, she still has trouble blocking out the sound of iCarly so she can write a love scene.
Find Lauren online: Website | Twitter | Facebook | Goodreads
***GIVEAWAY TIME***
Enter to win a copy of Drawn Together!
a Rafflecopter giveaway
What do you think, Steamettes? Who's your favorite Steamy Guy that written by Lauren Dane?
Related Posts