All month long, we're featuring some of our favorite authors, along with a quick Q&A and some of their favorite recipes. We've got daily giveaways with chances to win some amazing (and steamy!) reads plus a month-long Recipes for Romance Grand Prize Giveaway for a box filled with books and more!
Today Coleen Kwan stopped by with a recipe for Tuna Lemon Pilaf!


**Q&A with Coleen Kwan**
What is your favorite holiday tradition?
When I was a child, my favourite tradition was opening my presents. Now that I'm an adult and have children of my own, I love spending the day with close family, eating more than I should, and lazing about.
What is your most unusual holiday memory?
I live in Australia, so Christmas holidays are usually hot. One year during the holiday season I was invited to yum cha on a blazing hot day. My car's air-conditioning packed up, and to make matters worse the gearshift was affected by the extreme heat, so I couldn't put the car into first gear. I arrived very late at the restaurant looking and feeling like a boiled tomato, and needless to say I didn't eat much yum cha.
What was your favorite moment under the mistletoe?
Well, we don't have the mistletoe tradition here, so I'm afraid I don't have any moments to share!
What's your favorite Christmas carol or holiday movie?
For holiday movies I like all the variations on Dickens' A Christmas Carol, like Scrooged with Bill Murray. There's something very poignant and timeless about A Christmas Carol even though it's been done countless times.
What's the sexiest gift you ever got/gave?
I'm afraid I'm going to be very boring here and say the sexiest gift I ever got was a simple but beautiful silver necklace. I think the sexiest gift I ever gave was a pair of boxer shorts decorated with reindeers. Sorry, that's the best I can do!

Peppermint Mocha or Pumpkin Spiced Latte?
I'm not a coffee drinker, so I've never had a peppermint mocha or a pumpkin spiced latte. But if I had to choose, I think I'd go for the peppermint mocha.
Egg Nog or Apple Cider?
Apple cider.
Themed Christmas Tree or HodgePodge?
I'm not organised enough to plan a themed Christmas tree! I have a box of ornaments collected over the years and that's what I drag out each year. So I guess that's hodge podge?
Old School Bulbs or Icicle Lights?
I definitely like those icicle lights!
During this Holiday Season, is it better to Give or Receive?
It's good to do a bit of both in my opinion 🙂
**About Coleen Kwan**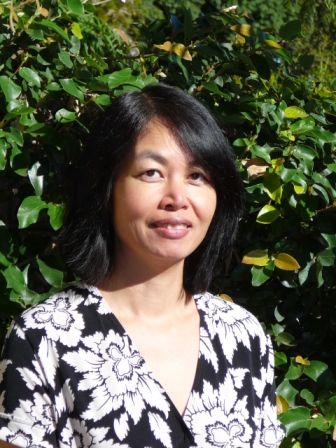 Coleen Kwan has been a bookworm all her life. At school English was her favorite subject, but for some reason she decided on a career in IT. After many years of programming, she wondered what else there was in life — and discovered writing. She loves writing contemporary romance and steampunk romance.
Coleen lives in Sydney, Australia with her partner and two children. When she isn't writing she enjoys avoiding housework, eating chocolate, and watching Criminal Minds.
Find Coleen Here: Website | Facebook | Twitter | Goodreads
We can't wait to try out Coleen's delicious recipe for:
**Tuna Lemon Pilaf**
Message from Coleen:
This is a quick and easy dish I can whip up when I'm short of time, and my children love it.

| | | | |
| --- | --- | --- | --- |
| Side Dishes | Prep Time: 5 minutes | Cook Time: 20 minutes | Serves: 4 |
Ingredients:
1-¼ cup rice
2 tbs olive oil
1 brown onion chopped
2 tsps mild curry powder
2-½ cups vegetable or chicken stock
1 tbs finely grated lemon rind
1 cup frozen peas
3 eggs
425g can tuna in olive oil
2 tomatoes chopped
handful chopped parsley
Directions:
Heat oil in large saucepan. Fry onion until golden and soft. Add rice and curry powder and stir for 1 minute.
Add the stock and lemon rind. Cover and bring to the boil. Reduce heat to low, cook for 10 minutes or until liquid is absorbed. Stir in peas and remove from heat. Leave to sit for five minutes, then use fork to separate grains.
Meanwhile, boil eggs until hard boiled (or done to taste). Peel and quarter.
Flake tuna into pieces. Add tuna, tomato, and parsley to rice mixture. Season with pepper. Top with eggs and serve.
Want more Side Dishes? Get recipes for Side Dishes and lots of other delectable holiday dishes from your favorite authors all month long right here on Steamy Guys After Dark!

**About White-Hot Holiday**

White-Hot Holiday by Coleen Kwan
Series: Stranded with a Hero
Published by Entangled: Bliss on November 11, 2013
Pages: 350
Naomi's sworn off men like Aaron—rich, cocky, and dismissive of holiday traditions. Aaron decided to spend Christmas in sunny Australia to avoid snowy New York, not to fall for the woman his best friend warned him away from. But when a volcano grounds him, Aaron and Naomi's relationship becomes eruptive.
Other Books by Coleen Kwan:
Don't miss out on our posts featuring the other stories in this anthology:
Dec 2 — Karen Erickson, author of Loving Mindy
Dec 13 — Roxanne Snopek, author of Saving the Sheriff
Dec 15 — Cindi Madsen, author of An Officer and a Rebel
***GIVEAWAY***
Win an ebook copy of Coleen's novel Real Men Don't Break Hearts!
a Rafflecopter giveaway
Don't forget to enter our month-long Recipes for Romance Grand Prize Giveaway for a box filled with books and more!
Happy Holidays!
xo-
The Steam Team

Related Posts